7.

Interface do QGIS

A interface gráfica do usuário do QGIS (GUI) é mostrada na figura abaixo (os números de 1 a 5 em círculos amarelos indicam elementos importantes da GUI do QGIS e são discutidos abaixo).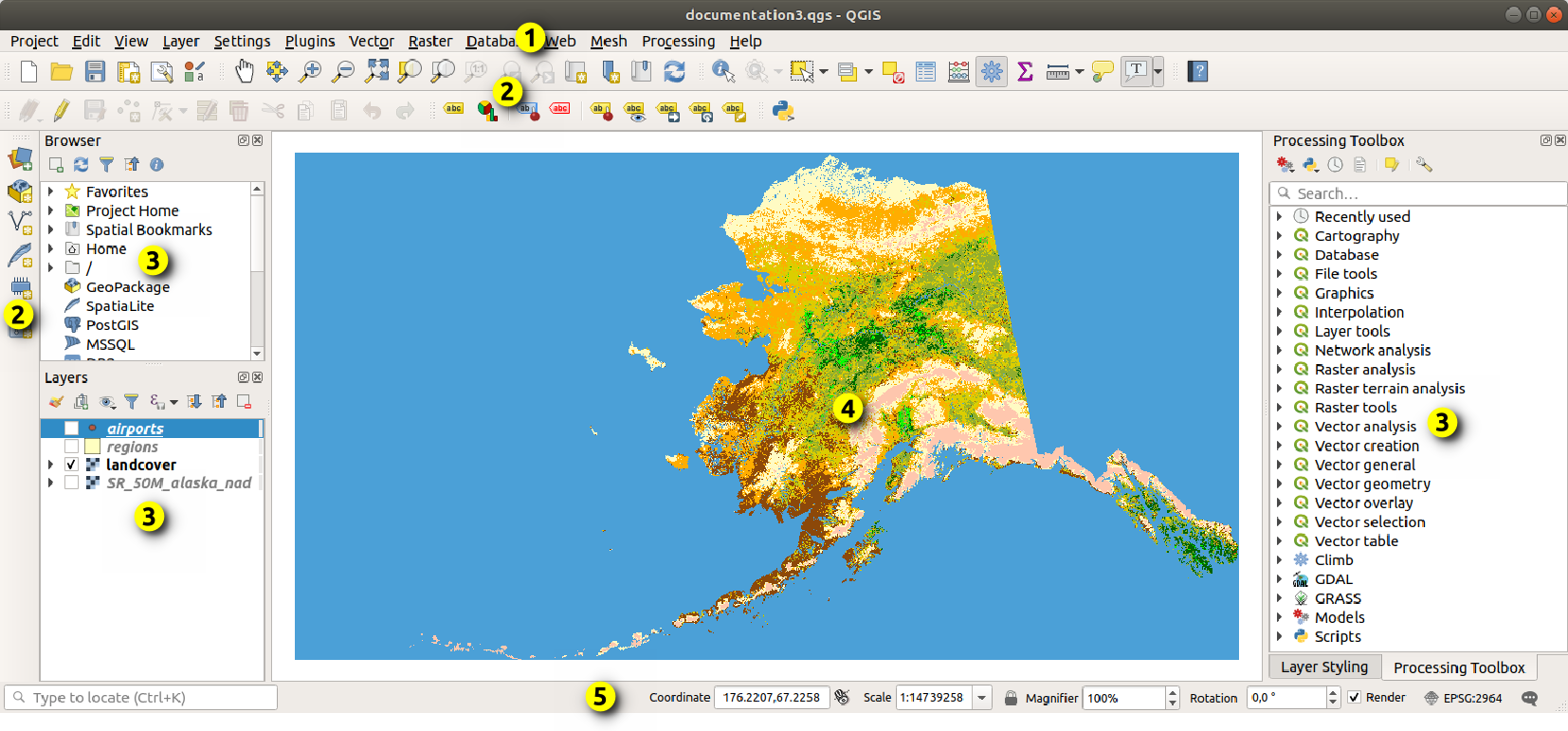 Nota
Suas decorações de janela (barra de título, etc) podem parecer diferentes dependendo do seu sistema operacional e gerenciador de janelas.
The main QGIS GUI (Fig. 7.1) consists of five components / component types:
Role para baixo para informações mais detalhadas destes.
From the View menu (or

Settings), you can switch QGIS widgets (Panels ►) and toolbars (Toolbars ►) on and off. To (de)activate any of them, right-click the menu bar or toolbar and choose the item you want. Panels and toolbars can be moved and placed wherever you like within the QGIS interface. The list can also be extended with the activation of Core or external plugins.
The toolbars provide access to most of the functions in the menus, plus additional tools for interacting with the map. Each toolbar item has pop-up help available. Hover your mouse over the item and a short description of the tool's purpose will be displayed.
Every toolbar can be moved around according to your needs. Additionally, they can be switched off using the right mouse button context menu, or by holding the mouse over the toolbars.
Available toolbars are:
| Name | Main Reference for tools |
| --- | --- |
| Advanced Digitizing Toolbar | |
| Annotations Toolbar | |
| Atributos | |
| Data Source Manager | |
| Banco de Dados | |
| Digitalização | |
| Ajuda | |
| Label | |
| Manage Layers | |
| Map Navigation | |
| Mesh Digitizing Toolbar | |
| Complementos | |
| Projeto | Trabalhando com Arquivos de Projetos, Laying out the maps, The Style Library |
| Processing Algorithms | |
| Raster | |
| Selection | |
| Shape digitizing | |
| Snapping | |
| Vector | |
| Web | |
Nota
Third-party plugins can extend the default toolbar with their own tools or provide their own toolbar.
Dica
Restaurar barra de ferramentas
Se você ocultou acidentalmente uma barra de ferramentas, é possível recuperá-la usando: Exibir ► Barras de Ferramentas ► (ou

Configurações ► Barras de Ferramentas ►). Se, por algum motivo, uma barra de ferramentas (ou qualquer outro widget) desaparecer totalmente da interface, você encontrará dicas para recuperá-la em restoring initial GUI.
O QGIS fornece muitos painéis. Painéis são widgets especiais com os quais você pode interagir (selecionar opções, marcar caixas, preencher valores…) para executar tarefas mais complexas.
Abaixo está uma lista dos painéis padrão fornecidos pelo QGIS:
3D visualization support is offered through the 3D map view. You create and open a 3D map view via View ►

New 3D Map View. A floating QGIS panel will appear. The panel can be docked.
To begin with, the 3D map view has the same extent and view as the 2D main map canvas. A set of navigation tools are available to turn the view into 3D.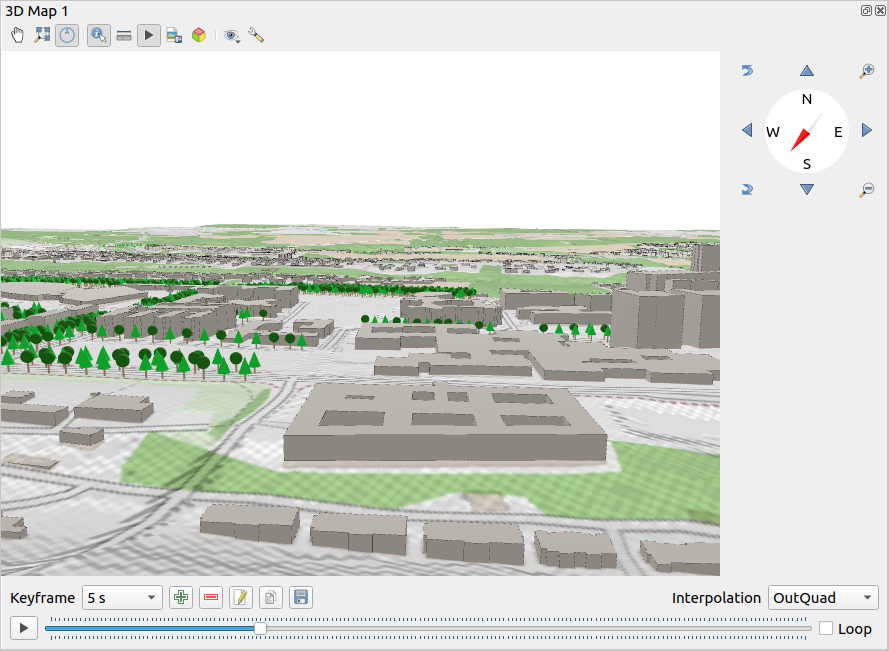 The following tools are provided at the top of the 3D map view panel:
The 3D map view opens with some default settings you can customize. To do so, click the

Configure… button at the top of the 3D canvas panel to open the 3D configuration window.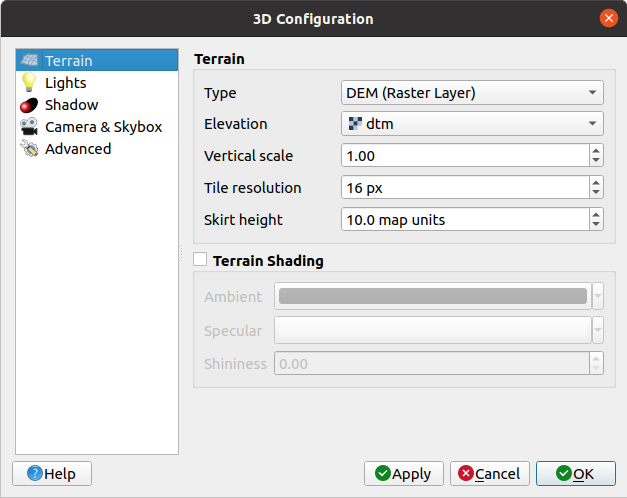 In the 3D Configuration window there are various options to fine-tune the 3D scene:
An animation is based on a set of keyframes - camera positions at particular times. To create an animation:
Click the Add keyframe button and enter a Keyframe time in seconds. The Keyframe combo box now displays the time set.

Using the navigation tools, move the camera to the position to associate with the current keyframe time.

Repeat the previous steps to add as many keyframes (with time and position) as necessary.

Click the button to preview the animation. QGIS will generate scenes using the camera positions/rotations at set times, and interpolating them in between these keyframes. Various Interpolation modes for animations are available (eg, linear, inQuad, outQuad, inCirc… – more details at https://doc.qt.io/qt-5/qeasingcurve.html#EasingFunction-typedef).

The animation can also be previewed by moving the time slider. Keeping the Loop box checked will repeatedly run the animation while clicking stops a running animation.
Click

Export animation frames to generate a series of images representing the scene. Other than the filename Template and the Output directory, you can set the number of Frames per second, the Output width and Output height.
Uma camada vetorial com valores de elevação pode ser mostrada no mapa 3D, marcando Ativar renderizador 3D na seção Vista 3D das propriedades da camada vetorial. Há várias opções disponíveis para controlar a renderização da camada vetorial 3D.
The status bar provides you with general information about the map view and processed or available actions, and offers you tools to manage the map view.