28.1.

QGIS-plugins

QGIS is ontworpen met een architectuur voor plug-ins. Dit maakt het toevoegen van nieuwe functionaliteit en functies aan de toepassing eenvoudiger. Enkele van de mogelijkheden in QGIS zijn in feite geïmplementeerd als plug-ins.

Plug-ins voor QGIS worden geïmplementeerd ofwel als bronplug-ins of als externe plug-ins.

Bronplug-ins worden beheerd door het ontwikkelteam van QGIS en zij maken automatisch deel uit van elke distributie van QGIS. Ze worden geschreven in één van de twee talen, C++ of Python.

Most of External Plugins are currently written in Python. They are stored either in the 'Official' QGIS Repository at https://plugins.qgis.org/plugins/ or in external repositories and are maintained by the individual authors. Detailed documentation about the usage, minimum QGIS version, home page, authors, and other important information are provided for the plugins in the Official repository. For other external repositories, documentation might be available with the external plugins themselves. External plugins documentation is not included in this manual.

Ga, om een plug-in te installeren of te activeren, naar het menu Plug-ins en selecteer

Plug-ins beheren en installeren…. Geïnstalleerde externe plug-ins van Python worden geplaatst in de map python/plugins van het pad van het actieve gebruikersprofiel.
Paden naar aangepaste bibliotheken voor plug-ins voor C++ mogen ook worden toegevoegd onder Extra ► Opties ► Systeem.
At the bottom of the left panel, the

Settings tab is the main place you can configure which plugins can be displayed in your application. You can use the following options:
Check for Updates on Startup. Whenever an installed plugin has update available, QGIS will inform you Every Time QGIS starts, Once a Day, Every 3 Days, Every Week, Every 2 Weeks or Every month.

Show also Experimental Plugins. QGIS will show you plugins in early stages of development, which are generally unsuitable for production use. For these plugins, you can install either the stable or the experimental version, and at any moment switch from one to the other.

Show also Deprecated Plugins. These plugins are usually unmaintained because they have replacement functions in QGIS, a lack of maintainers, they rely on functions that are no longer available in QGIS… They are generally unsuitable for production use and appear grayed in the plugins list.
By default, in the Plugin Repositories section, QGIS provides you with its official plugin repository with the URL https://plugins.qgis.org/plugins/plugins.xml?qgis=version (where <version> represents the exact QGIS version you are running). To add external author repositories, click

Add… and fill in the Repository Details form with a name and the URL. The URL can be of http:// or file:// protocol type.
De standaard opslagplaats voor QGIS is een open opslagplaats en u heeft geen authenticatie nodig. U zou uw eigen opslagplaats voor plug-ins kunnen maken en een authenticatie in kunnen eisen (basisauthenticatie, PKI). U kunt meer informatie voor ondersteuning voor authenticatie voor QGIS vinden in het hoofdstuk Authenticatie.
If you do not want one or more of the added repositories, they can be disabled from the Settings tab via the

Edit… button, or completely removed with the

Delete button.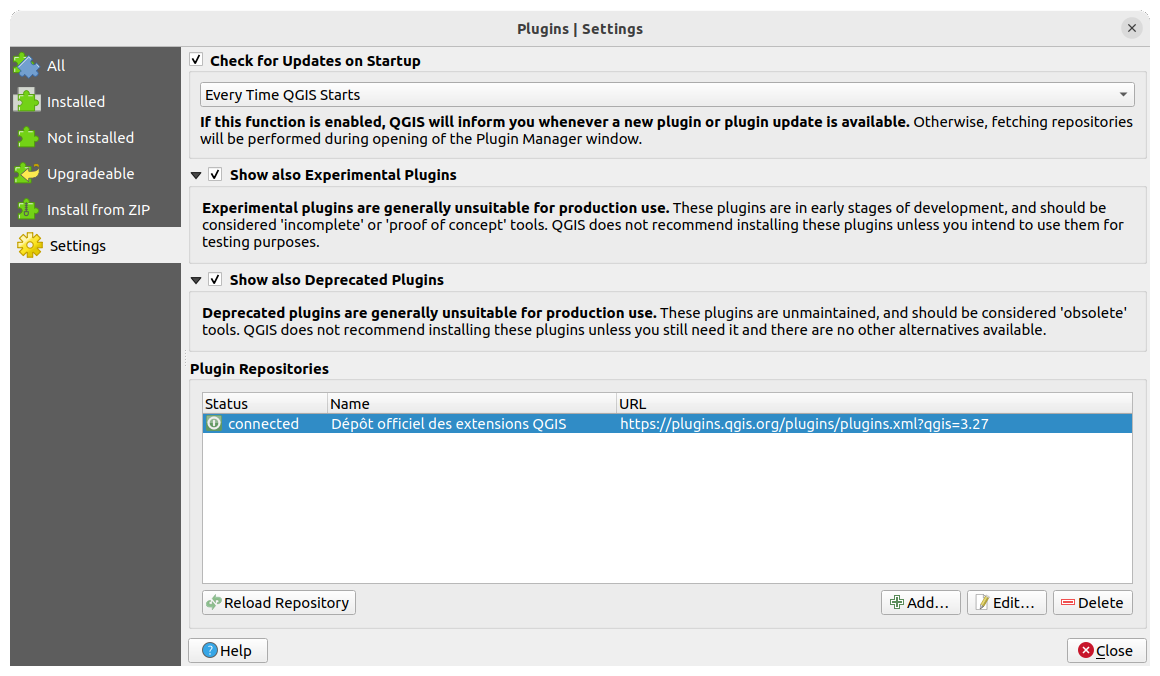 The upper tabs in the Plugins dialog provide you with lists of plugins based on their install, creation or update status. Depending on the plugins settings, available tabs can be:
At the top of the tabs, a Search function helps you find any plugin using metadata information (author, name, description, tag,…).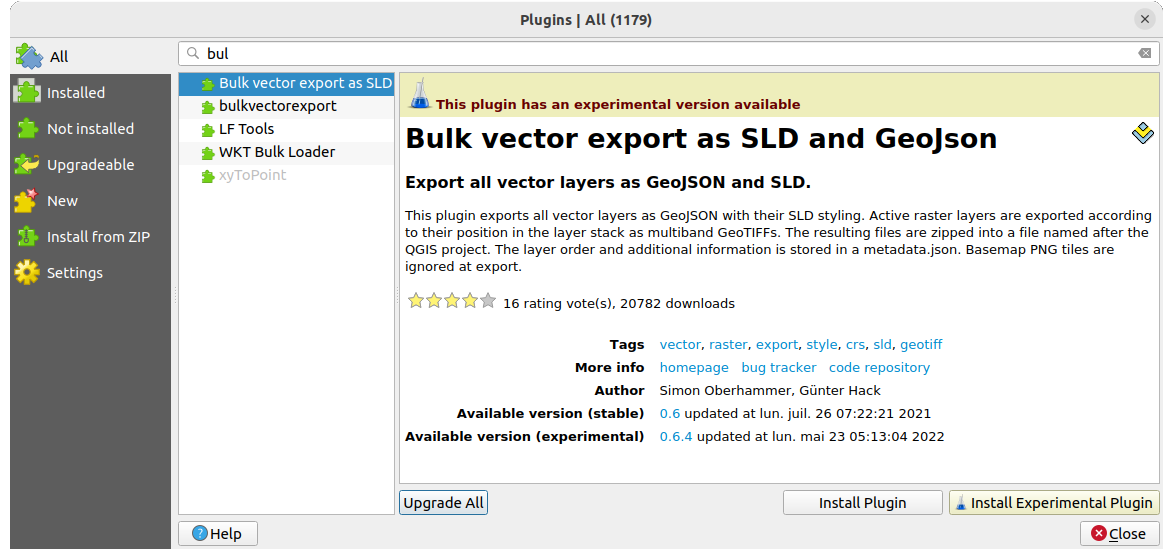 Select a plugin and you will have some metadata displayed in the right panel:
information on whether the plugin is experimental or has an experimental version available (if Show also Experimental Plugins is checked)

summary and description

aantal stemmen (u kunt op uw voorkeurs-plug-in stemmen!)

tags

enkele handige koppelingen zoals de thuispagina, tracker en opslagplaats van de code

auteur(s)

version(s) available with link to download page in the repository, or path to local folder for installed plugins
The Plugin Manager dialog allows you to interact with the latest version of the plugins. When enabled, the experimental version can be shown only if it is more recent than the latest stable version. Depending on the active tab, whether the selected plugin is installed, you will be given some of the following options:
Install: installs the latest stable version of the selected plugin

Install Experimental Plugin: installs the experimental version of the selected plugin

Reinstall Plugin: installs the same stable version of the plugin e.g. after it has failed to load

Reinstall Experimental Plugin: installs the same stable version of the plugin e.g. after it has failed to load

Upgrade Plugin: upgrades selected plugin to its latest stable version

Upgrade Experimental Plugin: upgrades selected plugin to its experimental version

Upgrade All: upgrades all installed plugins to their more recent stable or experimental version (depending on whether their previously installed version was stable or experimental).

Downgrade Plugin: moves from the experimental version of the plugin to its previous stable version

Downgrade Experimental Plugin: moves from an experimental version of the plugin to its latest published experimental version. This may occur when playing with a not yet published version.

Uninstall Plugin: removes the installed plugin from the user profile
An installed plugin displays a

checkbox on its left. Uncheck it to temporarily deactivate the plugin.
Right-click on a plugin in the list and you will be able to sort the plugins list by various metadata. The new order applies to all the tabs. Sort options are:
Sort by Name

Sort by Downloads

Sort by Vote

Sort by Status

Sort by Date Created

Sort by Date Updated
The

Install from ZIP tab provides a file selector widget to import plugins in a zipped format, e.g. plugins downloaded directly from their repository. Encrypted files are supported.