Teclas de acceso rápido
QGIS provides default keyboard shortcuts for many features. You can find them in section Barra de Menú. Additionally, the menu option allows you to change the default keyboard shortcuts and to add new keyboard shortcuts to QGIS features.
Figure Shortcuts 1: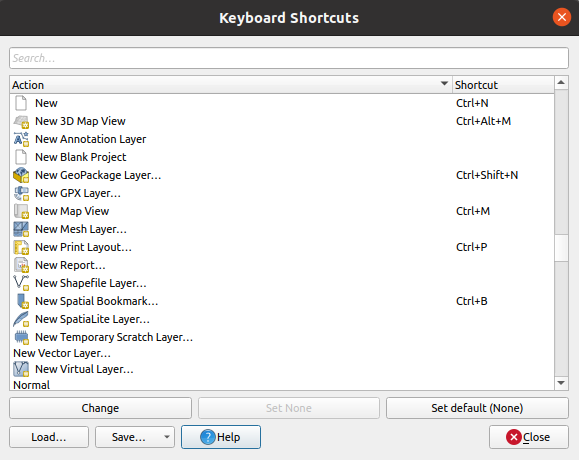 Configuration is very simple. Just select a feature from the list and click on [Change], [Set none] or [Set default]. Once you have finished your configuration, you can save it as an XML file and load it to another QGIS installation.
Ayuda de contexto
Cuando necesite ayuda sobre un tema especifico, puede acceder a la ayuda de contexto mediante el botón [Ayuda] disponible en la mayoría de diálogos – tenga en cuenta que los complementos de terceros pueden apuntar a paginas web dedicadas.
Renderizado
By default, QGIS renders all visible layers whenever the map canvas is refreshed. The events that trigger a refresh of the map canvas include:
QGIS allows you to control the rendering process in a number of ways.
Renderizado dependiente de la escala
El renderizado dependiente de la escala le permite especificar las escalas mínima y máxima a las que una capa será visible. Para establecer el renderizado dependiente de la escala, abra el diálogo Propiedades mediante doble clic en una capa en el panel Capas. En la pestaña General, haga clic en la casilla

Visibilidad dependiente de la escala para activar la característica, luego establezca los valores mínimo y máximo de escala.
You can determine the scale values by first zooming to the level you want to use and noting the scale value in the QGIS status bar.
Controlar el renderizado del mapa
Map rendering can be controlled in the various ways, as described below.
Mediciones
Measuring works within projected coordinate systems (e.g., UTM) and unprojected data. If the loaded map is defined with a geographic coordinate system (latitude/longitude), the results from line or area measurements will be incorrect. To fix this, you need to set an appropriate map coordinate system (see section Trabajar con Proyecciones). All measuring modules also use the snapping settings from the digitizing module. This is useful, if you want to measure along lines or areas in vector layers.
To select a measuring tool, click on

and select the tool you want to use.
Measure length, areas and angles

Measure Line: QGIS is able to measure real distances between given points according to a defined ellipsoid. To configure this, choose menu option , click on the Map tools tab and select the appropriate ellipsoid. There, you can also define a rubberband color and your preferred measurement units (meters or feet) and angle units (degrees, radians and gon). The tool then allows you to click points on the map. Each segment length, as well as the total, shows up in the measure window. To stop measuring, click your right mouse button. Note that you can interactively change the measurement units in the measurement dialog. It overrides the Preferred measurement units in the options. There is an info section in the dialog that shows which CRS settings are being used during measurement calculations.
Figure Measure 1: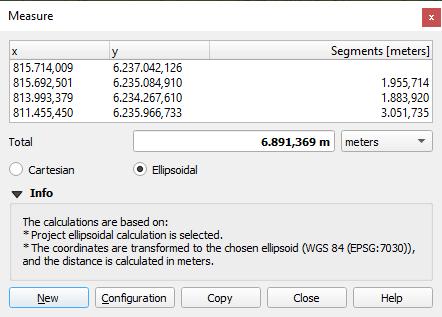 Measure Area: Areas can also be measured. In the measure window, the accumulated area size appears. In addition, the measuring tool will snap to the currently selected layer, provided that layer has its snapping tolerance set (see section Configurar la tolerancia del autoensamblado y radio de búsqueda). So, if you want to measure exactly along a line feature, or around a polygon feature, first set its snapping tolerance, then select the layer. Now, when using the measuring tools, each mouse click (within the tolerance setting) will snap to that layer.
Figure Measure 2: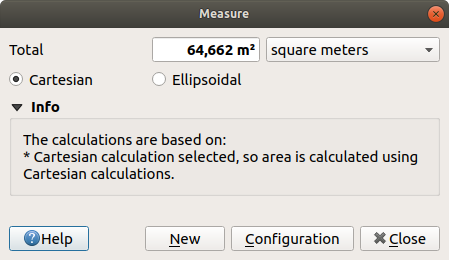 Measure Angle: You can also measure angles. The cursor becomes cross-shaped. Click to draw the first segment of the angle you wish to measure, then move the cursor to draw the desired angle. The measure is displayed in a pop-up dialog.
Figure Measure 3: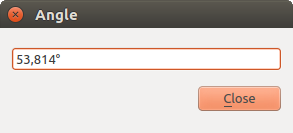 Seleccionar y deseleccionar objetos espaciales
The QGIS toolbar provides several tools to select features in the map canvas. To select one or several features, just click on

and select your tool:
To deselect all selected features click on

Deselect features from all layers.

Select feature using an expression allow user to select feature using expression dialog. See Expressions chapter for some example.
Users can save features selection into a New Memory Vector Layer or a New Vector Layer using and choose the mode you want.
Identificar objetos espaciales
The Identify tool allows you to interact with the map canvas and get information on features in a pop-up window. To identify features, use or press Ctrl + Shift + I, or click on the

Identify features icon in the toolbar.
If you click on several features, the Identify results dialog will list information about all the selected features. The first item is the number of the layer in the list of results, followed by the layer name. Then, its first child will be the name of a field with its value. The first field is the one selected in . Finally, all information about the feature is displayed.
Esta ventana puede ser personalizada para mostrar campos personalizados, pero por omisión mostrará tres tipos de información:
Actions: Actions can be added to the identify feature windows. When clicking on the action label, action will be run. By default, only one action is added, to view feature form for editing.
Derived: This information is calculated or derived from other information. You can find clicked coordinate, X and Y coordinates, area in map units and perimeter in map units for polygons, length in map units for lines and feature ids.
Data attributes: This is the list of attribute fields from the data.
Figure Identify 1: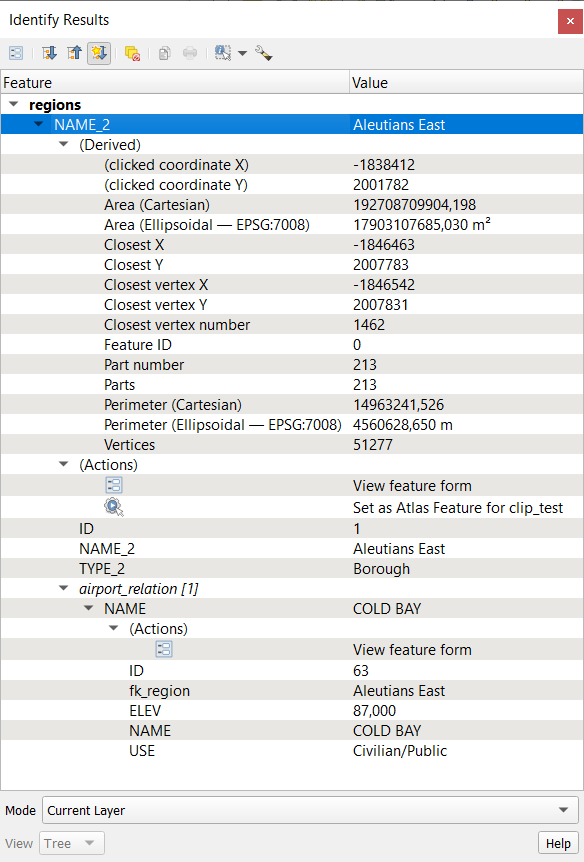 At the top of the window, you have five icons:
At the bottom of the window, you have the Mode and View comboboxes. With the Mode combobox you can define the identify mode: 'Current layer', 'Top down, stop at first', 'Top down' and 'Layer selection'. The View can be set as 'Tree', 'Table' and 'Graph'.
The identify tool allows you to auto open a form. In this mode you can change the feautures attributes.
Otras funciones se pueden encontrar en el menú contextual del elemento identificado. Por ejemplo, del menú contextual se puede:
Ver el formulario del objeto espacial

Zum a objeto espacial

Copiar objeto espacial: Copiar toda la geometría y atributos del objeto espacial

Toggle feature selection: adds identified feature to selection

Copiar el valor del atributo: copiar solo el valor del atributo sobre el cual se hizo clic

Copy feature attributes: Copy only attributes

Limpiar resultados: quitar resultados de la ventana

Limpiar resaltados: Deseleccionar los objetos espaciales en el mapa

Resaltar todo

Resaltar capa

Activar capa: Elegir una capa para ser activada

Propiedades de la capa: Abrir la ventana de propiedades de la capa.

Expandir todo

Colapsar todo
Elementos decorativos
The Decorations of QGIS include the Grid, the Copyright Label, the North Arrow and the Scale Bar. They are used to 'decorate' the map by adding cartographic elements.
Anidar proyectos
Si se quiere incluir contenido de otros proyectos en un proyecto, se puede elegir .
Empotrar capas
El siguiente cuadro de diálogo le permite incluir capas de otros proyectos. Aquí un pequeño ejemplo:
Press to look for another project from the Alaska dataset.
Select the project file grassland. You can see the content of the project (see figure_embed_dialog).
Press Ctrl and click on the layers grassland and regions. Press [OK]. The selected layers are embedded in the map legend and the map view now.
Figure Nesting 1: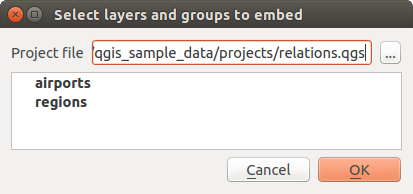 Si bien las capas incrustadas son editables, no se pueden cambiar sus propiedades como estilo y etiquetado.
Eliminar capas incrustadas
Right-click on the embedded layer and choose

Remove.