.
QGIS as OGC Data Client
El Open Geospatial Consortium (OGC) es una organización internacional con miembros de más de 300 organizaciones comerciales, gubernamentales, sin fines de lucro y de investigación de todo el mundo. Sus miembros desarrollan e implementan estándares para contenido geoespacial y servicios, procesamiento de datos SIG y el intercambio.
Al describir un modelo de datos básico para las características geográficas, un número cada vez mayor de las especificaciones son desarrollados por OGC para atender las necesidades específicas de ubicación interoperable y la tecnología geoespacial, incluyendo SIG. Más información se puede encontrar en http://www.opengeospatial.org/.
Important OGC specifications supported by QGIS are:
OGC services are increasingly being used to exchange geospatial data between different GIS implementations and data stores. QGIS can deal with the above specifications as a client, being SFS (through support of the PostgreSQL / PostGIS data provider, see section Capas PostGIS).
Cliente WMS/WMTS
WCT Cliente

Un Web Coverage Service (WCS) proporciona acceso a los datos ráster en formas que son útiles para la representación del lado cliente, como datos de entrada en los modelos científicos, y para otros clientes. El WCS se puede comparar con la WFS y el WMS. Como WMS y WFS instancias de servicios, un WCS permite a los clientes elegir partes de las explotaciones de información de un servidor basado en restricciones espaciales y otros criterios de consulta.
QGIS has a native WCS provider and supports both version 1.0 and 1.1 (which are significantly different), but currently it prefers 1.0, because 1.1 has many issues (i.e., each server implements it in a different way with various particularities).
The native WCS provider handles all network requests and uses all standard QGIS network settings (especially proxy). It is also possible to select cache mode ('always cache', 'prefer cache', 'prefer network', 'always network'), and the provider also supports selection of time position, if temporal domain is offered by the server.
Cliente WFS y WFS-T
In QGIS, a WFS layer behaves pretty much like any other vector layer. You can identify and select features, and view the attribute table. Since QGIS 1.6, editing WFS-T is also supported.
En general, añadir una capa WFS es muy similar al procedimiento utilizado con WMS. La diferencia es que no hay servidores por defecto definidos, así que tenemos que añadir la nuestra.
Cargar una capa WFS
Como un ejemplo, utilizamos el servidor WFS de DM Solutions y mostramos una capa. La URL es http://www2.dmsolutions.ca/cgi-bin/mswfs_gmap
Haga clic en la herramienta Añadir capa WFS en la barra de herramientas Capas. El diálogo Añadir capa WFS de un servidor aparecera.

Haga clic en [Nuevo].

Ingrese 'DS Solutions' como nombre.

Introducir la URL (véase más arriba).

Haga clic en [Aceptar].

Choose 'DM Solutions' from the Server Connections drop-down list.

Haga clic en [Conectar]

Espere a que la capa de capas este poblada.

Seleccione la capa Parks en la lista.

Haga clic en [Aplicar] para añadir la capa al mapa.
Tenga en cuenta que cualquier configuración de proxy que pueda haber establecido en sus preferencias también son reconocidos.
Figure OGR 3: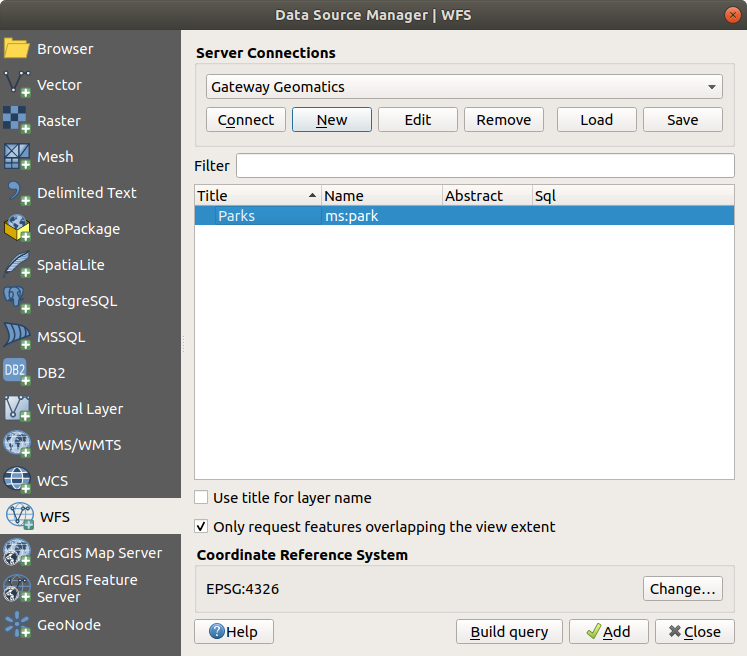 You'll notice the download progress is visualized in the lower left of the QGIS main window. Once the layer is loaded, you can identify and select a province or two and view the attribute table.
Sólo la versión 1.0.0 de WFS es compatible. Por ahora, no ha habido muchas pruebas contra versiones WFS implementados en otros servidores de la CMA. Si tiene problemas con cualquier otro servidor WFS, por favor no dude en ponerse en contacto con el equipo de desarrollo. Por favor, consulte la sección :ref: label_helpsupport para más información sobre las listas de correo.
Truco
Encontrar servidores WFS
You can find additional WFS servers by using Google or your favorite search engine. There are a number of lists with public URLs, some of them maintained and some not.