8.

Panoul Navigatorului

Panoul Navigatorului QGIS este un instrument excelent pentru navigarea, căutarea, inspectarea, copierea și încărcarea resurselor QGIS. Doar resursele pe care QGIS știe să le gestioneze sunt afișate în browser.

Folosind panoul Navigatorului puteți localiza, inspecta și adăuga date, așa cum este descris în Panoul Navigatorului. În plus, panoul Navigatorului acceptă glisarea și plasarea multor resurse QGIS, cum ar fi fișierele de proiect, scrípturile Python, scrípturile de procesare și modelele de procesare.

Scrípturile Python, scrípturile și modelele Processing pot fi, de asemenea, deschise pentru editare într-un editor extern și în modelatorul grafic.

Puteți trage și plasa straturi din panoul Straturi în panoul Navigatorului, de exemplu într-un GeoPackage sau o bază de date PostGIS.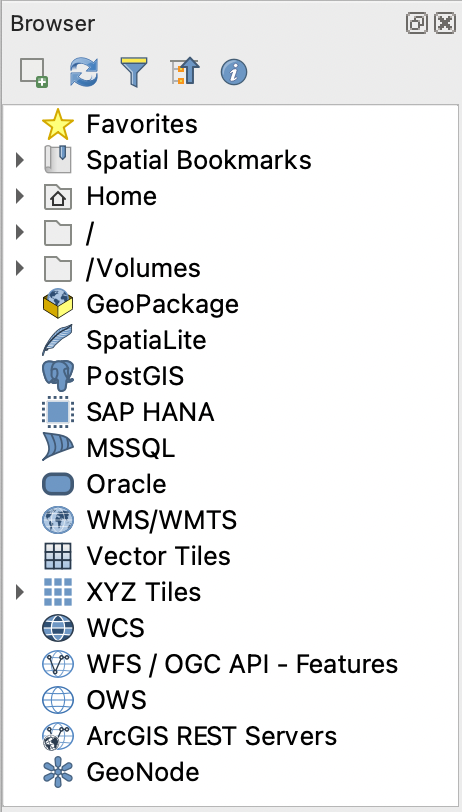 Panoul navigatorului (Fig. 8.1) are o ierarhie extensibilă, cu câteva intrări fixe de nivel superior care organizează resursele gestionate. Intrările nodurilor sunt extinse făcând clic pe

din stânga numelui intrării. Orice ramură este restrânsă făcând clic pe

. Butonul |colapseTree| Restrânge Tot restrânge toate intrările de nivel superior.
În Setări ► Interfață Personalizabilă este posibilă dezactivarea resurselor. Dacă, de exemplu, nu doriți să afișați scrípturi Python în browser, puteți debifa intrarea Navigator ► py, iar dacă doriți să scăpați de folderul de casă din navigator, puteți debifați intrarea Navigator ► special:Home.
(

Filtrarea Navigării) poate fi folosită pentru căutarea pe baza numelor intrărilor (atât intrările subordonate, cât și intrările nodurilor din ierarhie). Folosind meniul derulant

Oțiuni de lângă câmpul de text al filtrului, puteți
efectua Căutare Senzitivă

seta Sintaxa modelului de filtrare la

Normal

Metacaracter(e)

Expresii Regulate
Controlul grafic al Proprietăților, care arată informații utile despre unele intrări/resurse, poate fi activat/dezactivat folosind butonul |metadate| Activează/dezactivează controlul grafic al proprietăților. Când este activat, se deschide în partea de jos a panoului navigatorului, așa cum se arată în Fig. 8.2.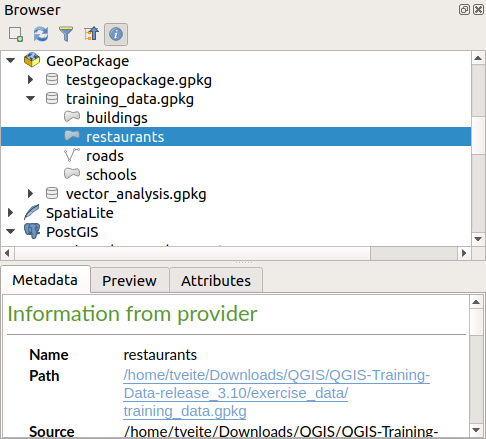 A second browser panel can be opened by activating the Browser (2) panel in View ► Panels. Having two browser panels can be useful when copying layers between resources that are locationed deep down in different branches of the browser hierarchy.
A lot can be accomplished in the Browser panel
Add vector, raster and mesh layers to your map by double-clicking, dragging onto the map canvas or clicking the Add Selected Layers button (after selecting layers)

Run Python scripts (including Processing algorithms) by double-clicking or dragging onto the map canvas

Run models by double-clicking or dragging onto the map canvas

Extract Symbols… from QGIS Project files using the context menu

Open files with their default applications (Open <file type> Externally… in the context menu). Examples: HTML files, spreadsheets, images, PDFs, text files, …

Copy entries

Rename and delete (multiple) layers (context menu: Manage ►)

Open a file explorer window and directly select the file Show in Files
Resource specific actions are listed for the different resource groups sorted under the top-level entries listed below.
Often used file system locations can be tagged as favorites. The ones you have tagged will appear here.
In addition to the operations described under Home, the context menu allows you to Rename Favorite… and Remove Favorite.
This is where you will find your spatial bookmarks, organised into Project Bookmarks and User Bookmarks.
From the top level context menu, you can create a bookmark (New Spatial Bookmark…), Show the Spatial Bookmark Manager, Import Spatial Bookmarks… and Export Spatial Bookmarks….
For bookmark group entries you can Export Spatial Bookmarks…, create a bookmark (New Spatial Bookmark…), Rename Bookmark Group, and Delete Bookmark Group.
For bookmark entries you can Zoom to Bookmark, Edit Spatial Bookmark… and Delete Spatial Bookmark
Available once the project file has been saved, the Project home entry is a folder containing data and other contents (scripts, models, text, …) that may be used within the current project. Displayed in the Browser panel, it allows you to quickly access data and other files of the project.
It defaults to the project file folder but can be changed through the Project ► Properties… ► General ► Project home option, or by right-clicking on the Project Home item of the Browser panel and selecting Set project home…. Customizing that folder is especially useful in contexts where QGIS projects are not stored in the root folder of an organisational «project», along with datasets.
The next items of the Browser panel depend on the OS in use and concern the top level entries of its file system.
They are mainly:
The Home folder, pointing to the current user home folder

on Unix-based machines, the root / folder

the connected drives, either local or network. Depending on the OS, they are directly listed (eg, C:\, D:\) or through the /Volumes entry.
From the contextual menu of each of these folders or drives, you can:
refresh the contents

create a New ► subitem that is a Directory, GeoPackage or ESRI Shapefile format dataset

hide the directory (Hide from Browser)

Set color: customize the folder icon color, aiding in rapid browser navigation of complex folder structures

enable Scanning:

Monitor for changes: allows to manually control whether a particular directory should be monitored and automatically updated. This setting applies to the selected directory and all subdirectories. This means that you can manually opt-in to monitoring of network drives if you know there's no issue, or manually opt-out of monitoring of large directories which you don't want monitored for other reasons. By default, remote or network drives are not automatically monitored.

Fast scan this directory

open the directory in your file manager (Open Directory…)

open the directory in a terminal window (Open in Terminal…)

inspect the Properties… or the parent Directory Properties…
Depending on your OS and installed drivers, you might have access to different database types to use in QGIS. Below are listed the different entries of contextual menu at each level of the dataset tree.
Level

Context menu

Type of database

GeoPackage (1)

SpatiaLite

PostGIS

SAP HANA

MS SQL Server

Oracle

Top menu

Create a New Connection… to an existing database

Create Database…

Save Connections… details to a file

Load Connections…

Connection / Database

Refresh a connection

Edit Connection… settings

Remove Connection

Delete <database_name>

Compact Database (VACUUM)

Create a New Schema…

Create a New Table…

Execute SQL… query

Schema

Refresh a schema

Schema Operations ► Rename Schema…

Schema Operations ► Delete Schema…

Create a New Table…

Execute SQL… query

Table / Layer

Table Operations ► Rename Table…

Table Operations ► Truncate Table…

Execute SQL… query

Export Layer ► To file…

Manage ► Rename Layer <layer_name>…

Manage ► Delete Layer <layer_name>…

Manage ► Delete Selected Layers

Manage ► Add Layer to Project

Manage ► Add Selected Layers to Project

Open Layer Properties… dialog

Open File Properties… dialog

Fields

Add New Field…

Field

Delete Field…
The different entries may also be available for some GDAL supported vector file formats such as ESRI File Geodatabase, FlatGeobuf, GeoParquet, NetCDF, … when compatible.
Level

Context menu

Type of services

WMS / WMTS

Vector Tiles

XYZ Tiles

WCS

WFS / OGC API - Features

ArcGIS REST Servers

GeoNode

Top menu

Create a New Connection…

Create a New Generic Connection…

Create a New ArcGIS Vector Tile Service Connection…

Save Connections… details to a file

Load Connections…

Connection

Refresh connection

Edit… connection settings

Delete connection

View Service Info in Web browser

Table / Layer

Export Layer ► To File…

Add layer to Project

Open Layer properties… dialog

View Service Info in Web browser
Project files. The context menu for QGIS project files allows you to:

open it (Open Project)

extract symbols (Extract Symbols…) - opens the style manager that allows you to export symbols to an XML file, add symbols to the default style or export as PNG or SVG.

inspect properties (File Properties…)

You can expand the project file to see its layers. The context menu of a layer offers the same actions as elsewhere in the browser.

QGIS Layer Definition files (QLR). The following actions are available from the context menu:

export it (Export Layer ► To file)

add it to the project (Add Layer to Project)

inspect properties (Layer Properties…)

Processing models (.model3). The following actions are available from the context menu:

QGIS print composer templates (QPT). The following action is available from the context menu:

(New Layout from Template)

Python scripts (.py). The following actions are available from the context menu:

(Run script…)

(Open in External Editor)

Recognized raster formats. The following actions are available from the context menu:

delete it (Delete File <dataset name>)

export it (Export Layer ► To file)

add it to the project (Add Layer to Project)

inspect properties (Layer Properties…, File Properties…)

For some formats you can also Open <file type> Externally…

Recognized vector formats. The following actions are available from the context menu:

delete it (Delete File <dataset name>)

export it (Export Layer ► To file)

add it to the project (Add Layer to Project)

inspect properties (Layer Properties…, File Properties…)

For some formats you can also Open <file type> Externally…