13.2.

A szimbólumválasztó

A Szimbólumválasztó a szimbólumok tervezésének fő helye. Létrehozhat és szerkeszthet benne jelölő-, vonal- és kitöltésszimbólumokat.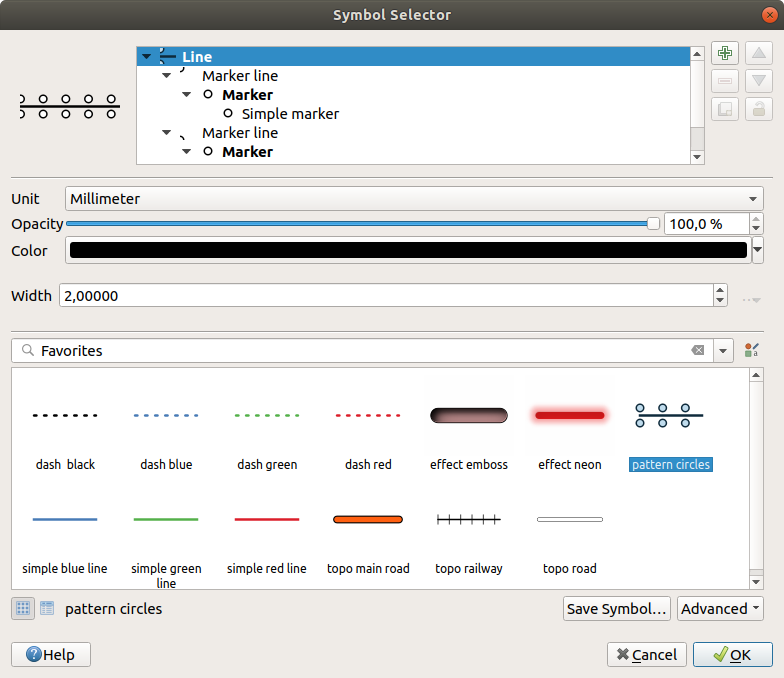 A szimbólumválasztó párbeszédablak két fő részből áll:
a szimbólumfa mutatja szimbólumrétegeket, amelyeket aztán kombinálva kialakul az új, egész szimbólum

és a fában kiválasztott szimbólumréteg beállításai
A szimbólum több Szimbólumrétegből állhat. A szimbólumfa ezen szimbólumrétegek átfedését mutatja, amelyeket aztán kombinálva kialakul az új globális szimbólum. Ez a dinamikus szimbólumábrázolás frissül, amint a szimbólum tulajdonságai megváltoznak.
A szimbólumfában kiválasztott szinttől függően különféle eszközök állnak rendelkezésre a fa kezeléséhez:
új szimbólumréteg hozzáadása: tetszőleges számú szimbólumot halmozhat egymásra

a kiválasztott szimbólumréteg eltávolítása

lock colors of symbol layer: a locked color stays unchanged when user changes the color at the global (or upper) symbol level

duplicate a (group of) symbol layer(s)

move up or down the symbol layer
In QGIS, configuring a symbol is done in two steps: the symbol and then the symbol layer.
At the top level of the tree, it depends on the layer geometry and can be of Marker, Line or Fill type. Each symbol can embed one or more symbols (including, of any other type) or symbol layers.
You can setup some parameters that apply to the global symbol:
Unit: it can be Millimeters, Points, Pixels, Meters at Scale, Map units or Inches (see Mértékegységválasztó for more details)

Opacity

Color: when this parameter is changed by the user, its value is echoed to all unlocked sub-symbols color

Size and Rotation for marker symbols

Width for line symbols

Javaslat

Use the Size (for marker symbols) or the Width (for line symbols) properties at the symbol level to proportionally resize all of its embedded symbol layers dimensions.

A preview of the symbols library: Symbols of the same type are shown and, through the editable drop-down list just above, can be filtered by free-form text or by categories. You can also update the list of symbols using the Style Manager button and open the eponym dialog. There, you can use any capabilities as exposed in A stíluskezelő section.

The symbols are displayed either:

Press the Save Symbol button to add the symbol being edited to the symbols library.

With the Advanced option, you can:

for line and fill symbols, Clip features to canvas extent.

for fill symbols, Force right-hand rule orientation: allows forcing rendered fill symbols to follow the standard "right hand rule" for ring orientation (i.e, polygons where the exterior ring is clockwise, and the interior rings are all counter-clockwise).

The orientation fix is applied while rendering only, and the original feature geometry is unchanged. This allows for creation of fill symbols with consistent appearance, regardless of the dataset being rendered and the ring orientation of individual features.

Depending on the symbology of the layer a symbol is being applied to, additional settings are available in the Advanced menu:
At a lower level of the tree, you can customize the symbol layers. The available symbol layer types depend on the upper symbol type. You can apply on the symbol layer

paint effects to enhance its rendering.
Because describing all the options of all the symbol layer types would not be possible, only particular and significant ones are mentioned below.