Die Symbolbibliothek¶
The Style Manager is the place where users can manage and create generic symbols and color ramps to be used in several QGIS projects. You can open that modeless dialog:
from the Settings ‣ Style Manager… menu;

or from a vector Layer Properties ‣ Symbology tab (using the Style Manager button in a symbol property dialog).
The dialog allows you to:
create, edit and remove symbols and color ramps;

organize symbols and color ramps in custom groups;

export and import symbols and color ramps.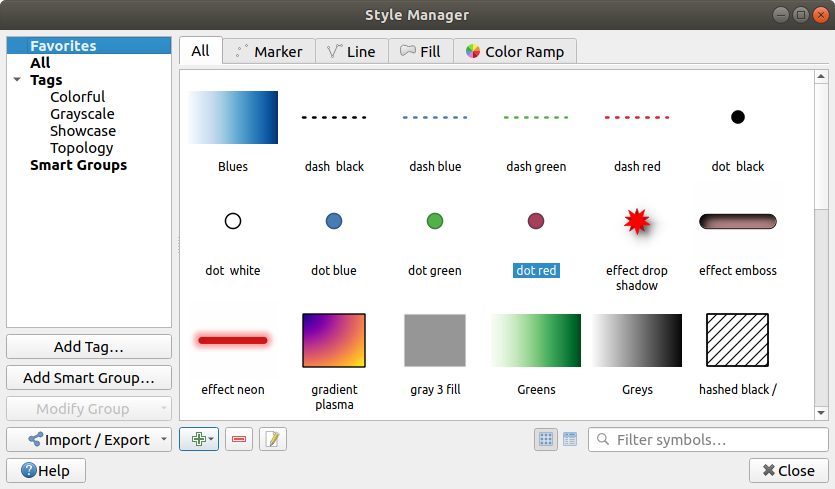 The Style Manager dialog displays in its center a frame with previewed items organized into tabs:
All for a complete collection of point, linear and surface symbols as the following items allow only to display a single item group;

Marker for point symbols;

Line for linear symbols;

Fill for surface symbols;

and Color ramp
For each family of items, you can organize the elements into different categories, listed in the panel on the left:
Favorites: displayed by default when configuring an item, it shows a set of default symbols and color ramps you can extend;

All: listing all the installed symbols and color ramps;

Tags: shows a list of labels you can use to identify the items. A symbol or color ramp can be tagged more than once. Select a tag in the list and you'll see the items that belong to it for each type of item. To create a new tag you could later attach to symbols or color ramps, use the Add Tag… button or select the Add Tag… from any tag contextual menu;

Smart Group: a smart group dynamically fetches its symbols according to conditions set (see eg, figure_smart_group). Click the Add Smart Group… button to create smart groups. The dialog box allows you to enter an expression to filter the items to select (has a particular tag, have a string in its name, etc.). Any symbol or color ramp that satisfies the entered condition(s) is automatically added to the smart group.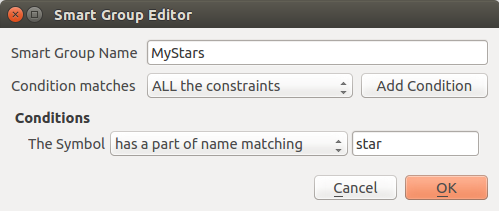 Tags and smart groups are not mutually exclusive: they are simply two different ways to organize your symbols and color ramps. Unlike the smart groups that automatically fetch their belonged items based on the input constraints, tags are filled by the user. To edit any of those categories, you can either:
select the items, right-click and choose Add to Tag ‣ and then select the tag name or create a new tag;

select the tag and press Modify group… ‣ Attach Selected Tag to Symbols. A checkbox appears near each item to help you select or deselect it. When selection is finished, press Modify group… ‣ Finish Tagging.

select the smart group, press Modify group… ‣ Edit smart group… and configure a new set of constraints in the Smart Group Editor dialog. This option is also available in the contextual menu of the smart group.
To remove a tag or a smart group, right-click on it and select the

Remove button. Note that this does not delete the items grouped in the category.
As seen earlier, symbols and color ramps are listed under different tabs whose contents depend on the active category (tag, smart group, favorites…). For each type of symbols (Marker , Line or Fill) and color ramp, when the tab is enabled, you can:
Add new items: press the Add item button and configure the item following symbols or color ramps builder description.

Modify an existing item: select an item and press Edit item button and configure as mentioned above.
Right-clicking over a selection of items also allows you to:
Add to Favorites;

Remove from Favorites;

Add to Tag ‣ and select the appropriate tag or create a new one to use;

Clear Tags: detaching the symbols from any tag;

Remove Item(s);

Edit Item: applies to the item you right-click over;

Export Selected Symbol(s) as PNG… (not available with color ramps);

Export Selected Symbol(s) as SVG… (not available with color ramps);
The Color ramp tab in the Style Manager dialog helps you preview different color ramps based on the category selected in the left panel.
To create a custom color ramp, activate the Color ramp tab and click the

Add item button. The button reveals a drop-down list to choose the ramp type:
Gradient: given a start and end colors, generate a color ramp which can be continuous or discrete. With double-clicking the ramp preview, you can add as many intermediate color stops as you want.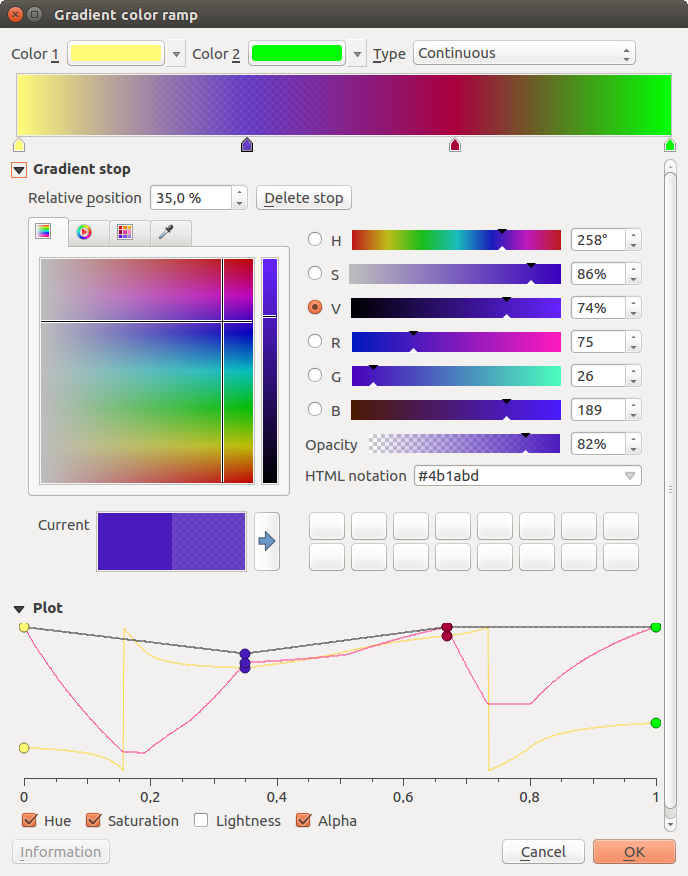 Color presets: allows to create a color ramp consisting of a list of colors selected by the user;

Random: creates a random set of colors based on range of values for Hue, Saturation, Value and Opacity and a number of colors (Classes);

Catalog: ColorBrewer: a set of predefined discrete color gradients you can customize the number of colors in the ramp;

or Catalog: cpt-city: an access to a whole catalog of color gradients to locally save as standard gradient. The cpt-city option opens a new dialog with hundreds of themes included 'out of the box'.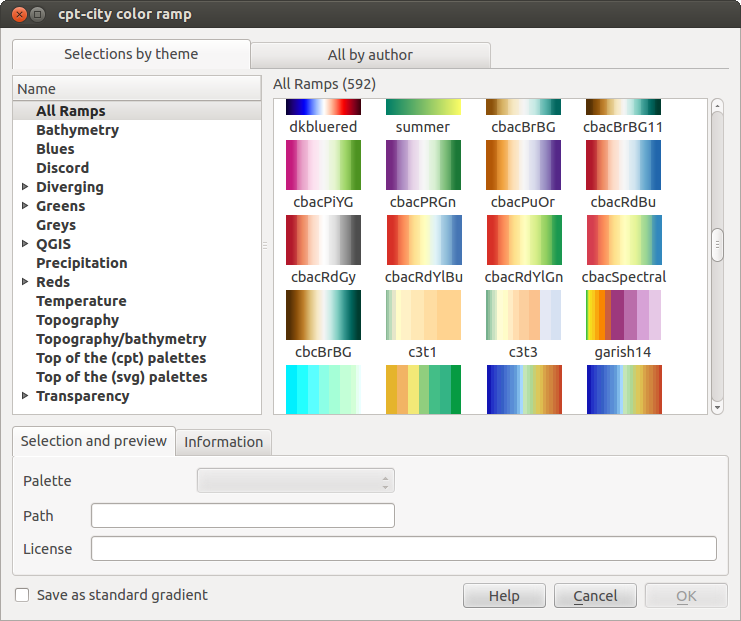 Tipp
Easily adjust the color stops of the gradient color ramp
Double-clicking the ramp preview or drag-and-drop a color from the color spot onto the ramp preview adds a new color stop. Each color stop can be tweaked using the Farbauswahl widgets or by plotting each of its parameters. You can also reposition it using the mouse, the arrow keys (combine with Shift key for a larger move) or the Relative position spinbox. Pressing Delete stop as well as DEL key removes the selected color stop.
Symbolauswahl ist der Hauptdialog um ein Symbol zu entwerfen. Sie können Marker, Linie oder Symbole erstellen oder bearbeiten füllen.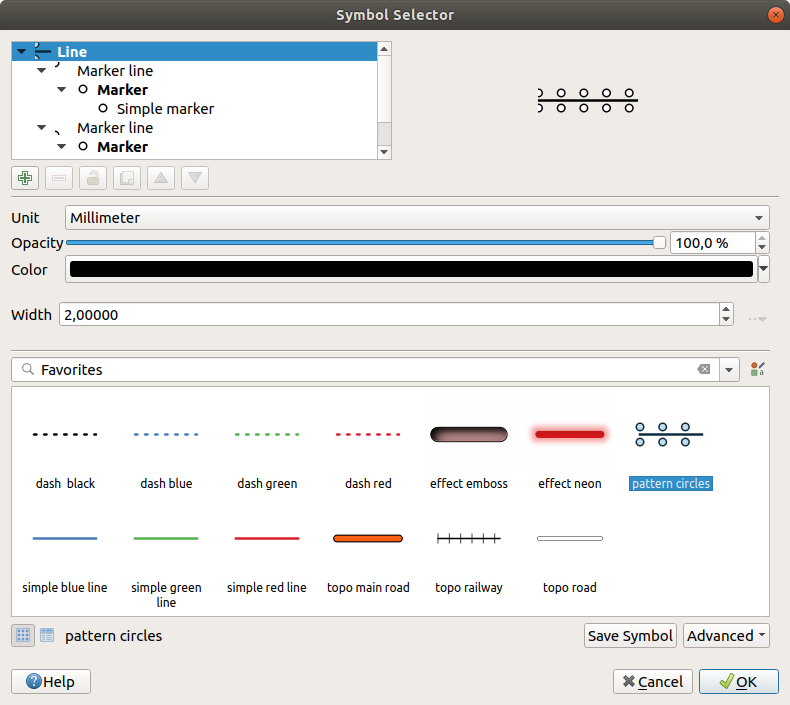 Zwei Hauptkomponenten gliedern den Symbolauswahl-Dialog:
Der Symbollayerbaum, der einzelne Ebenen zeigt, die später überlagert werden, um ein neues Gesamtsymbol zu formen

und Einstellungen, um die ausgewählte Symbolebene im Baum zu konfigurieren.
Ein Symbol kann aus mehreren :guilabel:'Symbol layers' bestehen. Der Symbollayerbaum zeigt die Überlagerung dieser Symbollayer, die später kombiniert werden, um ein neues Gesamtsysmbol zu formen. Zudem wird eine dynamische Symboldarstellung aktualisiert, so bald sich Symboleigenschaften ändern.
Eine Reihe Werkzeuge ist verfügbar, um die Teile des Symbollayerbaumes zu verwalten. In Abhängigkeit vom ausgewählten Layer stehen am unteren Rand des Dialogs verschiedene Werkzeuge zur Verfügung, um:
Einen neuen Symbollayer hinzufügen: Man kann so viele Symbole stapeln, wie man will

Gewählten eingebetteten Layer entfernen

Farben von Symbollayern sperren: eine gesperrte Farbe bleibt unverändert, wenn der Benutzer die Farbe auf globaler (oder drüber) Symbolebene ändert

kopiert einen/eine Gruppe von Symbollayer

Symbollayer nach oben oder unten bewegen
When a symbol layer is selected in the tree, you can also:
control its visibility with the Enable layer option. Disabled symbol layers are not drawn, but are saved and can be enabled at a later stage. This makes it easier to customize parts of the symbol based on the feature attributes or to tweak symbol appearance without having to totally delete a symbol layer;

apply rendering effects using the Draw effects button.
in QGIS werden Symbole in zwei Schritten konfiguriert: Das Symbol und dann die Symbolebene.
Auf der obersten Ebene des Baumes hängt die Art des Symbols von der Layergeometrie ab und kann entweder Markierung, Linie oder Füllung sein. In jedes Symbol können eines oder mehrere Symbole (auch von jedem anderen Typ) oder Symbolebenen eingebettet werden.
You can setup some parameters that apply to the global symbol:
Unit: it can be Millimeter, Points, Pixels, Meters at Scale, Map unit or Inches

Transparency

Color: when this parameter is changed by the user, its value is echoed to all unlocked sub-symbols color

Size and Rotation for marker symbols

Width for line symbols
Bemerkung
The Data-defined override button beside the last layer-related parameters is inactive when setting the symbol from the Style manager dialog. When the symbol is connected to a map layer, this button helps you create proportional or multivariate analysis rendering.
The symbols used at this level are items you can pick from the symbols library. Available symbols of the corresponding type are shown and, through the editable drop-down list just above, can be filtered by free-form text or by categories. You can also update the list of symbols using the

Style Manager button and open the eponym dialog. There, you can use any capabilities as exposed in Die Stilverwaltung section.
The symbols are displayed either:
in an icon list (with thumbnail, name and associated tags) using the List View button below the frame;
Press the Save Symbol button to add any symbol being edited to the symbols library. With the Advanced

option, you can:
set the symbol levels: defining the way symbol layers are connected to each other in the map canvas (see Symbol levels for more information)

and for line and fill symbols, clip features to canvas extent.
Tipp
Note that once you have set the size in the lower levels of the Symbol layers dialog, the size of the whole symbol can be changed with the Size (for marker symbols) or the Width (for line symbols) menu in the first level again. The size of the lower levels changes accordingly, while the size ratio is maintained.
At a lower level of the tree, you can customize the symbol layers. The available symbol layer types depend on the upper symbol type. You can apply on the symbol layer

paint effects to enhance its rendering.
Because describing all the options of all the symbol layer types would not be possible, only particular and significant ones are mentioned below.