The Select Color dialog will appear whenever you click the

icon to choose a color. The features of this dialog depend on the state of the Use native color chooser dialogs parameter checkbox in . When checked, the color dialog used is the native one of the OS on which QGIS is running. Otherwise, the QGIS custom color chooser is used.
The custom color chooser dialog has four different tabs which allow you to select colors by

Color ramp,

Color wheel,

Color swatches or

Color picker. With the first two tabs, you can browse to all possible color combinations and apply your choice to the item.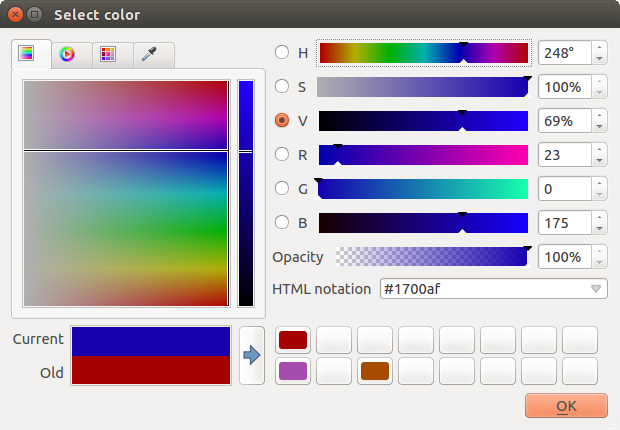 In the

Color swatches tab, you can choose from a list of color palettes (see Colors Settings for details). All but the Recent colors palette can be modified with the

Add current color and

Remove selected color buttons at the bottom of the frame.
The … button next to the palette combobox also offers several options to:
copy, paste, import or export colors
create, import or remove color palettes
add the custom palette to the color selector widget with the Show in Color Buttons item (see figure_color_selector)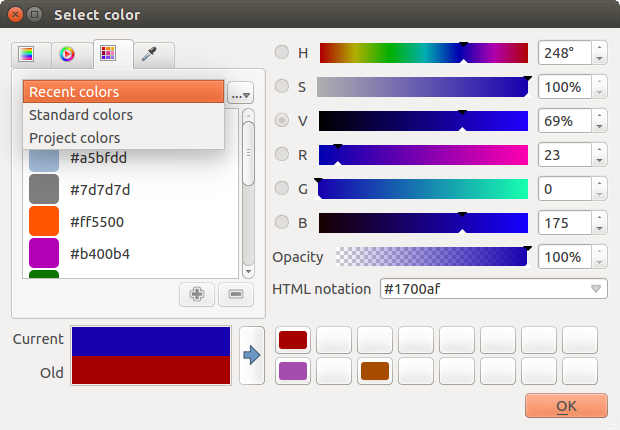 Another option is to use the

Color picker which allows you to sample a color from under your mouse cursor at any part of the QGIS UI or even from another application: press the space bar while the tab is active, move the mouse over the desired color and click on it or press the space bar again. You can also click the Sample Color button to activate the picker.
Whatever method you use, the selected color is always described through color sliders for HSV (Hue, Saturation, Value) and RGB (Red, Green, Blue) values. The color is also identifiable in HTML notation.
Modifying a color is as simple as clicking on the color wheel or ramp or on any of the color parameters sliders. You can adjust such parameters with the spinbox beside or by scrolling the mouse wheel over the corresponding slider. You can also type the color in HTML notation. Finally, there is an Opacity slider to set transparency level.
The dialog also provides a visual comparison between the Old color (applied to object) and the Current one (being selected). Using drag-and-drop or pressing the

Add color to swatch button, any of these colors can be saved in a slot for easy access.
Tipp
Quick color modification
Drag-and-drop a color selector widget onto another one to apply its color.
Color ramps are a practical way to apply a set of colors to one or many features. Their creation is described in the Farbverlauf section. As for the colors, pressing the

color ramp button opens the corresponding color ramp type dialog allowing you to change its properties.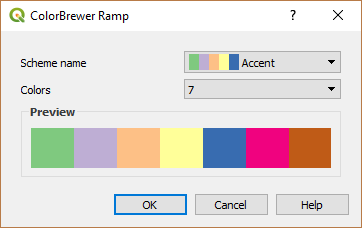 The drop-down menu to the right of the button gives quick access to a wider set of color ramps and options:
Invert Color Ramp
a preview of the gradient or catalog: cpt-city color ramps flagged as Favorites in the Style Manager dialog
All Color Ramps to access the compatible color ramps database
Create New Color Ramp… of any supported type that could be used in the current widget (note that this color ramp will not be available elsewhere unless you save it in the library)
Edit Color Ramp…, the same as clicking the whole color ramp button
Save Color Ramp…, to save the current color ramp with its customizations in the style library