11.2.

3D Map View

3D visualization support is offered through the 3D map view. You can create, manage and open 3D map views via View ► 3D Map Views ► menu:
By clicking on New 3D Map View you can create a new 3D map view. A floating and dockable QGIS panel will appear (see The 3D Map View dialog). It has the same extent and view as the 2D main map canvas and provides a set of navigation tools to turn the view into 3D.

By clicking on Manage 3D Map Views you get in the 3D Map Views Manager. Here you get the ability to open, duplicate, remove and rename 3D map views.

If you created one or more 3D map views, you see them listed in 3D Map Views. You can turn them on and off by clicking on. They will be saved by saving the project, even if they are turned off.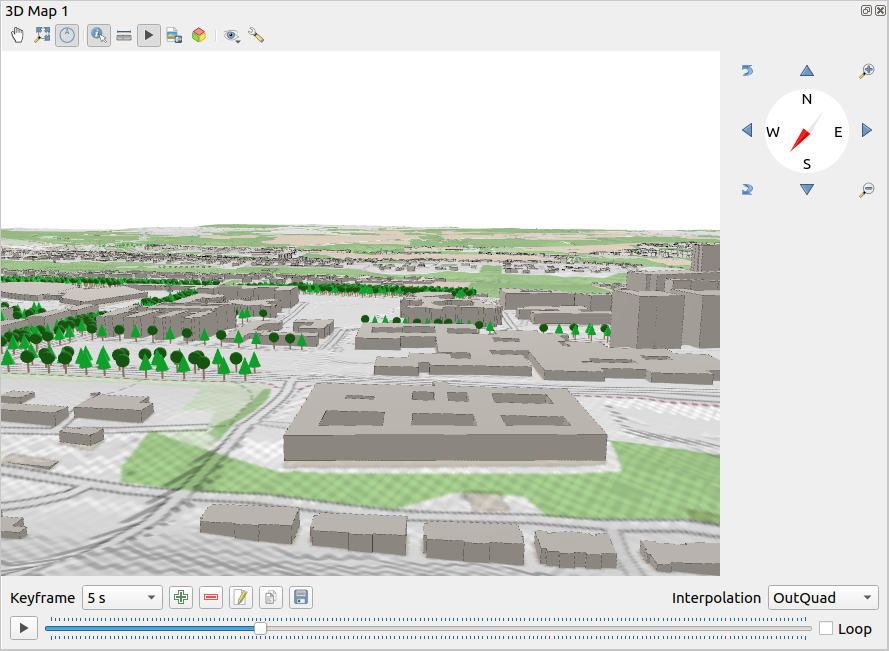 The following tools are provided at the top of the 3D map view panel:
The 3D map view opens with some default settings you can customize. To do so, expand the

Options menu at the top of the 3D canvas panel and press the

Configure button to open the 3D configuration window.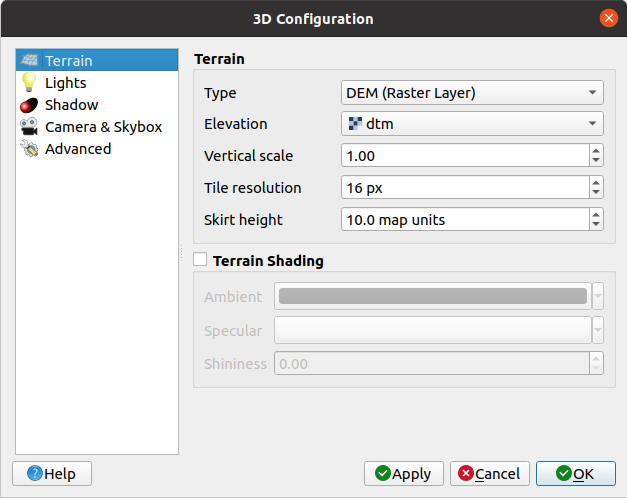 In the 3D Configuration window there are various options to fine-tune the 3D scene:
An animation is based on a set of keyframes - camera positions at particular times. To create an animation:
Click the Add keyframe button and enter a Keyframe time in seconds. The Keyframe combo box now displays the time set.

Using the navigation tools, move the camera to the position to associate with the current keyframe time.

Repeat the previous steps to add as many keyframes (with time and position) as necessary.

Click the button to preview the animation. QGIS will generate scenes using the camera positions/rotations at set times, and interpolating them in between these keyframes. Various Interpolation modes for animations are available (eg, linear, inQuad, outQuad, inCirc… – more details at https://doc.qt.io/qt-5/qeasingcurve.html#EasingFunction-typedef).

The animation can also be previewed by moving the time slider. Keeping the Loop box checked will repeatedly run the animation while clicking stops a running animation.
Click

Export animation frames to generate a series of images representing the scene. Other than the filename Template and the Output directory, you can set the number of Frames per second, the Output width and Output height.
A vector layer with elevation values can be shown in the 3D map view by checking Enable 3D Renderer in the 3D View section of the vector layer properties. A number of options are available for controlling the rendering of the 3D vector layer.