Options communes aux éléments de la mise en page¶
QGIS gère de nombreux types d'objets pour mettre en page une carte. Il peut s'agir d'une carte, une légende, une barre d'échelle, une photo, une table, une flèche du nord, une image… Tous ces types d'objets partagent des options et des comportements communs, ils sont détaillés ci-dessous.
Les éléments peuvent être créés via différents outils, de zéro ou à partir d'autres objets existants.
Pour créer un élément sur une mise en page à partir de zéro :
Sélectionnez l'outil correspondant, soit depuis le menu Ajouter un élément soit depuis la barre d'outils Boîte à outils.

Puis :

Cliquez sur la mise en page et renseignez les informations demandées sur la taille et la position dans la fenêtre Propriétés du nouvel élément qui s'ouvre (pour plus de détails, voir Position and Size) ;

Ou dessinez un rectangle pour définir l'emplacement et la taille de l'élément. Vous pouvez vous aider de l'accrochage sur les grids and guides pour faciliter le positionnement.
Note
Du fait de leur forme particulière, les nœuds ou les flèches ne se créent pas en un clic ou en dessinant un rectangle. Vous devez cliquer et placer chaque nœud de l'élément. Voir Les formes basées sur des nœuds pour plus de détails.
Vous pouvez aussi :
Sélectionner un élément existant avec l'outil Sélectionner/Déplacer un élément de la Boîte à outils.

Utiliser le menu contextuel ou les outils du menu Éditer pour copier/couper un élément et le coller au niveau du curseur de la souris en tant que nouvel élément.

Vous pouvez également utiliser la commande Coller sur place (Ctrl+Shift+V) pour dupliquer un élément d'une page à une autre et le coller au même emplacement sur chaque page.
De plus, vous pouvez créer des éléments en utilisant un modèle de mise en page (voir The Layout Manager pour plus de détails) via le menu Mise en page ‣ Ajouter des éléments depuis un modèle….
Astuce
Ajouter des éléments de mise en page en utilisant l'explorateur
Depuis votre explorateur ou via le panneau Explorateur, glissez-déposez un modèle de mise en page (fichier .qpt) sur la mise en page courante et QGIS va automatiquement y ajouter tous les éléments de ce modèle.
Each item inside the print layout can be moved and resized to create a perfect layout. For both operations the first step is to activate the

Select/Move item tool and click on the item.
You can select multiple items with the

Select/Move item button: click and drag over the items or hold the Shift button and click on each of the items you want. To deselect an item, click on it holding the Shift button.
Each time there's a selection, count of selected items is displayed on the status bar. Inside the Edit menu, you can find actions to select all the items, clear all selections, invert the current selection and more…
Layout items have a set of common properties you will find at the bottom of the Item Properties panel: Position and size, Rotation, Frame, Background, Item ID, Variables and Rendering (See figure_layout_common).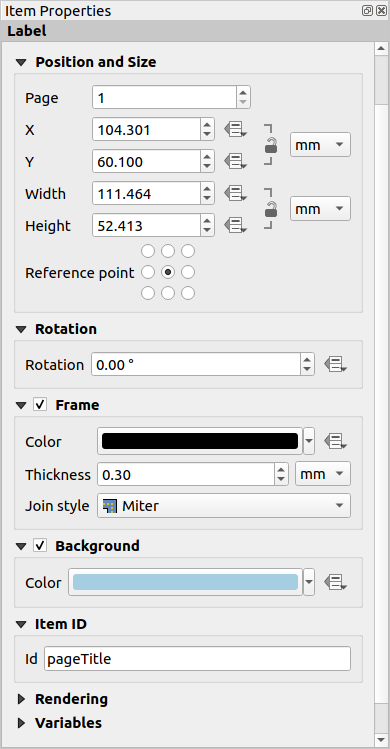 Note
The

Data defined override icon next to most of the options means that you can associate that property with a layer, features attributes, geometry or with any other layout item's property, using expressions or variables. For more information see Valeurs définies par des données.
The Position and size group lets you define the size and position of the frame which contains the item (see Position and Size for more information).

Rotation permet de définir un angle de rotation (en degrés) pour l'élément.

The Frame shows or hides the frame around the item. Use the Color, Thickness and Join style widgets to adjust those properties.

Use the Background color menu for setting a background color. Click on the [Color…] button to display a dialog where you can pick a color or choose from a custom setting. Transparency can be adjusted through altering the alpha field settings.

Use the Item ID to create a relationship to other print layout items. This is used with QGIS server and other potential web clients. You can set an ID on an item (for example, a map or a label), and then the web client can send data to set a property (e.g., label text) for that specific item. The GetProjectSettings command will list the items and IDs which are available in a layout.

Rendering mode helps you set whether and how the item can be displayed: you can, for instance, apply blending mode, adjust the opacity of the item or Exclude item from exports.
Extending the features of the New Item Properties dialog with data-defined capabilities, this group allows you to place the items accurately.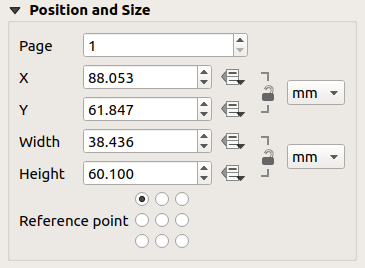 the actual number of the page to place the item on;

the reference point of the item;

the X and Y coordinates of the Reference point of the item on the chosen page. The ratio between these values can be locked by clicking on the button. Changes made to a value using the widget or the Select/Move item tool will be reflected in both of them;

the Width and Height of the item bounding box. As for coordinates, the ratio between width and height can be locked.
QGIS allows advanced rendering for layout items just like vector and raster layers.

Mode de fusion : avec cet outil vous pouvez donner des effets qui, autrement, ne sont réalisables qu'avec des logiciels de dessin. Les pixels des éléments situés au-dessous et au-dessus sont fusionnés selon le mode choisi (voir Modes de fusion pour une description de chaque mode).

Transparency : You can make the underlying item in the layout visible with this tool. Use the slider to adapt the visibility of your item to your needs. You can also make a precise definition of the percentage of visibility in the menu beside the slider.

Exclure cet élément des exports : Vous pouvez décider de rendre un élément invisible dans tous les exports. Après avoir activé cette option, l'élément ne sera pas inclus dans les exports PDF, impressions, etc.
The Variables lists all the variables available at the layout item's level (which includes all global, project and composition's variables). Map items also include Map settings variables that provide easy access to values like the map's scale, extent, and so on.
Sous la section guilabel:Variables, il est aussi possible de gérer les variables liées à l'élément. Cliquez sur le bouton

afin d'ajouter une variable personnalisée. De même, sélectionnez n'importe quelle variable personnalisée associée à l'élément en cours et cliquez sur le bouton

pour le supprimer.
More information on variables usage in the Storing values in Variables section.