12.1.

表达式

基于图层数据和预构建或用户定义的函数, 表达式 提供了一种强大的方式来操作属性值、几何图形和变量,以便动态更改几何图形样式、标注的内容或位置、图表的值、布局项的高度、选择一些要素、创建虚拟字段等。

用于构建表达式的主对话框,QGIS的许多部件都可以使用 表达式字符串构建器 ,尤其是以下情况下访问特别有用:

通过表达式构建器对话框可以访问:

With the Function Editor tab, you are able to write your own functions in Python language. This provides a handy and comfortable way to address particular needs that would not be covered by the predefined functions.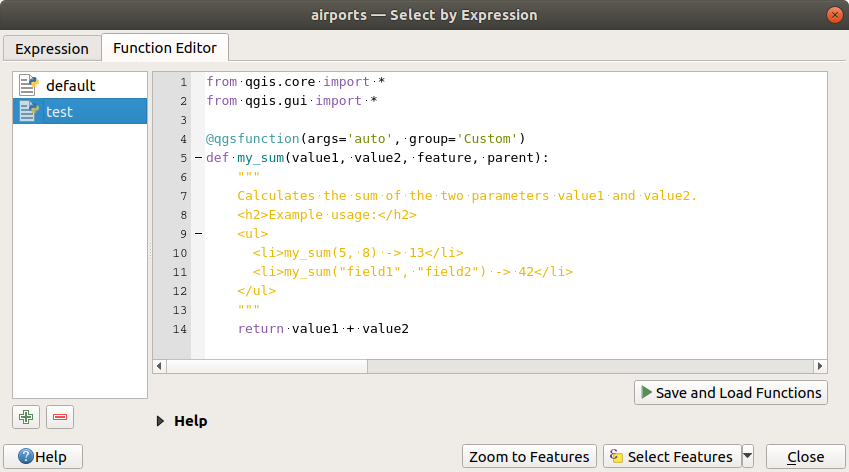 To create a new function:
Enter a name to use in the form that pops up and press OK.

A new item of the name you provide is added in the left panel of the Function Editor tab; this is a Python .py file based on QGIS template file and stored in the /python/expressions folder under the active user profile directory.

The right panel displays the content of the file: a python script template. Update the code and its help according to your needs.

Press the Save and Load Functions button. The function you wrote is added to the functions tree in the Expression tab, by default under the Custom group.

Enjoy your new function.

If the function requires improvements, enable the Function Editor tab, do the changes and press again the Save and Load Functions button to make them available in the file, hence in any expression tab.
Custom Python functions are stored under the user profile directory, meaning that at each QGIS startup, it will auto load all the functions defined with the current user profile. Be aware that new functions are only saved in the /python/expressions folder and not in the project file. If you share a project that uses one of your custom functions you will need to also share the .py file in the /python/expressions folder.
To delete a custom function:
Enable the Function Editor tab

Select the function in the list
Example
Here's a short example on how to create your own my_sum function that will operate with two values.
from

 

qgis.core

 

import

 

*




from

 

qgis.gui

 

import

 

*





@qgsfunction

(

args

=

'auto'

,

 

group

=

'Custom'

)




def

 

my_sum

(

value1

,

 

value2

,

 

feature

,

 

parent

):




    

"""




    Calculates the sum of the two parameters value1 and value2.




    <h2>Example usage:</h2>




    <ul>




      <li>my_sum(5, 8) -> 13</li>




      <li>my_sum("field1", "field2") -> 42</li>




    </ul>




    """


    

return

 

value1

 

+

 

value2



When using the args='auto' function argument the number of function arguments required will be calculated by the number of arguments the function has been defined with in Python (minus 2 - feature, and parent). The group='Custom' argument indicates the group in which the function should be listed in the Expression dialog.
It is also possible to add keywords arguments like:
usesgeometry=True if the expression requires access to the features geometry. By default False.

handlesnull=True if the expression has custom handling for NULL values. If False (default), the result will always be NULL as soon as any parameter is NULL.

referenced_columns=[list]: An array of attribute names that are required to the function. Defaults to [QgsFeatureRequest.ALL_ATTRIBUTES].
The previous example function can then be used in expressions: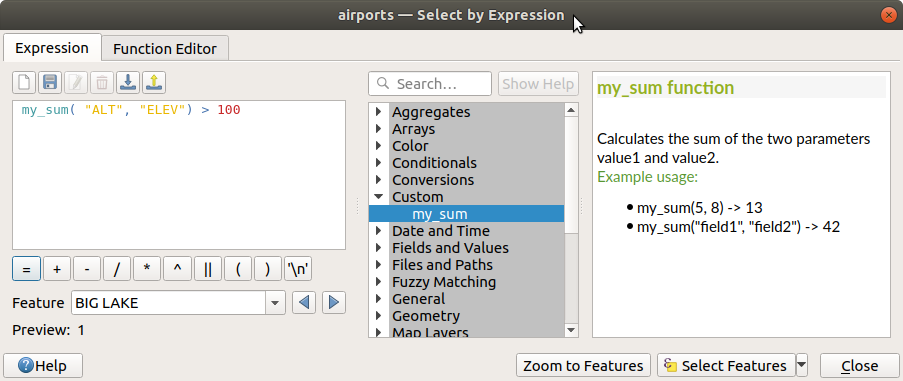 Further information about creating Python code can be found in the PyQGIS Developer Cookbook.