12.1.

Expressões

Based on layer data and prebuilt or user defined functions, Expressions offer a powerful way to manipulate attribute value, geometry and variables in order to dynamically change the geometry style, the content or position of the label, the value for diagram, the height of a layout item, select some features, create virtual field, …

Nota

A list of the default functions and variables for writing expressions can be found at Lista de funções, with detailed information and examples.

A plataforma principal para construir expressões, o Expression string builder está disponível em muitas partes no QGIS e, pode ser acessado quando:

A plataforma de Construção de Expressão oferece acesso a:
Aba de Expressão, a qual ajuda a escrever e verificar a expressão a ser usada, graças a uma lista predefinida de funções;

Aba de Editor de Função a qual ajuda a expandir a lista de funções por meio de criações customizadas de novas funções.
Com a guia Editor de Funções, você pode escrever suas próprias funções na linguagem Python. Isso fornece uma maneira prática e confortável de abordar necessidades específicas que não seriam cobertas pelas funções predefinidas.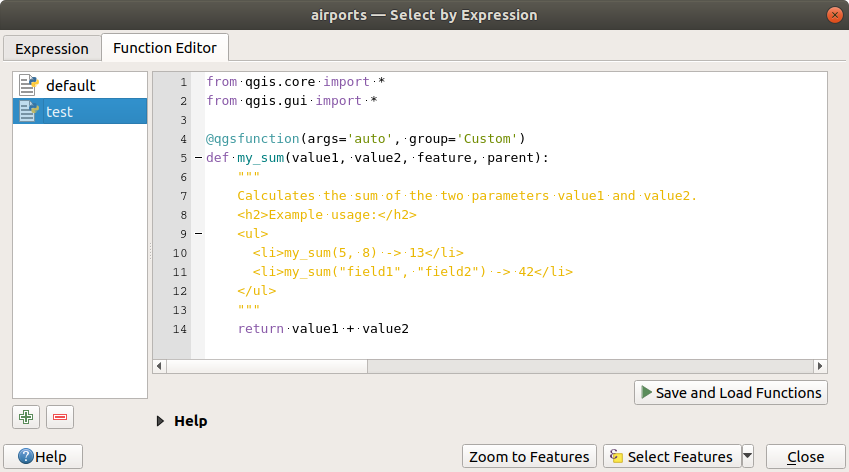 Para criar uma nova função:
Digite um nome para usar no formulário que aparece e pressione OK.

Um novo item com o nome que você fornece é adicionado no painel esquerdo da guia Editor de Funções; este é um arquivo Python .py baseado no arquivo de modelo QGIS e armazenado na pasta /python/expressions no diretório ativo user profile.

O painel direito exibe o conteúdo do arquivo: um modelo de script python. Atualize o código e sua ajuda de acordo com suas necessidades.

Pressione o botão Salvar e Carregar Funções. A função que você escreveu é adicionada à árvore de funções na guia Expressão, por padrão, no grupo``Personalizada``.

Aproveite sua nova função.

Se a função precisar de melhorias, ative a guia Editor de Funções, faça as alterações e pressione novamente o botão Salvar e Carregar Funções para disponibilizá-las no arquivo, e portanto, em qualquer guia de expressão.
As funções personalizadas do Python são armazenadas no diretório de perfil do usuário, o que significa que, a cada inicialização do QGIS, ele carrega automaticamente todas as funções definidas no perfil do usuário atual. Esteja ciente de que novas funções são salvas apenas na pasta /python/expression e não no arquivo do projeto. Se você compartilha um projeto que utiliza uma de suas funções personalizadas, também precisará compartilhar o arquivo .py na pasta /python/expression.
To delete a custom function:
Enable the Function Editor tab

Select the function in the list
Example
Here's a short example on how to create your own my_sum function that will operate with two values.
from

 

qgis.core

 

import

 

*




from

 

qgis.gui

 

import

 

*





@qgsfunction

(

args

=

'auto'

,

 

group

=

'Custom'

)




def

 

my_sum

(

value1

,

 

value2

,

 

feature

,

 

parent

):


    

"""




    Calculates the sum of the two parameters value1 and value2.




    <h2>Example usage:</h2>




    <ul>




      <li>my_sum(5, 8) -> 13</li>




      <li>my_sum("field1", "field2") -> 42</li>




    </ul>




    """


    

return

 

value1

 

+

 

value2



When using the args='auto' function argument the number of function arguments required will be calculated by the number of arguments the function has been defined with in Python (minus 2 - feature, and parent). The group='Custom' argument indicates the group in which the function should be listed in the Expression dialog.
It is also possible to add keywords arguments like:
usesgeometry=True if the expression requires access to the features geometry. By default False.

handlesnull=True if the expression has custom handling for NULL values. If False (default), the result will always be NULL as soon as any parameter is NULL.

referenced_columns=[list]: An array of attribute names that are required to the function. Defaults to [QgsFeatureRequest.ALL_ATTRIBUTES].
The previous example function can then be used in expressions: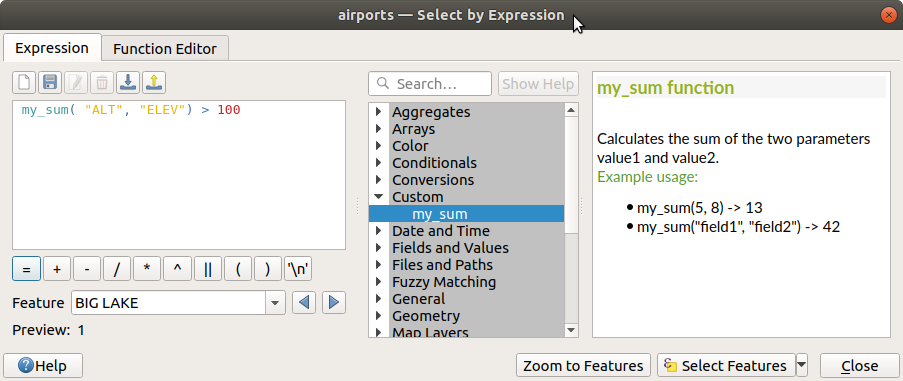 Informações adicionais sobre a criação de código Python podem ser encontradas em Passo-a-passo para desenvolvedor PyQGIS.