23.5.

The graphical modeler

The graphical modeler allows you to create complex models using a simple and easy-to-use interface. When working with a GIS, most analysis operations are not isolated, rather part of a chain of operations. Using the graphical modeler, that chain of operations can be wrapped into a single process, making it convenient to execute later with a different set of inputs. No matter how many steps and different algorithms it involves, a model is executed as a single algorithm, saving time and effort.

The graphical modeler can be opened from the Processing menu (Processing ► Graphical Modeler).

The modeler has a working canvas where the structure of the model and the workflow it represents are shown. The left part of the window is a section with five panels that can be used to add new elements to the model:
Model Properties: you can specify the name of the model and the group that will contain it

Inputs: all the inputs that will shape your model

Algorithms: the Processing algorithms available

Variables: you can also define variables that will only be available in the Processing Modeler

Undo History: this panel will register everything that happens in the modeler, making it easy to cancel things you did wrong.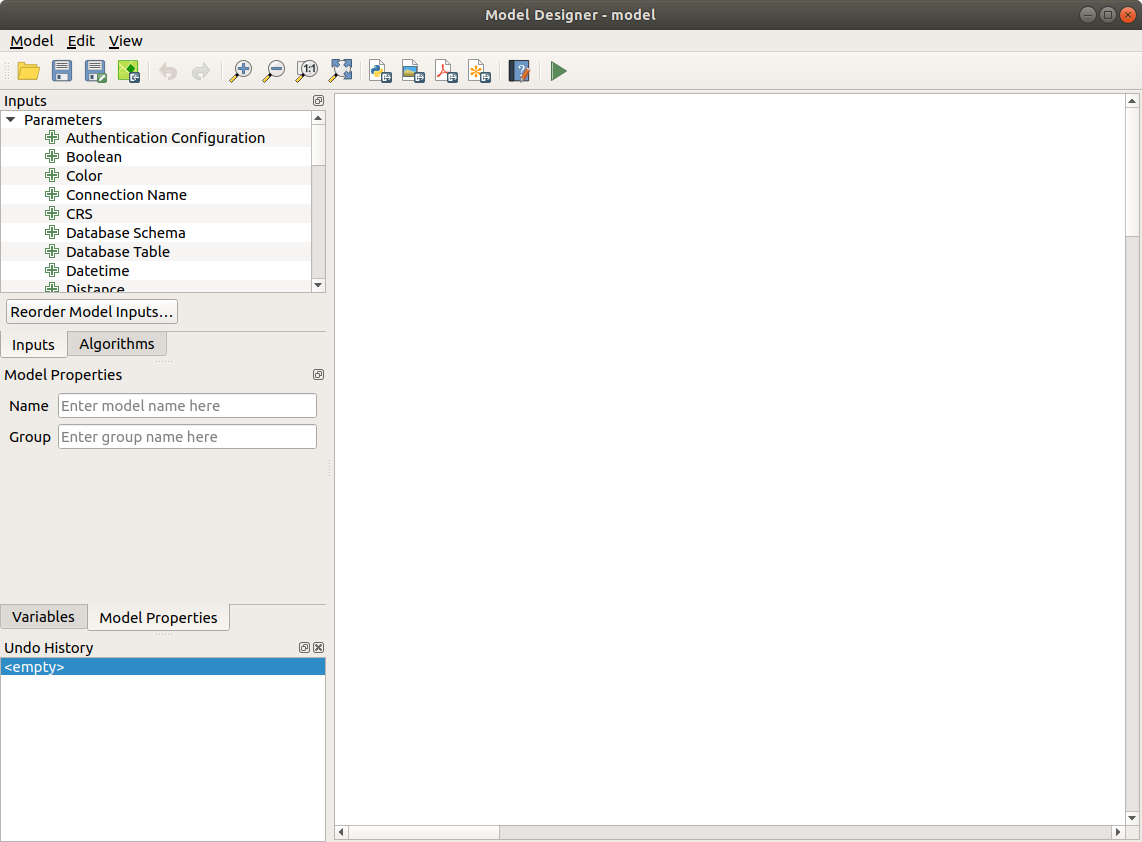 Creating a model involves two basic steps:
Definition of necessary inputs. These inputs will be added to the parameters window, so the user can set their values when executing the model. The model itself is an algorithm, so the parameters window is generated automatically as for all algorithms available in the Processing framework.

Definition of the workflow. Using the input data of the model, the workflow is defined by adding algorithms and selecting how they use the defined inputs or the outputs generated by other algorithms in the model.