Tastenkürzel
QGIS provides default keyboard shortcuts for many features. You can find them in section Menüleiste. Additionally, the menu option allows you to change the default keyboard shortcuts and to add new keyboard shortcuts to QGIS features.
Figure Shortcuts 1: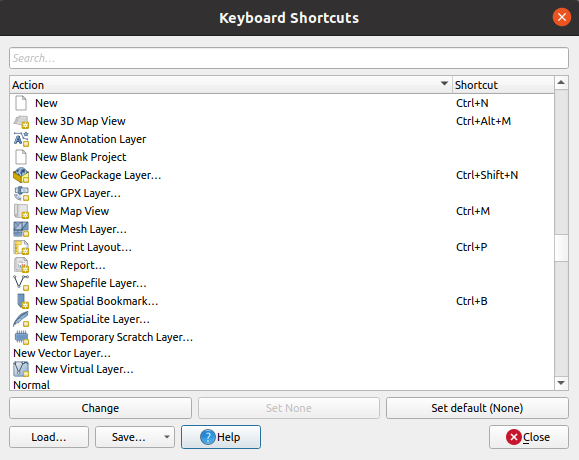 Configuration is very simple. Just select a feature from the list and click on [Change], [Set none] or [Set default]. Once you have finished your configuration, you can save it as an XML file and load it to another QGIS installation.
Hilfe
Wenn Sie Hilfe zu bestimmten Themen brauchen erreichen Sie die Kontext-Hilfe über den [Hilfe] Knopf der Ihnen in den meisten Dialogen zur Verfügung steht. Bitte beachten Sie daß Erweiterungen von Drittanbietern zu dementsprechend gewidmeten Internetseiten verweisen.
Layeranzeige kontrollieren
By default, QGIS renders all visible layers whenever the map canvas is refreshed. The events that trigger a refresh of the map canvas include:
Einen Layer hinzufügen

Karten verschieben, hinein- oder herauszoomen

Resizing the QGIS window

Layer ein- oder ausblenden
QGIS allows you to control the rendering process in a number of ways.
Maßstabsabhängige Layeranzeige
Die maßstabsabhängige Wiedergabe erlaubt es, einen mini- und maximalen Maßstab, in dessen Rahmen ein Layer angezeigt wird, anzugeben. Um die maßstabsabhängige Wiedergabe einzustellen öffnen Sie den Eigenschaften Dialog eines Layers, indem Sie diesen in der Legende doppelt anklicken, im Menü Allgemein die entsprechenden Einstellungen vornehmen und das Kontrollkästchen

Maßstabsabhängige Sichtbarkeit aktivieren.
You can determine the scale values by first zooming to the level you want to use and noting the scale value in the QGIS status bar.
Layeranzeige kontrollieren
Map rendering can be controlled in the various ways, as described below.
Messen
Measuring works within projected coordinate systems (e.g., UTM) and unprojected data. If the loaded map is defined with a geographic coordinate system (latitude/longitude), the results from line or area measurements will be incorrect. To fix this, you need to set an appropriate map coordinate system (see section Arbeiten mit Projektionen). All measuring modules also use the snapping settings from the digitizing module. This is useful, if you want to measure along lines or areas in vector layers.
To select a measuring tool, click on

and select the tool you want to use.
Measure length, areas and angles

Measure Line: QGIS is able to measure real distances between given points according to a defined ellipsoid. To configure this, choose menu option , click on the Map tools tab and select the appropriate ellipsoid. There, you can also define a rubberband color and your preferred measurement units (meters or feet) and angle units (degrees, radians and gon). The tool then allows you to click points on the map. Each segment length, as well as the total, shows up in the measure window. To stop measuring, click your right mouse button. Note that you can interactively change the measurement units in the measurement dialog. It overrides the Preferred measurement units in the options. There is an info section in the dialog that shows which CRS settings are being used during measurement calculations.
Figure Measure 1: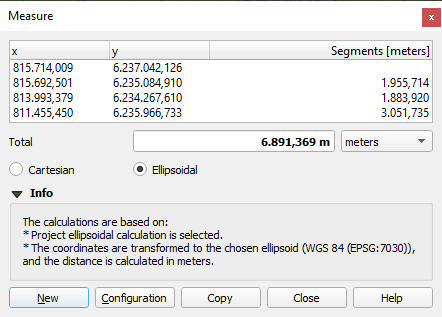 Measure Area: Areas can also be measured. In the measure window, the accumulated area size appears. In addition, the measuring tool will snap to the currently selected layer, provided that layer has its snapping tolerance set (see section Einstellen der Fangtoleranz und des Suchradius). So, if you want to measure exactly along a line feature, or around a polygon feature, first set its snapping tolerance, then select the layer. Now, when using the measuring tools, each mouse click (within the tolerance setting) will snap to that layer.
Figure Measure 2:

Measure Angle: You can also measure angles. The cursor becomes cross-shaped. Click to draw the first segment of the angle you wish to measure, then move the cursor to draw the desired angle. The measure is displayed in a pop-up dialog.
Figure Measure 3: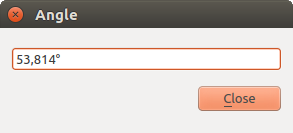 Objekte auswählen und Auswahl aufheben
The QGIS toolbar provides several tools to select features in the map canvas. To select one or several features, just click on

and select your tool:
To deselect all selected features click on

Deselect features from all layers.
Select feature using an expression allow user to select feature using expression dialog. See Ausdrücke chapter for some example.
Users can save features selection into a New Memory Vector Layer or a New Vector Layer using and choose the mode you want.
Objekte abfragen
The Identify tool allows you to interact with the map canvas and get information on features in a pop-up window. To identify features, use or press Ctrl + Shift + I, or click on the

Identify features icon in the toolbar.
If you click on several features, the Identify results dialog will list information about all the selected features. The first item is the number of the layer in the list of results, followed by the layer name. Then, its first child will be the name of a field with its value. The first field is the one selected in . Finally, all information about the feature is displayed.
Dieses Fenster kann angepasst werden um benutzerdefinierte Felder anzuzeigen, standardmäßig gibt es drei Arten von Informationen wieder:
Actions: Actions can be added to the identify feature windows. When clicking on the action label, action will be run. By default, only one action is added, to view feature form for editing.
Derived: This information is calculated or derived from other information. You can find clicked coordinate, X and Y coordinates, area in map units and perimeter in map units for polygons, length in map units for lines and feature ids.
Data attributes: This is the list of attribute fields from the data.
Figure Identify 1: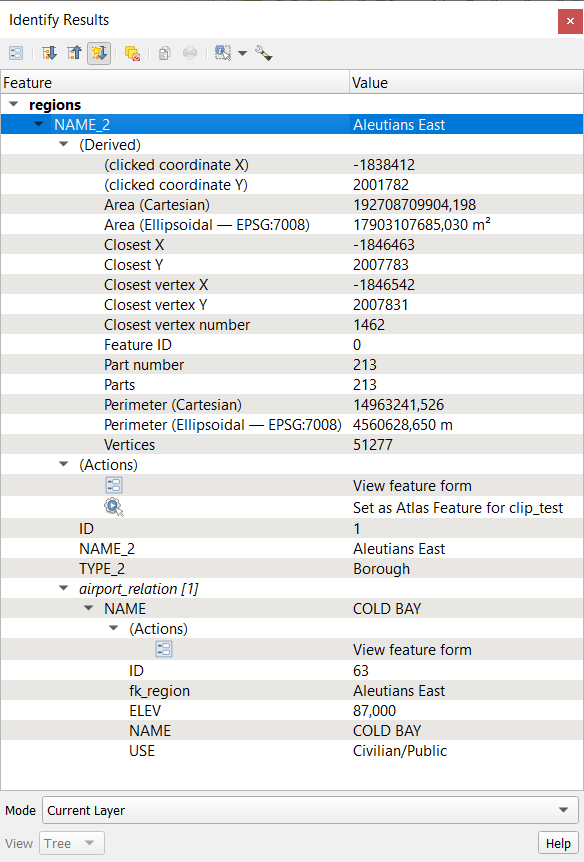 At the top of the window, you have five icons:
At the bottom of the window, you have the Mode and View comboboxes. With the Mode combobox you can define the identify mode: 'Current layer', 'Top down, stop at first', 'Top down' and 'Layer selection'. The View can be set as 'Tree', 'Table' and 'Graph'.
The identify tool allows you to auto open a form. In this mode you can change the feautures attributes.
Andere Funktionen können im Kontextmenü des abgefrageten Objekts gefunden werden. Im Kontextmenü können Sie z.B.:
Das Objektformular anzeigen

Zum Objekt zoomen

Objekt kopieren: Kopieren Sie alle Objektgeometrien und -attribute

Toggle feature selection: adds identified feature to selection

Attributwert kopieren: Kopieren Sie nur den Wert des Attributes auf das Sie klicken

Copy feature attributes: Copy only attributes

Ergebnisse löschen: Löschen Sie Ergebnisse im Fenster

Hervorhebungen löschen: Entfernen Sie in der Karte hervorgehobene Objekte

Alle hervorheben

Layer hervorheben

Layer aktivieren: Wählen Sie einen Layer der aktiviert werden soll

Layereigenschaften ... : Öffnen Sie das Layereigenschaften Fenster

Alles ausklappen

Alles zusammenfalten
Dekorationen
The Decorations of QGIS include the Grid, the Copyright Label, the North Arrow and the Scale Bar. They are used to 'decorate' the map by adding cartographic elements.
Layer/Gruppen einbinden
Wenn Sie Inhalte von anderen Projekten in Ihr Projekt einbinden wollen wählen Sie .
Layer einbetten
Mit dem folgenden Dialog können Sie Layer von anderen Projekten einbetten. Hier ein kleines Beispiel:
Press to look for another project from the Alaska dataset.
Select the project file grassland. You can see the content of the project (see figure_embed_dialog).
Press Ctrl and click on the layers grassland and regions. Press [OK]. The selected layers are embedded in the map legend and the map view now.
Figure Nesting 1: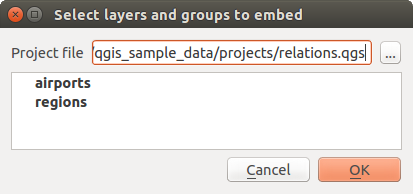 Währenddessen die Layer editierbar sind können Sie Ihre Eigenschaften wie Darstellung und Beschriftung nicht ändern.
Eingebettete Layer entfernen
Right-click on the embedded layer and choose
Remove.