QGIS 환경 설정¶
QGIS is highly configurable. Through the Settings menu, it provides different tools to:

Options 대화창을 통해 QGIS에 대한 몇몇 기본 옵션을 선택할 수 있습니다. Settings ‣

Options 메뉴 옵션을 선택하십시오. 사용자의 필요에 따라 옵션을 수정할 수 있습니다. 일부 변경 사항은 적용되기 전에 QGIS 재시작이 필요할 수도 있습니다.
사용자 고유 옵션을 사용자 지정할 수 있는 탭들에 대해 다음 항에서 설명하고 있습니다.
The Settings ‣ User Profiles menu provides functions to set and access user profiles. A user profile is a unified application configuration that allows to store in a single folder:
all the global settings, including locale, projections, authentication settings, color palettes, shortcuts…

GUI configurations and customization

installed plugins and their configurations

project templates and history of saved project with their image preview

processing settings, logs, scripts, models.
By default, a QGIS installation contains a single user profile named default. But you can create as many user profiles as you want:
Click the New profile… entry.

You'll be prompted to provide a profile name, creating a folder of the same name under ~/<UserProfiles>/ where:

and <UserProfiles> represents the main profiles folder, i.e.:

The user profile folder can be opened from within QGIS using the Open Active Profile Folder.

A new instance of QGIS is started, using a clean configuration. You can then set your custom configurations.
As each user profile contains isolated settings, plugins and history they can be great for different workflows, demos, users of the same machine, or testing settings, etc. And you can switch from one to the other by selecting them in the Settings ‣ User Profiles menu. You can also run QGIS with a specific user profile from the command line.
Unless changed, the profile of the last closed QGIS session will be used in the following QGIS sessions.
팁
Run QGIS under a new user profile to check for bug persistence
When you encounter weird behavior with some functions in QGIS, create a new user profile and run the commands again. Sometimes, bugs are related to some leftovers in the current user profile and creating a new one may fix them as it restarts QGIS with the new (clean) profile.
In the properties window for the project under Project ‣ Project Properties, you can set project-specific options. The project-specific options overwrite their equivalent in the Options dialog described above.
사용자 지정 작업 대화창을 통해 QGIS 사용자 인터페이스의 거의 모든 요소를 (비)활성화할 수 있습니다. 최종 사용자가 필요로 하는 아이콘, 메뉴 또는 패널만 있는 〈가벼운〉 QGIS 버전을 제공하고자 할 때 매우 유용합니다.
참고
사용자 변경 사항을 적용하려면 QGIS를 재시작해야 합니다.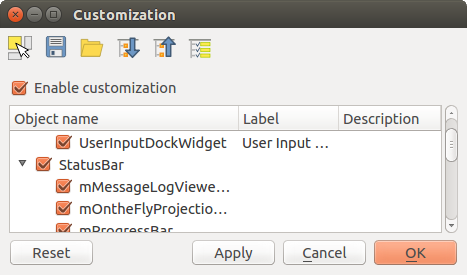 Enable customization 체크박스를 체크하는 일이 QGIS 사용자 지정 작업의 첫 번째 단계입니다. 툴바 및 위젯 패널을 활성화하는데, 이 패널에서 몇몇 GUI 항목을 체크 해제해서 쓸 수 없게 만들 수 있습니다.
환경을 설정할 수 있는 항목은 다음과 같습니다:
메뉴 또는 메뉴 바 에 있는 몇몇 하위 메뉴

패널 전체 (패널 및 툴바 참조)

상태 바 에서 설명한 상태 바 또는 상태 바의 몇몇 항목들

툴바 전체 또는 툴바의 일부 아이콘들

라벨, 버튼, 콤보박스 등 QGIS의 모든 대화창의 모든 위젯

Switch to catching widgets in main application 을 통해, QGIS 인터페이스에서 사용자가 숨기고 싶은 항목을 클릭할 수 있습니다. 그러면 QGIS가 사용자 지정 작업 대화창에서 대응 항목을 자동적으로 체크 해제할 것입니다.
Once you setup your configuration, click Apply or OK to validate your changes. This configuration becomes the one used by default by QGIS at the next startup.

Save To File 버튼을 클릭하면 변경 사항들을 .ini 파일로도 저장할 수 있습니다. 사용자 여러 명이 QGIS 인터페이스를 공유할 수 있는 간편한 방법입니다. 다른 컴퓨터에서 이 .ini 파일을 불러오려면

Load from File 만 클릭하면 됩니다. 또 명령어 도구 를 실행해서 서로 다른 사용 목적을 위한 다양한 설정을 저장할 수도 있습니다.
팁
사전 정의된 QGIS를 손쉽게 복구
다음 방법들 가운데 하나를 통해 초기 QGIS GUI 환경 설정을 복구할 수 있습니다:
pressing the Reset button in the QSettings frame under Settings ‣ Options menu, System tab

명령 프롬프트에서 QGIS를 다음 명령어 qgis --nocustomization 로 실행합니다.

Settings ‣ Options 메뉴의 Advanced 탭에 있는 UI ‣ Customization ‣ Enabled 변수의 값을 false 로 설정합니다. (경고 참조)
대부분의 경우, 이 변경 사항을 적용하려면 QGIS를 재시작해야 합니다.
QGIS provides default keyboard shortcuts for many features. You can find them in section 메뉴 바. Additionally, the menu option Settings ‣

Keyboard Shortcuts… allows you to change the default keyboard shortcuts and add new ones to QGIS features.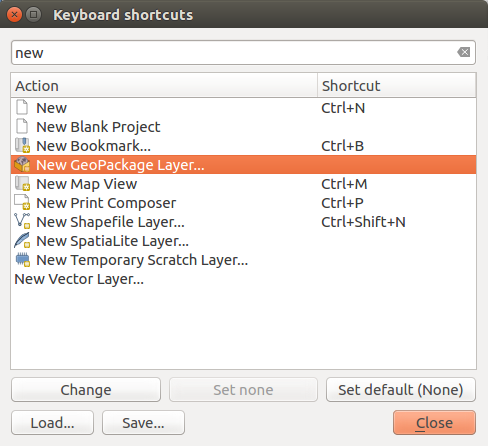 Configuration is very simple. Use the search box at the top of the dialog to find a particular action, select it from the list and click on :
Change and press the new combination you want to assign as new shortcut

Set None to clear any assigned shortcut

or Set Default to backup the shortcut to its original and default value.
Proceed as above for any other tools you wish to customize. Once you have finished your configuration, simply Close the dialog to have your changes applied. You can also Save the changes as an .XML file and Load them into another QGIS installation.
We've seen that launching QGIS is done as for any application on your OS. QGIS provides command line options for more advanced use cases (in some cases you can use an environment variable instead of the command line option). To get a list of the options, enter qgis --help on the command line, which returns:
If you need to deploy QGIS within an organization with a custom configuration file, first you need to copy/paste the content of the default settings file located in your_QGIS_PKG_path/resources/qgis_global_settings.ini. This file already contains some default sections identified by a block starting with []. We recommend that you keep these defaults values and add your own sections at the bottom of the file. If a section is duplicated in the file, QGIS will take the last one from top to bottom.
You can change allowVersionCheck=false to disable the QGIS version check.
If you do not want to display the migration window after a fresh install, you need the following section:
[migration]




fileVersion

=

2




settings

=

true



If you want to add a custom variable in the global scope:
[variables]




organisation

=

"Your organization"



To discover all possibilities of the settings INI file, we suggest that you set the config you would like in QGIS Desktop and then search for it in your INI file located in your profile using a text editor. A lot of settings can be set using the INI file such as WMS/WMTS, PostGIS connections, proxy settings, maptips…
Finally, you need to set the environment variable QGIS_GLOBAL_SETTINGS_FILE to the path of your customized file.
In addition, you can also deploy files such as Python macros, color palettes, layout templates, project templates… either in the QGIS system directory or in the QGIS user profile.
Layout templates must be deployed in the composer_templates directory.

Project templates must be deployed in the project_templates directory.

Custom Python macros must be deployed in the python directory.