Utiliser des relations est courant dans les bases de données. L'idée est que des entités (lignes) de différentes couches (tables) peuvent être liées les unes aux autres.
Comme exemple, nous prendrons une couche contenant toutes les régions de l'Alaska (des polygones) qui fournit quelques attributs sur le nom, le type de région et un identifiant unique (qui jouera le rôle de clé primaire).
Nous prenons ensuite une autre couche de point ou une table contenant des informations sur les aéroports localisés dans les régions. Si vous souhaitez accéder, depuis la couche des régions, vous devez créer une relation "un à plusieurs", en utilisant des clés étrangères, car il y a plusieurs aéroports dans la plupart des régions.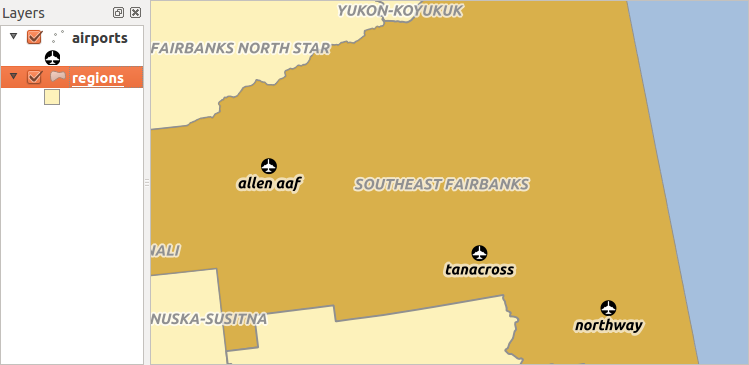 QGIS makes no difference between a table and a vector layer. Basically, a vector layer is a table with a geometry. So you can add your table as a vector layer. To demonstrate the 1-n relation, you can load the regions shapefile and the airports shapefile which has a foreign key field (fk_region) to the layer regions. This means, that each airport belongs to exactly one region while each region can have any number of airports (a typical one to many relation).
En plus des attributs existants dans la table des aéroports, un autre champ, fk_region, va jouer le rôle de clé étrangère (si la table est stockée dans une base de données, vous allez sans doute définir une contrainte sur ce champ).
Ce champ fk_region contiendra toujours un identifiant de région. Il peut être vu comme un pointeur vers la région à laquelle l'aéroport appartient. Et vous pouvez créer un formulaire personnalisé d'édition pour la saisie. Cela fonctionne avec différents fournisseurs (vous pouvez vous en servir également avec des shapefiles ou des fichiers csv) et la seule chose que vous avez à faire est de dire à QGIS qu'il y a une relation entre les tables.
The first thing we are going to do is to let QGIS know about the relations between the layers. This is done in Relations tab and click on Add Relation.
. Open the
Name is going to be used as a title. It should be a human readable string, describing, what the relation is used for. We will just call say Airports in this case.
Referenced Layer (Parent) also considered as parent layer, is the one with the primary key, pointed to, so here it is the regions layer
Referenced Field is the primary key of the referenced layer so it is ID
Referencing Layer (Child) also considered as child layer, is the one with the foreign key field on it. In our case, this is the airports layer
Referencing Field will say, which field points to the other layer so this is fk_region in this case
Id will be used for internal purposes and has to be unique. You may need it to build custom forms. If you leave it empty, one will be generated for you but you can assign one yourself to get one that is easier to handle
Relationship strength sets the strength of the relation between the parent and the child layer. The default Association type means that the parent layer is simply linked to the child one while the Composition type allows you to duplicate also the child features when duplicating the parent ones.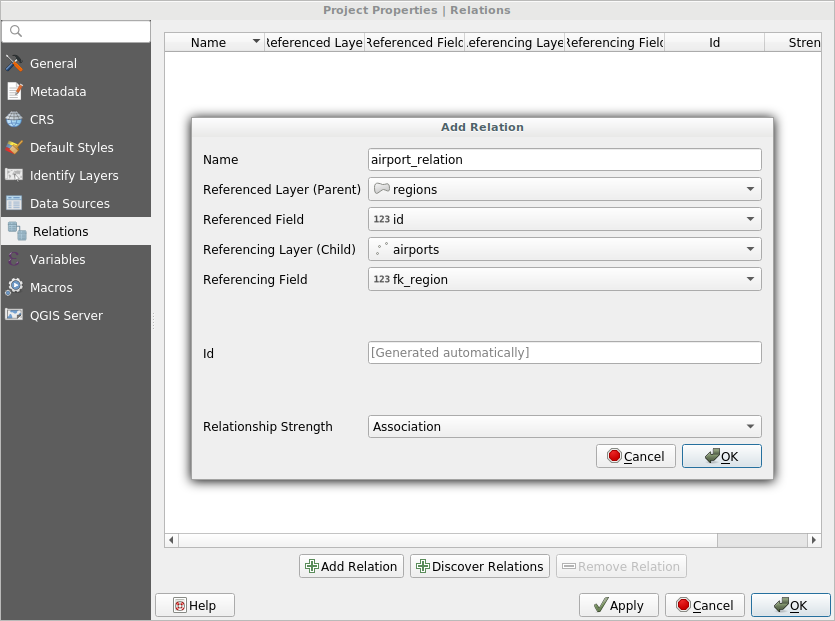 Maintenant que QGIS a bien généré la relation, le formulaire d'édition va être amélioré. Nous n'avons pas modifié le formulaire d'édition par défaut (généré automatiquement), une nouvelle zone va simplement être ajoutée au formulaire. Sélectionnez la couche de régions dans la légende et utilisez l'outil d'identification. Selon vos préférences, le formulaire s'ouvre directement ou vous devez le faire via la zone d'identification qui s'affiche.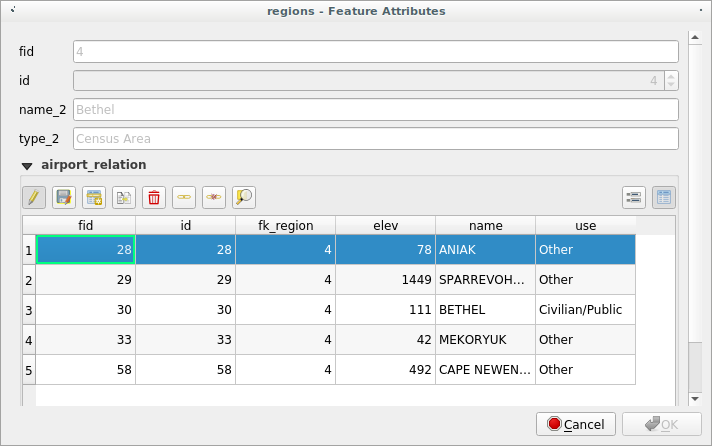 As you can see, the airports assigned to this particular region are all shown in a table. And there are also some buttons available. Let's review them shortly:
In the above example the referencing layer has geometries (so it isn't just an alphanumeric table) so the above steps will create an entry in the layer attribute table that has no corresponding geometric feature. To add the geometry:
Choose for the referencing layer.
Select the record that has been added previously within the feature form of the referenced layer.
Use the Add Part digitizing tool to attach a geometry to the selected attributes table record.
If you work on the airport table, the widget Relation Reference is automatically set up for the fk_region field (the one used to create the relation), see Relation Reference widget.
In the airport form you will see the

button at the right side of the fk_region field: if you click on the button the form of the region layer will be opened. This widget allows you to easily and quickly open the forms of the linked parent features.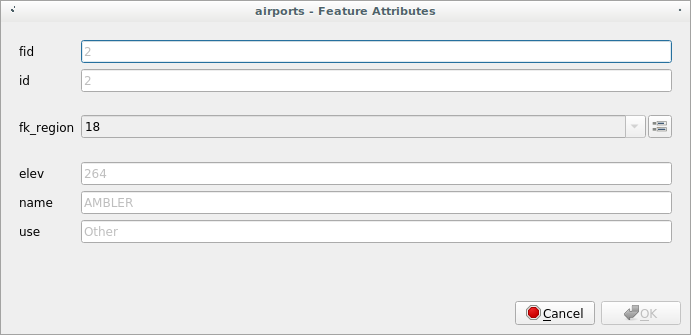 The Relation Reference widget has also an option to embed the form of the parent layer within the child one. It is available in the fk_region field and check the Show embedded form option.
menu of the airport layer: select the
Vous devriez ainsi voir que le formulaire de la région est inclus dans celui d'un aéroport et il vous permet de modifier la région assignée à l'aéroport.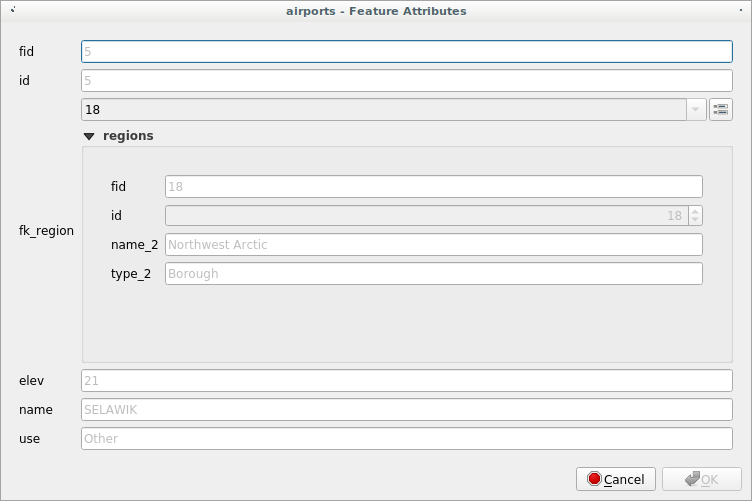 Moreover if you toggle the editing mode of the airport layer, the fk_region field has also an autocompleter function: while typing you will see all the values of the id field of the region layer.
N-M relations are many-to-many relations between two tables. For instance, the airports and airlines layers: an airport receives several airline companies and an airline company flies to several airports.
This SQL code creates the three tables we need for an N-M relationship in a PostgreSQL/PostGIS schema named locations. You can run the code using the for PostGIS or external tools such as pgAdmin. The airports table stores the airports layer and the airlines table stores the airlines layer. In both tables few fields are used for clarity. The tricky part is the airports_airlines table. We need it to list all airlines for all airports (or vice versa). This kind of table is known as a pivot table. The constraints in this table force that an airport can be associated with an airline only if both already exist in their layers.
CREATE SCHEMA locations;

CREATE TABLE locations.airports
(
   id serial NOT NULL,
   geom geometry(Point, 4326) NOT NULL,
   airport_name text NOT NULL,
   CONSTRAINT airports_pkey PRIMARY KEY (id)
);

CREATE INDEX airports_geom_idx ON locations.airports USING gist (geom);

CREATE TABLE locations.airlines
(
   id serial NOT NULL,
   geom geometry(Point, 4326) NOT NULL,
   airline_name text NOT NULL,
   CONSTRAINT airlines_pkey PRIMARY KEY (id)
);

CREATE INDEX airlines_geom_idx ON locations.airlines USING gist (geom);

CREATE TABLE locations.airports_airlines
(
   id serial NOT NULL,
   airport_fk integer NOT NULL,
   airline_fk integer NOT NULL,
   CONSTRAINT airports_airlines_pkey PRIMARY KEY (id),
   CONSTRAINT airports_airlines_airport_fk_fkey FOREIGN KEY (airport_fk)
      REFERENCES locations.airports (id)
      ON DELETE CASCADE
      ON UPDATE CASCADE
      DEFERRABLE INITIALLY DEFERRED,
   CONSTRAINT airports_airlines_airline_fk_fkey FOREIGN KEY (airline_fk)
      REFERENCES locations.airlines (id)
      ON DELETE CASCADE
      ON UPDATE CASCADE
      DEFERRABLE INITIALLY DEFERRED
 );

Instead of PostgreSQL you can also use GeoPackage. In this case, the three tables can be created manually using the locations prefix is not needed.
. In GeoPackage there are no schemas so the
Foreign key constraints in airports_airlines table can´t be created using or so they should be created using . GeoPackage doesn't support ADD CONSTRAINT statements so the airports_airlines table should be created in two steps:
Set up the table only with the id field using

Using

, type and execute this SQL code:

ALTER TABLE airports_airlines
   ADD COLUMN airport_fk INTEGER
   REFERENCES airports (id)
   ON DELETE CASCADE
   ON UPDATE CASCADE
   DEFERRABLE INITIALLY DEFERRED;

ALTER TABLE airports_airlines
   ADD COLUMN airline_fk INTEGER
   REFERENCES airlines (id)
   ON DELETE CASCADE
   ON UPDATE CASCADE
   DEFERRABLE INITIALLY DEFERRED;

Then in QGIS, you should set up two one-to-many relations as explained above:
a relation between airlines table and the pivot table;
and a second one between airports table and the pivot table.
An easier way to do it (only for PostgreSQL) is using the Discover Relations in . QGIS will automatically read all relations in your database and you only have to select the two you need. Remember to load the three tables in the QGIS project first.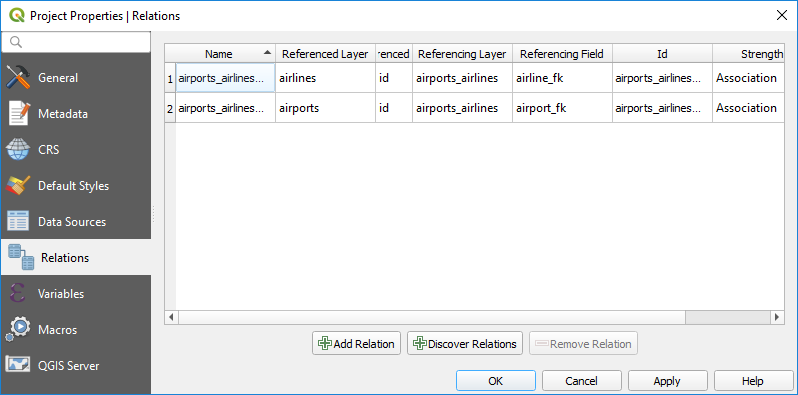 In case you want to remove an airport or an airline, QGIS won't remove the associated record(s) in airports_airlines table. This task will be made by the database if we specify the right constraints in the pivot table creation as in the current example.
Note
Combining N-M relation with automatic transaction group
You should enable the transaction mode in
when working on such context. QGIS should be able to add or update row(s) in all tables (airlines, airports and the pivot tables).
Finally we have to select the right cardinalilty in the airports and airlines layers. For the first one we should choose the airlines (id) option and for the second one the airports (id) option.
for the

Now you can associate an airport with an airline (or an airline with an airport) using Add child feature or Link existing child feature in the subforms. A record will automatically be inserted in the airports_airlines table.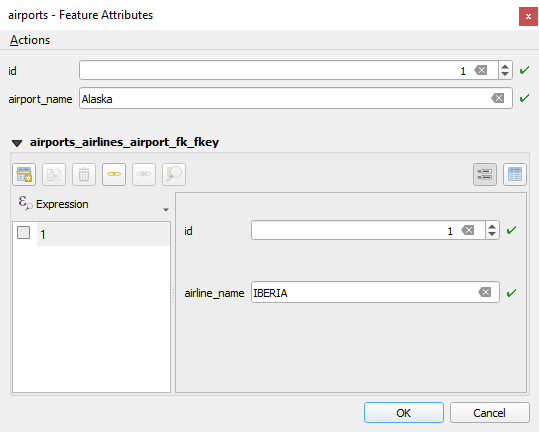 Note
Using Many to one relation cardinality
Sometimes hiding the pivot table in an N-M relationship is not desirable. Mainly because there are attributes in the relationship that can only have values when a relationship is established. If your tables are layers (have a geometry field) it could be interesting to activate the On map identification option ( ) for the foreign key fields in the pivot table.
Note
Pivot table primary key
Avoid using multiple fields in the primary key in a pivot table. QGIS assumes a single primary key so a constraint like constraint airports_airlines_pkey primary key (airport_fk, airline_fk) will not work.