13.1.

Ausdrücke

Based on layer data and prebuilt or user defined functions, Expressions offer a powerful way to manipulate attribute value, geometry and variables in order to dynamically change the geometry style, the content or position of the label, the value for diagram, the height of a layout item, select some features, create virtual field, …

Bemerkung

A list of the default functions and variables for writing expressions can be found at Liste der Funktionen, with detailed information and examples.

Der Hauptdialog zur Erstellung von Ausdrücken, der Ausdruckeditor ist an vielen Stellen in QGIS verfügbar. Er kann z.B. hier aufgerufen werden:

Der Ausdruckseditor erlaubt den Zugang zu:
den Ausdrucksbereich der die Erstellung und Prüfung von Ausdrücken mit Hilfe einer Liste von vordefinierten Funktionen erleichtert;

den Funktionseditor der bei der Erstellung angepasster Funktionen und damit der Erweiterung der Liste der Funktionen unterstützt.
Mit dem Reiter Funktionseditor ist man in der Lage, eigene Funktionen mit Python zu schreiben. Dies bietet einen einfachen und komfortablen Weg, um besondere Anforderungen zu erfüllen, die nicht durch die enthaltenen Funktionen abgedeckt werden.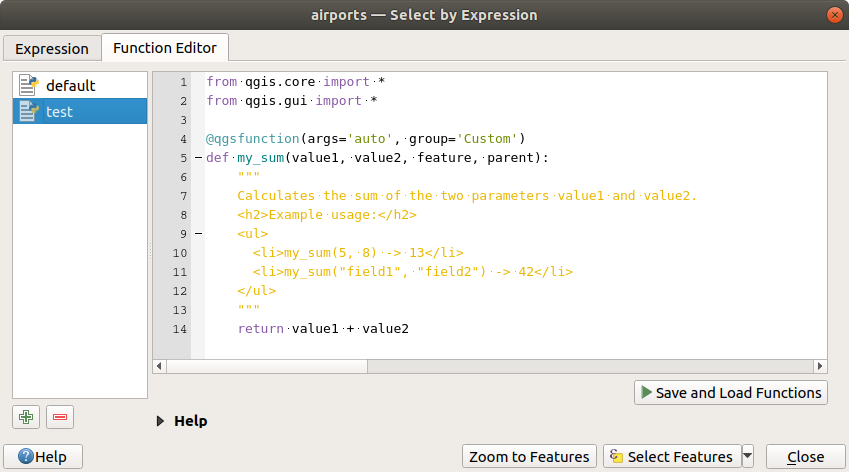 Um eine neue Funtkion zu erstellen:
Geben Sie einen Namen in das sich öffnende Formular ein und drücken dann auf OK.

Ein neues Element mit dem vergebenen Namen wird nun im linken Bedienfeld des Funktionseditor bereitgestellt; dabei handelt es sich um eine Python .py Datei, basierend auf einer QGIS Template-Datei, gespeichert im Ordner /python/expressions im Verzeichnis des aktiven :ref:`user profile `.

Das rechte Bedienfeld stellt den Inhalt der Datei dar: ein Python Skript Template. Aktualisieren den Kode und die Hilfeienträge entsprechend ihrer Erfordernisse.

Drücken Sie auf die Schaltfläche Lade- und Speicherfunktionen. Die von ihnen geschriebene Funktion wird in der Liste der Funktionen im Reiter Ausdruck in der Voreinstellung in der Gruppe Custom hinzugefügt.

Haben Sie Spaß mit ihrer neuen Funktion.

Wenn die Funktion verbessert werden soll, geht man zum Reiter Funktionseditor, nimmt die Änderungen vor und drückt erneut auf die Schaltfläche Lade- und Speicherfunktionen. Damit werden die Änderungen in der Datei und somit auch im Reiter Ausdruck verfügbar.
Benutzerdefinierte Pythonfunktionen werden im Profilverzeichnis des Nutzer gespeichert. Das heißt das QGIS beim Start automatische alle Funktionen des aktuellen Nutzerprofils lädt. Beachten Sie, dass neue Funktionen nur im Ordner /python/expressions gespeichert werden und nicht in der Projektdatei. Wenn Sie ein Projekt mit benutzerdefinierten Funktionen verteilen möchten, müssen Sie auch die Datei .py im Ordner /python/expressions mitliefern.
To delete a custom function:
Enable the Function Editor tab

Select the function in the list
Example
Here's a short example on how to create your own my_sum function that will operate with two values.
from

 

qgis.core

 

import

 

*




from

 

qgis.gui

 

import

 

*





@qgsfunction

(

args

=

'auto'

,

 

group

=

'Custom'

)




def

 

my_sum

(

value1

,

 

value2

,

 

feature

,

 

parent

):




    

"""




    Calculates the sum of the two parameters value1 and value2.




    <h2>Example usage:</h2>




    <ul>




      <li>my_sum(5, 8) -> 13</li>




      <li>my_sum("field1", "field2") -> 42</li>




    </ul>




    """


    

return

 

value1

 

+

 

value2



The @qgsfunction decorator accepts the following arguments:
args: the number of arguments. When using the args='auto' argument the number of function arguments required will be calculated by the number of arguments the function has been defined with in Python (minus 2 - feature, and parent). With args = -1, any number of arguments are accepted.

The group argument indicates the group in which the function should be listed in the Expression dialog.

usesgeometry=True if the expression requires access to the features geometry. By default False.

handlesnull=True if the expression has custom handling for NULL values. If False (default), the result will always be NULL as soon as any parameter is NULL.

referenced_columns=[list]: An array of attribute names that are required to the function. Defaults to [QgsFeatureRequest.ALL_ATTRIBUTES].
The function itself allows following arguments:
any number and type of parameters you want to pass to your function, set before the following arguments.

feature: the current feature

parent: the QgsExpression object

context: If there is an argument called context found at the last position, this variable will contain a QgsExpressionContext object, that gives access to various additional information like expression variables. E.g. context.variable( 'layer_id' )
The previous example function can then be used in expressions: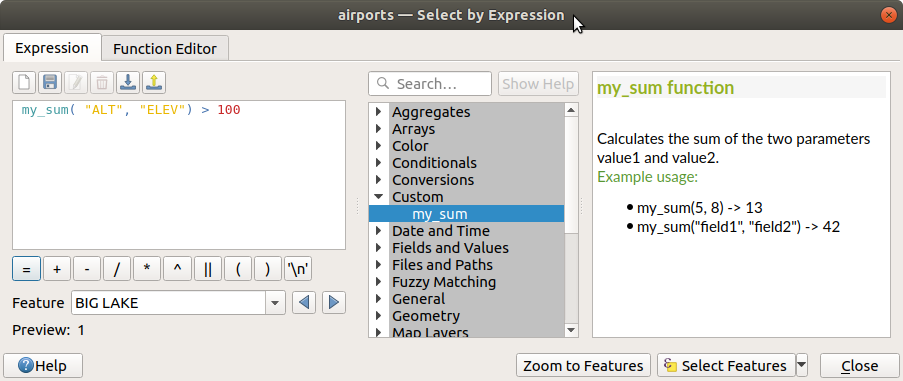 Weitere Informationen über das Erstellen von Python-Kodes können in PyQGIS-Entwicklerkochbuch gefunden werden.