Snelkoppelingen toetsenbord
QGIS provides default keyboard shortcuts for many features. You can find them in section Menubalk. Additionally, the menu option allows you to change the default keyboard shortcuts and to add new keyboard shortcuts to QGIS features.
Figure Shortcuts 1: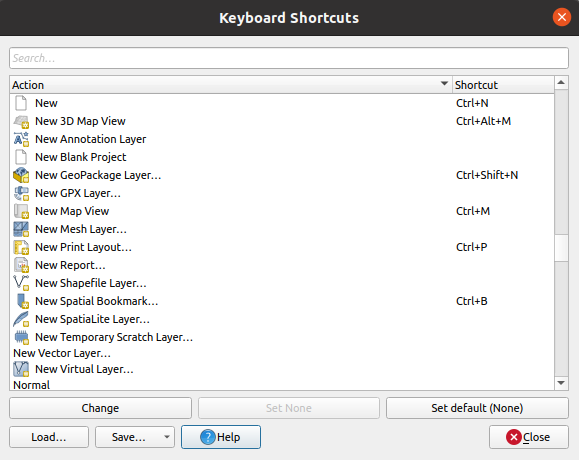 Configuration is very simple. Just select a feature from the list and click on [Change], [Set none] or [Set default]. Once you have finished your configuration, you can save it as an XML file and load it to another QGIS installation.
Contextuele help
Wanneer u hulp nodig heeft over een specifiek onderwerp, kunt u in veel dialoogvensters/menu's op de knop [Help] drukken. De knop Help in plug-ins die door derden zijn ontwikkeld, kunnen verwijzen naar speciaal daarvoor gemaakte webpagina's.
Renderen
By default, QGIS renders all visible layers whenever the map canvas is refreshed. The events that trigger a refresh of the map canvas include:
Toevoegen van een laag

Verschuiven of in/uitzoomen

Resizing the QGIS window

Het wijzigen van de zichtbaarheden van een laag of lagen
QGIS allows you to control the rendering process in a number of ways.
Schaalafhankelijk renderen
Met schaalafhankelijk tonen is het mogelijk om de minimum en maximum schalen in te stellen waarbij een laag zichtbaar zal zijn. Open het dialoogvenster Eigenschappen door te dubbelklikken op een laag in de legenda om schaalafhankelijk tonen in te stellen. Op de tab Algemeen kan men het keuzevak

Gebruik schaalafhankelijk tonen selecteren en vervolgens de minimum en maximum schaalwaarden invullen waarbinnen de laag zichtbaar zal zijn.
You can determine the scale values by first zooming to the level you want to use and noting the scale value in the QGIS status bar.
Controle over het renderen van de kaart
Map rendering can be controlled in the various ways, as described below.
Meten
Measuring works within projected coordinate systems (e.g., UTM) and unprojected data. If the loaded map is defined with a geographic coordinate system (latitude/longitude), the results from line or area measurements will be incorrect. To fix this, you need to set an appropriate map coordinate system (see section Werken met projecties). All measuring modules also use the snapping settings from the digitizing module. This is useful, if you want to measure along lines or areas in vector layers.
To select a measuring tool, click on

and select the tool you want to use.
Measure length, areas and angles

Measure Line: QGIS is able to measure real distances between given points according to a defined ellipsoid. To configure this, choose menu option , click on the Map tools tab and select the appropriate ellipsoid. There, you can also define a rubberband color and your preferred measurement units (meters or feet) and angle units (degrees, radians and gon). The tool then allows you to click points on the map. Each segment length, as well as the total, shows up in the measure window. To stop measuring, click your right mouse button. Note that you can interactively change the measurement units in the measurement dialog. It overrides the Preferred measurement units in the options. There is an info section in the dialog that shows which CRS settings are being used during measurement calculations.
Figure Measure 1: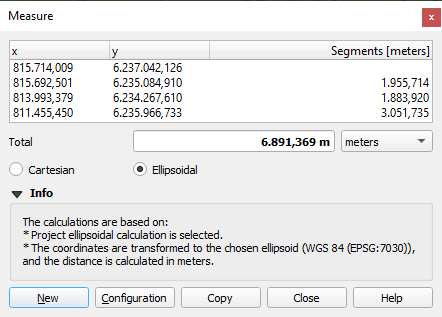 Measure Area: Areas can also be measured. In the measure window, the accumulated area size appears. In addition, the measuring tool will snap to the currently selected layer, provided that layer has its snapping tolerance set (see section Het instellen van de toleranties voor snappen en Zoekradius). So, if you want to measure exactly along a line feature, or around a polygon feature, first set its snapping tolerance, then select the layer. Now, when using the measuring tools, each mouse click (within the tolerance setting) will snap to that layer.
Figure Measure 2: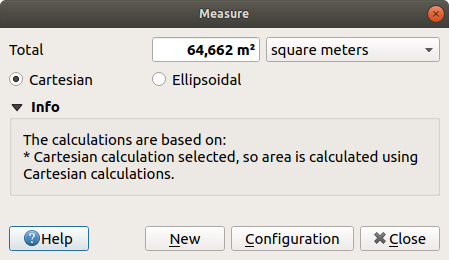 Measure Angle: You can also measure angles. The cursor becomes cross-shaped. Click to draw the first segment of the angle you wish to measure, then move the cursor to draw the desired angle. The measure is displayed in a pop-up dialog.
Figure Measure 3:
Selecteren en deselecteren van objecten
The QGIS toolbar provides several tools to select features in the map canvas. To select one or several features, just click on

and select your tool:
To deselect all selected features click on

Deselect features from all layers.

Select feature using an expression allow user to select feature using expression dialog. See Expressies chapter for some example.
Users can save features selection into a New Memory Vector Layer or a New Vector Layer using and choose the mode you want.
Objecten identificeren
The Identify tool allows you to interact with the map canvas and get information on features in a pop-up window. To identify features, use or press Ctrl + Shift + I, or click on the

Identify features icon in the toolbar.
If you click on several features, the Identify results dialog will list information about all the selected features. The first item is the number of the layer in the list of results, followed by the layer name. Then, its first child will be the name of a field with its value. The first field is the one selected in . Finally, all information about the feature is displayed.
Dit venster kan worden aangepast om aangepaste velden te tonen, maar het zal standaard drie soorten informatie weergeven:
Actions: Actions can be added to the identify feature windows. When clicking on the action label, action will be run. By default, only one action is added, to view feature form for editing.
Derived: This information is calculated or derived from other information. You can find clicked coordinate, X and Y coordinates, area in map units and perimeter in map units for polygons, length in map units for lines and feature ids.
Data attributes: This is the list of attribute fields from the data.
Figure Identify 1: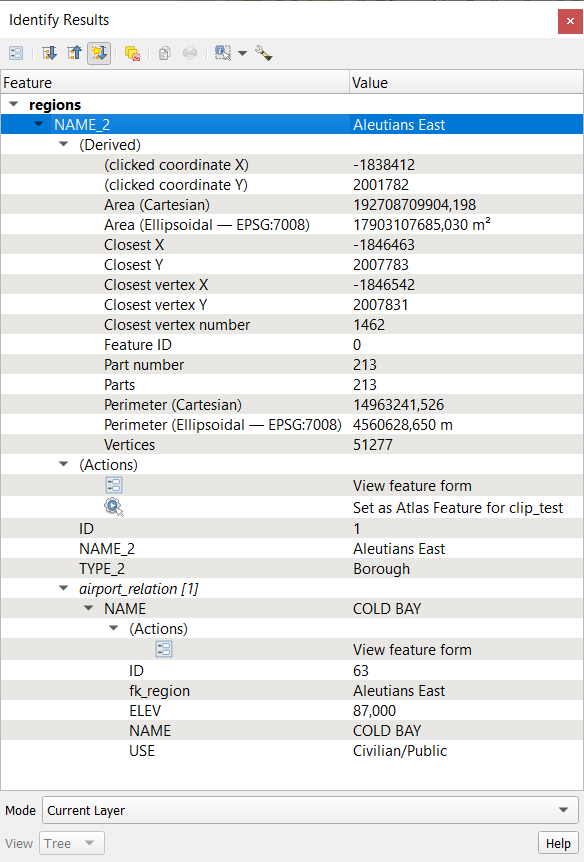 At the top of the window, you have five icons:
At the bottom of the window, you have the Mode and View comboboxes. With the Mode combobox you can define the identify mode: 'Current layer', 'Top down, stop at first', 'Top down' and 'Layer selection'. The View can be set as 'Tree', 'Table' and 'Graph'.
The identify tool allows you to auto open a form. In this mode you can change the feautures attributes.
Andere functies kunnen worden gevonden in het contextmenu van het geïdentificeerde item. Vanuit het contextmenu kunt u bijvoorbeeld:
Het formulier Object bekijken

Naar object inzoomen

Kopieer object: Kopieer alle geometrie en attributen van het object

Toggle feature selection: adds identified feature to selection

Attribuutwaarde kopiëren: Kopieert alleen de waarde van het attribuut waar u op klikt

Copy feature attributes: Copy only attributes

Wis resultaat: Het scherm Identificatieresultaten wordt leeggemaakt

Wis accentueren: Verwijdert objecten die geaccentueerd waren op de kaart

Alles accentueren

Laag accentueren

Activeer laag: Kies een laag die moet worden geactiveerd

Laag-eigenschappen: Opent het menu Laag-eigenschappen

Alles uitklappen

Alles inklappen
Decoraties
The Decorations of QGIS include the Grid, the Copyright Label, the North Arrow and the Scale Bar. They are used to 'decorate' the map by adding cartographic elements.
Projecten in een project
Wanneer u de inhoud van een ander project wilt opnemen in een project kunt u kiezen voor .
Lagen inbedden
Het volgende dialoogvenster maakt het inbedden van lagen vanuit een ander project mogelijk. Hier volgt een voorbeeld:
Press to look for another project from the Alaska dataset.
Select the project file grassland. You can see the content of the project (see figure_embed_dialog).
Press Ctrl and click on the layers grassland and regions. Press [OK]. The selected layers are embedded in the map legend and the map view now.
Figure Nesting 1:
Alhoewel u de ingebedde lagen kunt bewerken, kunt u eigenschappen als Stijl en Labels van deze lagen niet aanpassen.
Ingebedde lagen verwijderen
Right-click on the embedded layer and choose

Remove.