QGIS also provides tools to import/export different formats.
Both raster and vector layers can be saved in a different format and/or reprojected to a different coordinate reference system (CRS) using the Save As... function in the layer context menu (by right-clicking in the layer in the layer tree) or in the menu.
The Save As dialog shows several parameters to change the behavior when saving the layer. Common parameters for raster and vector are:
Sommige parameters zijn echter specifiek voor raster- en vectorindelingen: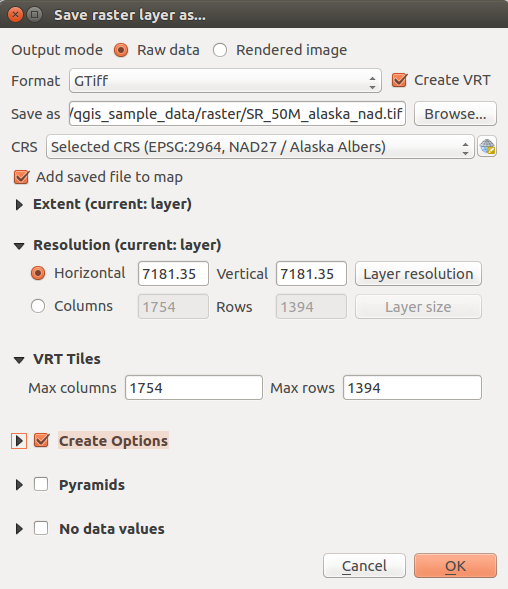 Afhankelijk van de indeling voor het exporteren, zijn enkele van deze opties beschikbaar of niet:
Codering

Alleen geselecteerde objecten opslaan

Velden om te exporteren en hun opties voor exporteren selecteren. In het geval u het gedrag van uw velden instelt met sommige Edit widgets, bijv. unieke waarde, kunt u de weergegeven waarden in de laag behouden door te selecteren Alle geselecteerde ruwe veldwaarden vervangen door hun weergegeven waarden.

Exporteren van symbologie: kan voornamelijk worden gebruikt voor exporteren naar DXF en voor alle bestandsindelingen die objectstijlen voor OGR beheren (zie opmerking hieronder) zoals DXF, KML, tab-bestandsindelingen:

Geen symbologie: standaard stijl van de toepassing die de gegevens leest

Objectsymbologie: stijl opslaan met OGR objectstijlen (zie opmerking hieronder)

Symboollaagsymbologie: opslaan met OGR objectstijlen (zie opmerking hieronder) maar exporteer dezelfde geometrie meerdere keren als er meerdere symbologie symboollagen worden gebruikt

Op de laatste opties kan een waarde Schaal worden toegepast.
Notitie
OGR Feature Styles are a way to store style directly in the data as a hidden attribute. Only some formats can handle this kind of information. KML, DXF and TAB file formats are such formats. For advanced users, you can read the OGR Feature Styles specification document.
Tip
Overriding layer geometry type makes it possible to do things like save a geometryless table (e.g. .csv file) into a shapefile WITH any type of geometry (point, line, polygon), so that geometries can then be manually added to rows with the

Add Part tool .
Datasources Options, Layer Options or Custom Options which allow you to configure some advanced parameters. See the gdal-ogr driver documentation.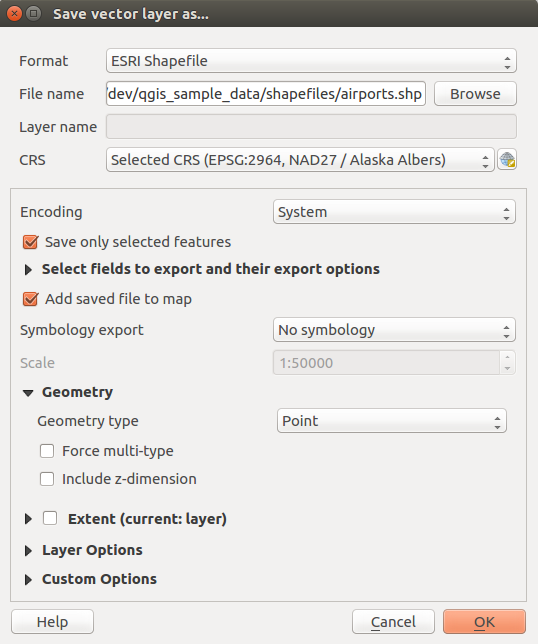 Bij het opslaan van een vectorlaag in een reeds bestaand bestand, afhankelijk van de mogelijkheden van de indeling voor de uitvoer (Geopackage, SpatiaLite, FileGDB...), kan de gebruiker beslissen om:
het gehele bestand te overschrijven

alleen de doellaag te overschrijven (de laagnaam is aan te passen)

objecten toe te voegen aan de bestaande doellaag

objecten toe te voegen, nieuwe velden toe te voegen indien die er zijn.
Voor indelingen zoals ESRI Shapefile, MapInfo .tab is het toevoegen van objecten ook beschikbaar.
Objecten die op het klembord staan kunnen worden geplakt in een nieuwe laag. maak de laag eerst bewerkbaar om dit te kunnen doen. Selecteer enkele objecten, kopieer ze naar het klembord en plak ze dan in de nieuwe laag met behulp van en kies:
: you need to select the layer CRS, poping up the Save vector layer as... dialog from which you can select any supported data format (see Creating new layers from an existing layer for parameters);
or : you need to select the layer CRS and give a name.
Een nieuwe laag, gevuld met geselecteerde objecten en hun attributen wortd gemaakt en toegevoegd aan het kaartvenster, indien daarnaar gevraagd.
Notitie
Creating layers from clipboard applies to features selected and copied within QGIS and also to features from another source defined using well-known text (WKT).
Virtual layers are a special kind of vector layer. They allow you to define a layer as the result of an SQL query involving any number of other vector layers that QGIS is able to open. Virtual layers do not carry data by themselves and can be seen as views to other layers.
To create a virtual layer, open the virtual layer creation dialog by clicking on Add Virtual Layer in the Layer menu or from the corresponding toolbar.
The dialog allows you to specify a Layer name and an SQL Query. The query can use the name (or id) of loaded vector layers as tables, as well as their field names as columns.
Indien u bijvoorbeeld een laag heeft die is genaamd airports, kunt u een nieuwe virtuele laag maken die is genaamd public_airports met een SQL-query als:
SELECT *
FROM airports
WHERE USE = "Civilian/Public"

The SQL query will be executed, regardless of the underlying provider of the airports layer, even if this provider does not directly support SQL queries.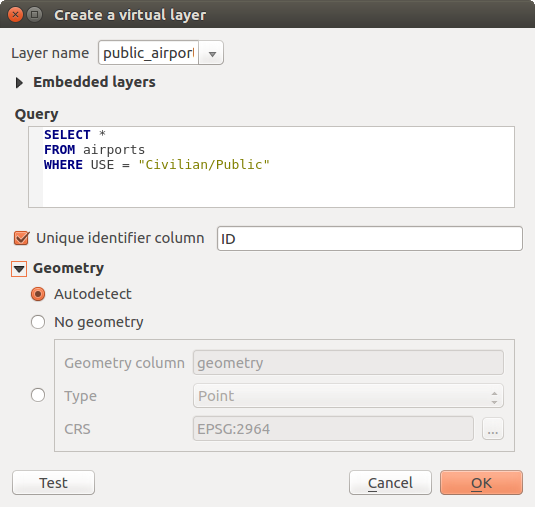 Joins and complex queries can also be created, for example, to join airports and country information:
SELECT airports.*, country.population
FROM airports
JOIN country
ON airports.country = country.name

Notitie
Het is ook mogelijk virtuele lagen te maken met behulp van het venster SQL van Plug-in DB Manager.
Naast de beschikbare vectorlagen in het kaartvenster, kan de gebruiker lagen toevoegen aan de lijst Ingebedde lagen, die hij kan gebruiken in query's zonder de noodzaak om ze weer te geven in het kaartvenster of het paneel Lagen.
Klik, om een laag in te bedden, op Toevoegen en geef de Lokale naam, Provider, Codering en het pad naar de Bron op.
De knop Importeren maakt het mogelijk lagen, die zijn geladen in het kaartvenster, toe te voegen aan de lijst Ingebedde lagen. Dit maakt het mogelijk deze lagen later uit het paneel Lagen te verwijderen zonder ene bestaande query te beschadigen.
Het onderliggende programma gebruikt SQLite en SpatiaLite voor bewerkingen.
Dat betekent dat u alles voor SQL kunt gebruiken dat uw lokale installatie van SQLite begrijpt.
Functies uit SQLite en ruimtelijke functies uit SpatiaLite kunnen ook worden gebruikt voor een query voor een virtuele laag. Maken van bijvoorbeeld een puntenlaag uit een laag met alleen attributen kan worden gedaan met een query soortgelijk aan:
SELECT id, MakePoint(x, y, 4326) as geometry
FROM coordinates

Functies van expressies van QGIS kunnen ook worden gebruikt in een query voor een virtuele laag.
Gebruik de naam geometry om te verwijzen naar de geometriekolom van een laag.
In tegenstelling tot een pure query in SQL, moeten alle velden voor een virtuele laag worden benoemd. Vergeet niet het sleutelwoord as te gebruiken om uw kolommen te benoemen als zij het resultaat zijn van een berekening of aanroep van een functie.
Als standaard parameters zijn ingesteld, zal het programma voor de virtuele laag zijn best doen om de verschillende typen kolommen van de query te detecteren, inclusief het type van de geometriekolom als er een aanwezig is.
Dit wordt gedaan door middel van introspectie van de query indien mogelijk of door, als laatste middel, de eerste rij van de query op te halen (LIMIT 1). Ophalen van de eerste rij voor slechts het maken van de laag zou ongewenst kunnen zijn om redenen van uitvoering.
Het dialoogvenster voor het maken maakt het mogelijk verschillende parameters te specificeren:
Unieke kolom voor identificatie: deze optie maakt het mogelijk te specificeren welk veld van de query de unieke integere waarden weergeeft die QGIS kan gebruiken als identificatie voor de rijen. Standaard wordt een zichzelf ophogende waarde integer gebruikt. Specificeren van een unieke kolom voor identificatie maakt het mogelijk het selecteren van rijen op ID te versnellen.

Geen geometrie: deze optie forceert de virtuele laag om een veld voor geometrie te negeren. De resulterende laag is een laag met alleen attributen.

Geometrie:guilabel;`kolom`: deze optie maakt het mogelijk de naam van de kolom te specificeren die moet worden gebruikt als de geometrie voor de laag.

Geometrie :guilabel;`Type`: deze optie maakt het mogelijk het type geometrie voor de virtuele laag te specificeren.

Geometrie CRS: deze optie maakt het mogelijk het coördinaten referentiesystem voor de virtuele laag te specificeren.
Bij het verzoeken om een laag door middel van een virtuele laag zullen indexen van de bronlaag op de volgende manieren worden gebruikt:
als een predicaat = wordt gebruikt in de kolom voor de primaire sleutel van de laag, zal de onderliggende gegevensprovider worden gevraagd naar een bepaalde ID (FilterFid)

voor elk ander predicaat (>, <=, !=, etc.) of op een kolom zonder primaire sleutel zal een verzoek dat is opgebouwd uit een expressie worden gebruikt om de onderliggende gegevensprovider te bevragen. Dat betekent dat indexen, als zij bestaan, kunnen worden gebruikt voor databaseproviders.
Er bestaat een specifieke syntaxis om ruimtelijke predicaten in verzoeken af te handelen en het gebruiken van ene ruimtelijke index te activeren: er bestaat voor elke virtuele laag een verborgen kolom, genaamd _search_frame_. Deze kolom mag voor gelijkheid worden vergeleken met een begrenzingsvak. Voorbeeld:
SELECT *
FROM vtab
WHERE _search_frame_=BuildMbr(-2.10,49.38,-1.3,49.99,4326)

Ruimtelijke binaire predicaten zoals ST_Intersects werken significanter sneller indien zij gebruikt worden in samenwerking met deze syntaxis voor ruimtelijke index.