2.1.

Lesson: An Overview of the Interface

We will explore the QGIS user interface so that you are familiar with the menus, toolbars, map canvas and layers list that form the basic structure of the interface.

The goal for this lesson: To understand the basics of the QGIS user interface.
2.1.1.
Try Yourself: The Basics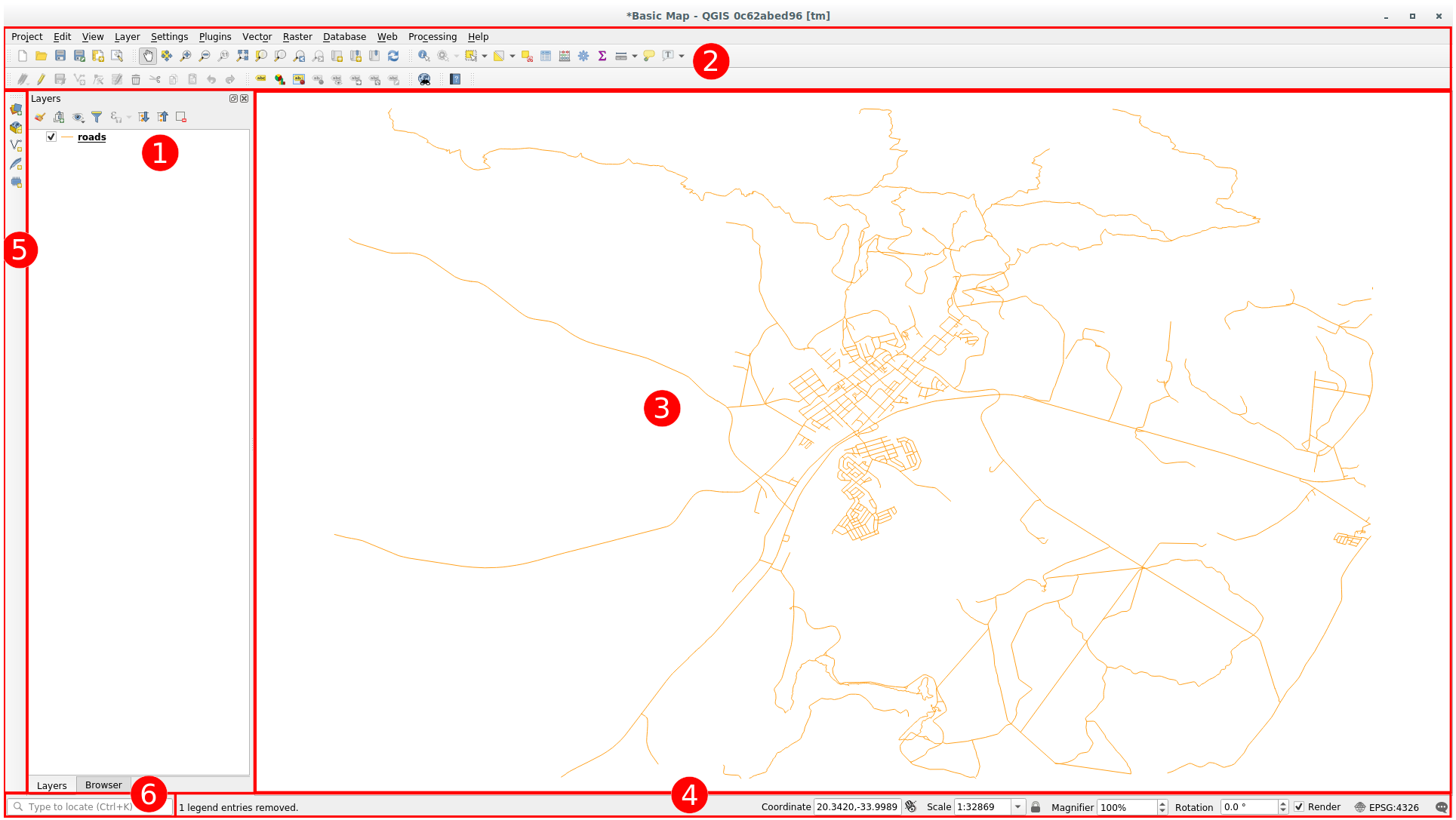 The elements identified in the figure above are:
Layers List / Browser Panel

Toolbars

Map canvas

Status bar

Side Toolbar

Locator bar
2.1.2.
Try Yourself 1

Try to identify the four elements listed above on your own screen, without referring to the diagram above. See if you can identify their names and functions. You will become more familiar with these elements as you use them in the coming days.

Answer

Refer back to the image showing the interface layout and check that you remember the names and functions of the screen elements.
2.1.3.
Try Yourself 2

Try to find each of these tools on your screen. What is their purpose?
Note
If any of these tools is not visible on the screen, try enabling some toolbars that are currently hidden. Also keep in mind that if there isn't enough space on the screen, a toolbar may be shortened by hiding some of its tools. You can see the hidden tools by clicking on the double right arrow button in any such collapsed toolbar. You can see a tooltip with the name of any tool by holding your mouse over the tool for a while.
Answer
Save as

Zoom to layer(s)

Invert selection

Rendering on/off

Measure line
2.1.4.

What's Next?

Now that you are familiar with the basics of the QGIS interface, in the next lesson we will see how to load some common data types.