20.

Working with Point Clouds

What is A Point Cloud?

A point cloud is a three-dimensional image of a space made up of many individual of data points (up to billions, even trillions). Each of the points has an x, y and z coordinate. Depending on the capture method, point clouds usually also have additional attributes that came from the capture, such as color values or intensity. These attributes can be used, for instance, to display point clouds in different colors. In QGIS, a point cloud can be used to generate a three-dimensional image of the landscape (or of another space).

Supported Formats

QGIS supports the data formats Entwine Point Tile (EPT) and LAS/LAZ. To work with point clouds, QGIS always saves the data in EPT. EPT is a storage format that consists of several files stored in a common folder. To allow quick access to the data, EPT uses indexing. For more information on the EPT format, see entwine homepage

If the data is in LAS or LAZ format, QGIS will convert it to EPT when it is loaded for the first time. Depending on the size of the file, this may take some time. In this process, a subfolder is created in the folder in which the LAS/LAZ file is located according to the scheme ept_ + name_LAS/LAZ_file. If such a subfolder already exists, QGIS loads the EPT immediately (which leads to a reduced loading time).

Worth Knowing

In QGIS it is not (yet) possible to edit point clouds. If you want to manipulate your point cloud, you can use CloudCompare, an open source point cloud processing tool. Also the Point Data Abstraction Library (PDAL - similar to GDAL) offers you options to edit point clouds (PDAL is command line only).

Due to the large number of data points, it is not possible to display an attribute table of point clouds in QGIS. However, the

Identify tool supports point clouds, so you can display all attributes, even of a single data point.
The Layer Properties dialog for a point cloud layer offers general settings for the layer and its rendering. It also provides information about the layer.
To access the Layer Properties dialog:
In the Layers panel, double-click the layer or right-click and select Properties… from the context menu;

Go to Layer ► Layer Properties… menu when the layer is selected.
The point cloud Layer Properties dialog provides the following sections:
[1] Also available in the Layer styling panel
Note
Most of the properties of a point cloud layer can be saved to or loaded from a .qml file using the Style menu at the bottom of the properties dialog. More details at Save and Share Layer Properties
Lidar surveys of larger areas are often multi-terabyte datasets with many billions of points. Having such large datasets represented as a single point cloud file is not practical due to the difficulties of storage, transfer, display and analysis. Point cloud data are therefore typically stored and distributed split into square tiles (e.g. 1km x 1km), each tile having a more manageable file size (e.g. ~200 MB when compressed).
Tiling of data solves the problems with size of data, but it introduces issues when processing or viewing an area of interest that does not fit entirely into a single tile. Users need to develop workflows that take into account multiple tiles and special care needs to be taken to deal with data near edges of tiles to avoid unwanted artefacts in outputs. Similarly, when viewing point cloud data, it becomes cumbersome to load many individual files and apply the same symbology.
Here is an example of several point cloud tiles loaded in QGIS. Each tile is styled based on min/max Z values of the tile, creating visible artefacts on tile edges. The styling has to be adjusted for each layer separately: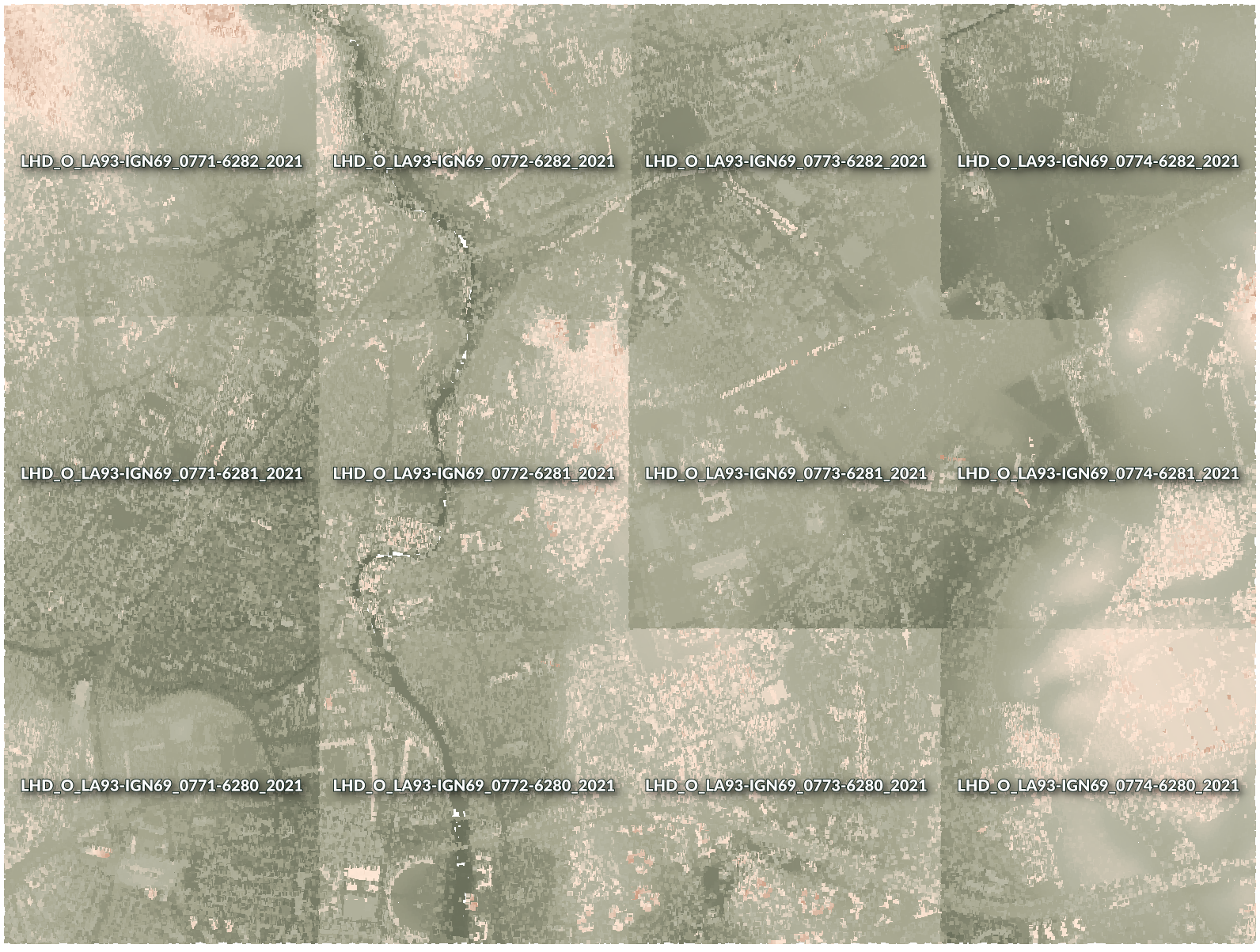 In the GIS world, many users are familiar with the concept of virtual rasters. A virtual raster is a file that simply references other raster files with actual data. In this way, GIS software then treats the whole dataset comprising many files as a single raster layer, making the display and analysis of all the rasters listed in the virtual file much easier.
Borrowing the concept of virtual rasters from GDAL, virtual point cloud (VPC) is a file format that references other point cloud files. Software supporting virtual point clouds handles the whole tiled dataset as a single data source.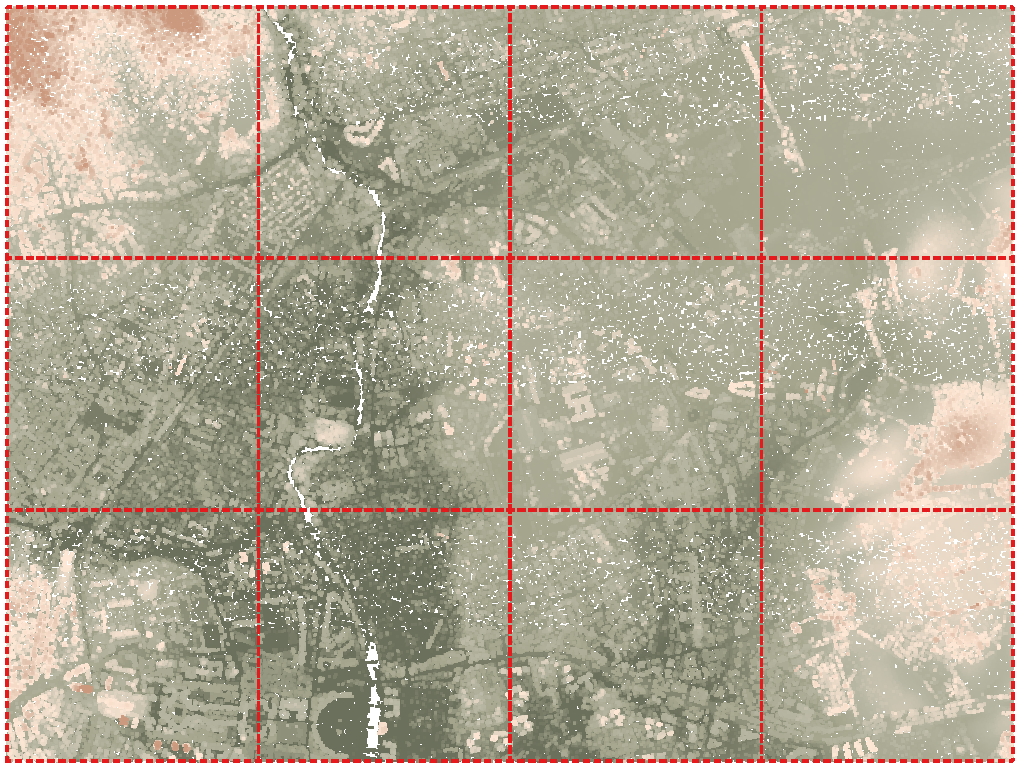 Displaying and manipulating virtual point cloud is much more fluent and easy.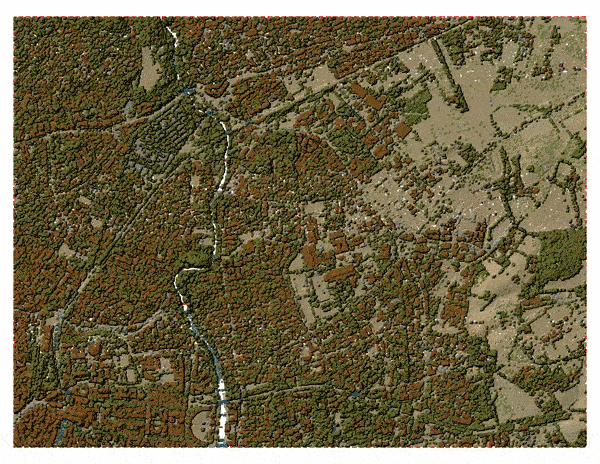 At the core, a virtual point cloud file is a simple JSON file with .vpc extension, containing references to actual data files (e.g. .LAS, .LAZ or .COPC files) and additional metadata extracted from the files. Even though it is possible to write VPC files by hand, it is strongly recommended to create them using an automated tool, such as:
For more details, please refer to the VPC specification that also contains best practices and optional extensions (such as overviews).