2.1.

Lesson: Gambaran Umum Antarmuka

Kita akan mengeksplorasi antarmuka pengguna QGIS sehingga Anda akan terbiasa dengan menu, toolbar, kanvas peta dan daftar lapisan yang membentuk struktur dasar dari antarmuka.

Tujuan pelajaran ini: Memahami dasar dari antarmuka pengguna QGIS.
2.1.1.

Try Yourself: Dasar-Dasar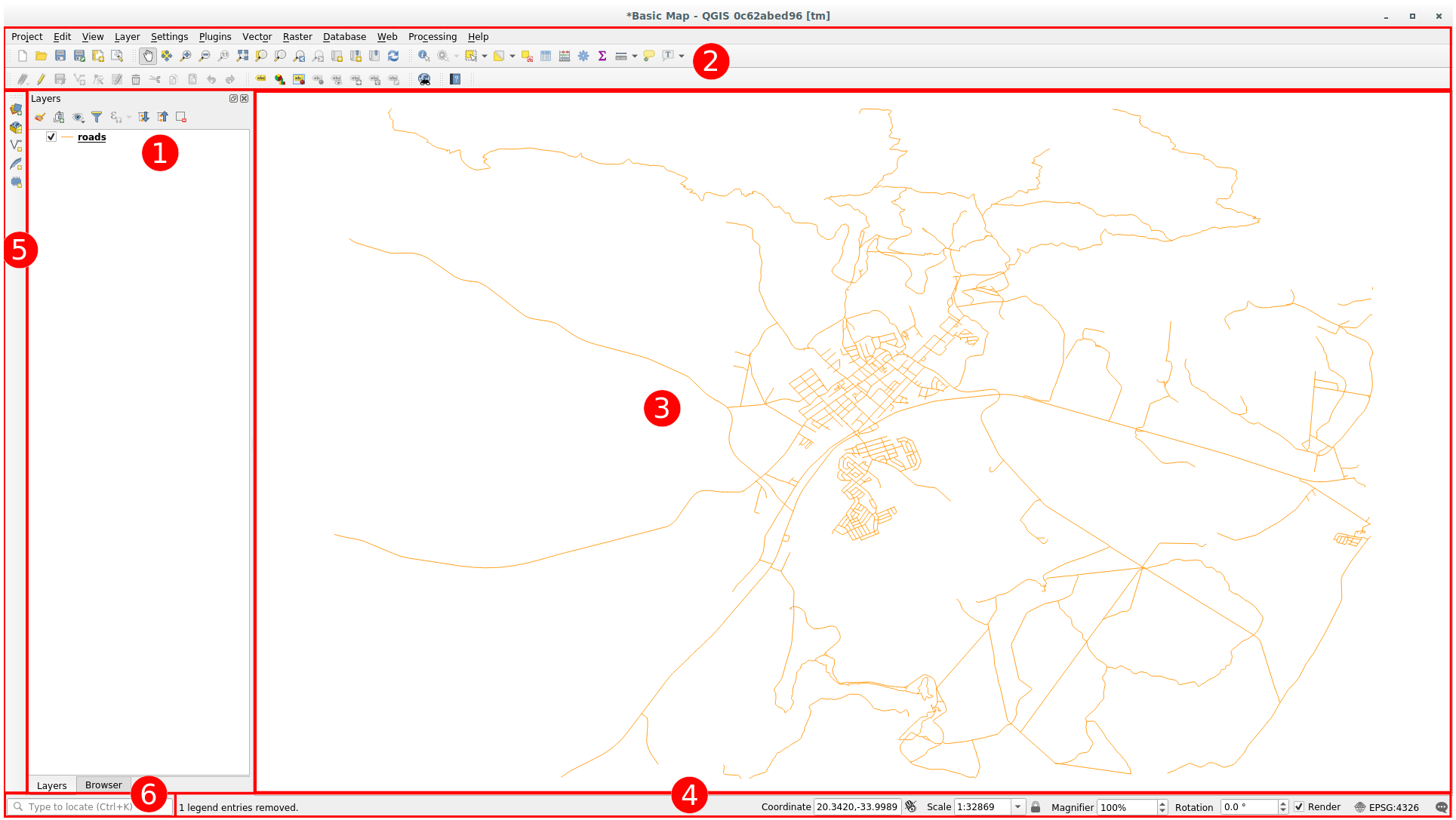 Unsur-unsur yang diidentifikasi dalam gambar di atas adalah:
Daftar Lapisan / Panel Penjelajah

Toolbar

Kanvas Peta

Bar Status

Toolbar Samping

Locator bar
2.1.2.

Try Yourself 1

Cobalah untuk mengidentifikasi empat unsur yang tercantum di atas pada layar Anda sendiri, tanpa mengacu pada diagram di atas. Lihat jika Anda dapat mengidentifikasi nama dan fungsi mereka. Anda akan menjadi lebih terbiasa dengan unsur-unsur seperti Anda menggunakannya dalam beberapa hari mendatang.
2.1.3.

Try Yourself 2

Cobalah untuk menemukan masing-masing alat pada layar Anda. Apa tujuan mereka?
Catatan
Jika salah satu dari alat-alat ini tidak terlihat di layar, coba aktifkan beberapa toolbar yang saat ini tersembunyi. Juga perlu diingat bahwa jika tidak ada cukup ruang di layar, toolbar dapat dipersingkat dengan menyembunyikan beberapa alatnya. Anda dapat melihat alat yang tersembunyi dengan mengklik dobel tombol panah kanan dalam toolbar runtuh tersebut. Anda dapat melihat tooltip nama alat apapun dengan mengarahkan tetikus Anda ke alat untuk sementara waktu.
2.1.4.

What's Next?

Now that you are familiar with the basics of the QGIS interface, in the next lesson we will see how to load some common data types.