QGIS also provides tools to import/export different formats.
Both raster and vector layers can be saved in a different format and/or reprojected to a different coordinate reference system (CRS) using the Save As... function in the layer context menu (by right-clicking in the layer in the layer tree) or in the menu.
The Save As dialog shows several parameters to change the behavior when saving the layer. Common parameters for raster and vector are:
Tuttavia, alcuni parametri sono specifici per i formati raster e vettoriali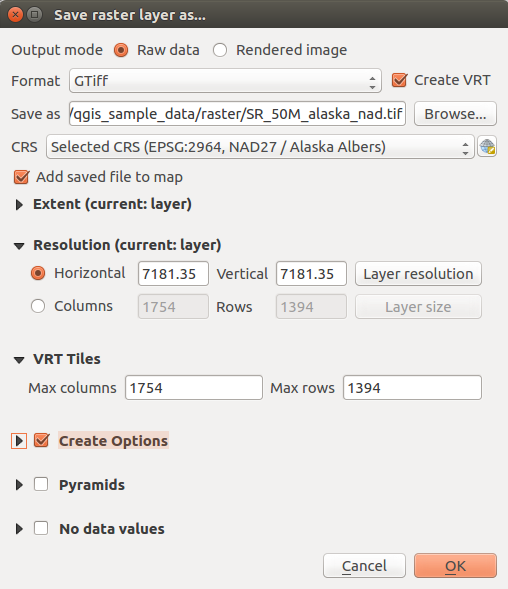 A seconda del formato di esportazione, alcune di queste opzioni sono disponibili o meno:
Codifica

Salva solo le geometrie selezionate

Seleziona i campi da esportare e le loro opzioni di esportazione. Nel caso in cui imposti i comportamenti dei campi con alcuni Edit widgets ad esempio "valore", puoi mantenere i valori visualizzati nel layer scegliendo Sostituisci tutti i valori grezzi selezionati dai valori mostrati.

Esporta simbologia: opzione che puoi utilizzare principalmente per l'esportazione del formato DXF e per tutti i formati di file che gestiscono le tipologie di file OGR (vedi nota di seguito) come i formati DXF, KML, i formati tabelle:

Nessuna simbologia: stile di default dell'applicazione che legge i dati

Simbologia geometrie: salva lo stile utilizzando gli stili OGR (vedi la nota di seguito)

Simbologia simboli vettore: salva con gli stili OGR (vedi nota di seguito) ma esporta la stessa geometria più volte se sono utilizzati più simboli

Un valore di Scala può essere applicato alle scelte più recenti.
Nota
OGR Feature Styles are a way to store style directly in the data as a hidden attribute. Only some formats can handle this kind of information. KML, DXF and TAB file formats are such formats. For advanced users, you can read the OGR Feature Styles specification document.
Suggerimento
Overriding layer geometry type makes it possible to do things like save a geometryless table (e.g. .csv file) into a shapefile WITH any type of geometry (point, line, polygon), so that geometries can then be manually added to rows with the

Add Part tool .
Datasources Options, Layer Options or Custom Options which allow you to configure some advanced parameters. See the gdal-ogr driver documentation.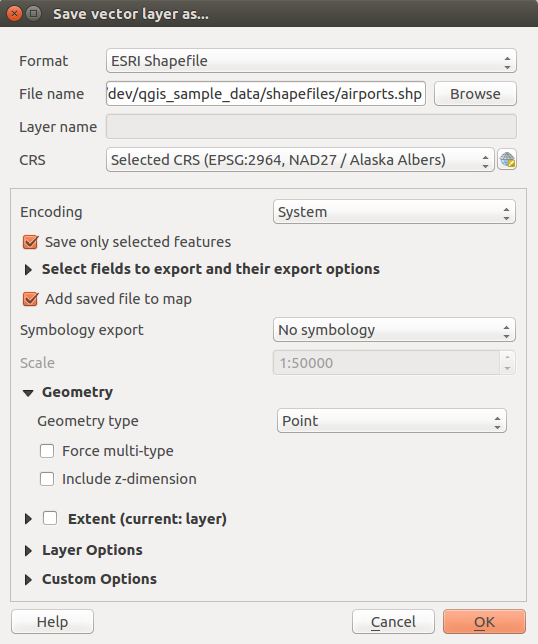 Quando si salva un layer vettoriale in un file esistente, a seconda delle capacità del formato di output (Geopackage, SpatiaLite, FileGDB ...), l'utente può decidere se:
sovrascrivere l'intero file

sovrascrivere solo il layer di destinazione (il nome del layer è configurabile)

aggiungere geometrie ad un layer esistente

aggiungere geometrie, aggiungere nuovi campi se ce ne sono.
Sono disponibili opzioni per aggiungere geometrie ai formati come ESRI Shapefile, MapInfo .tab,.
Virtual layers are a special kind of vector layer. They allow you to define a layer as the result of an SQL query involving any number of other vector layers that QGIS is able to open. Virtual layers do not carry data by themselves and can be seen as views to other layers.
To create a virtual layer, open the virtual layer creation dialog by clicking on Add Virtual Layer in the Layer menu or from the corresponding toolbar.
The dialog allows you to specify a Layer name and an SQL Query. The query can use the name (or id) of loaded vector layers as tables, as well as their field names as columns.
Ad esempio, se hai un layer chiamato airports, puoi creare un nuovo layer virtuale da denominare public_airports con una query SQL del tipo:
SELECT *
FROM airports
WHERE USE = "Civilian/Public"

The SQL query will be executed, regardless of the underlying provider of the airports layer, even if this provider does not directly support SQL queries.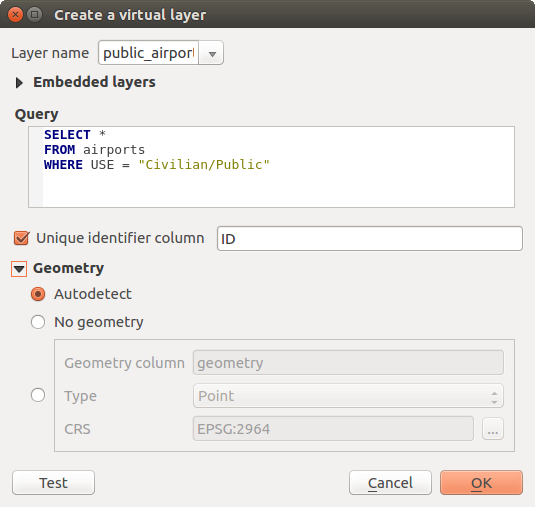 Joins and complex queries can also be created, for example, to join airports and country information:
SELECT airports.*, country.population
FROM airports
JOIN country
ON airports.country = country.name

Nota
Layers virtuali possono essere creati anche usando la finestra di dialogo SQL di Plugin DB Manager.
Oltre ai layers vettoriali disponibili nell'area di visualizzazione della mappa, l' utente può aggiungere layers alla lista Layers inckusi, layers che può utilizzare nelle query senza doverli mostrare nell'area di visualizzazione della mappa o nel Layers Panel.
Per incorporare un layer, fariclick su Aggiungi e inserisci Nome locale, Sorgente dati, Codifica e il percorso della Sorgente dati.
Il pulsante Importa consente di aggiungere i layer caricati nell'area di disegno della mappa all'elenco dei layer incorporati. Questo consente di rimuovere successivamente questi layers dal Layers Panel senza interrompere alcuna query esistente.
Il motore sottostante utilizza SQLite e SpatiaLite per funzionare.
Ciò significa che è possibile utilizzare tutti l'SQL che l'installazione locale di SQLite comprende.
Funzioni di SQLite e funzioni spaziali di SpatiaLite possono anche essere utilizzate in una query di layer virtuale. Ad esempio, la creazione di un layer di punti da un layer di solo attributo può essere fatto con una query simile a:
SELECT id, MakePoint(x, y, 4326) as geometry
FROM coordinates

Functions of QGIS expressions possono essere utilizzate anche in una query di layer virtuale..
Per fare riferimento alla colonna geometrica di un layer, utilizzare il nome geometria.
Contrariamente a una query SQL pura, devono essere denominati tutti i campi di una query di layer virtuale. Non dimenticare di utilizzare la parola chiave as per indicare le colonne se sono il risultato di un calcolo o di una funzione.
Con parametri predefiniti, il motore del layer virtuale proverà a rilevare il tipo delle diverse colonne della query, incluso il tipo di colonna geometria se presente.
Questo viene fatto analizzando l'interrogazione se possibile o recuperando la prima riga dell'interrogazione (LIMIT 1) in ultima istanza. Il recupero della prima riga del risultato per creare lo strato può essere indesiderabile per motivi di prestazioni
La finestra di dialogo per creare un layer virtuale ti permette di specificare diversi parametri.
Colonna identificativa univoca: questa opzione ti permette di specificare quale campo dell'interrogazione rappresenta i valori interi univoci che QGIS può utilizzare come identificatore di riga. Per default, viene utilizzato un valore intero autoincrementale. Specificando una colonna identificatore univoco potrai velocizzare la selezione delle righe.

Nessuna geometria: questa opzione forza il layer virtuale a ignorare qualsiasi campo geometria. Il layer risultante sarà solamente un layer tabella attributi.

Colonna geometria: questa opzione ti permette di specificare il nome della colonna da utilizzare come geometria del layer.

Tipo: questa opzione ti permette di specificare il tipo di geometria del layer virtuale.

SR: quest'opzione ti permette di specificare il sistema di riferimento delle coordinate del layer virtuale.
Quando si interagisce con un layer virtuale, gli indici di questo layer vengono utilizzati nei seguenti modi:
se viene usato = nella colonna chiave primaria del layer, al fornitore di dati sottostante verrà richiesto un id particolare (FilterFid)

per tutti gli altri predicati (>, <=, !=, etc.) o per richiesta su una colonna senza chiave primaria, verrà utilizzata una richiesta costruita da un' espressione per il driver attivo. Ciò significa che gli indici possono essere utilizzati sui drivers di database, se esistono.
Esiste una sintassi specifica per gestire le predicazioni spaziali nelle richieste e innesca l'utilizzo di un indice spaziale: una colonna nascosta denominata _search_frame_ esiste per ogni layer virtuale. Questa colonna può essere paragonata per l'uguaglianza con un riquadro di limitazione. Ad esempio:
SELECT *
FROM vtab
WHERE _search_frame_=BuildMbr(-2.10,49.38,-1.3,49.99,4326)

I predicati binari spaziali come ST_Intersects consentono significative accelerazioni quando utilizzati in combinazione con questa sintassi dell'indice spaziale.