24.2.5.

Georeferencer Plugin¶

The

 Georeferencer Plugin is a tool for generating world files for rasters. It allows you to reference rasters to geographic or projected coordinate systems by creating a new GeoTiff or by adding a world file to the existing image. The basic approach to georeferencing a raster is to locate points on the raster for which you can accurately determine coordinates.
Features
| アイコン | 目的 | アイコン | 目的 |
| --- | --- | --- | --- |
| | Open raster | | Start georeferencing |
| | Generate GDAL Script | | Load GCP Points |
| | Save GCP Points As | | Transformation settings |
| | Add Point | | Delete Point |
| | Move GCP Point | | Pan |
| | Zoom In | | Zoom Out |
| | Zoom To Layer | | Zoom Last |
| | Zoom Next | | Link Georeferencer to QGIS |
| | Link QGIS to Georeferencer | | Full histogram stretch |
| | Local histogram stretch | | |
Table Georeferencer: Georeferencer Tools
As X and Y coordinates (DMS (dd mm ss.ss), DD (dd.dd) or projected coordinates (mmmm.mm)), which correspond with the selected point on the image, two alternative procedures can be used:
The raster itself sometimes provides crosses with coordinates "written" on the image. In this case, you can enter the coordinates manually.

すでにジオリファレンスされたレイヤを使用します。これはベクタまたはラスタデータのいずれかで、ジオリファレンスしたい画像内にある同じオブジェクト/地物が含まれ、画像に使用したい投影のものです。この場合、QGIS地図キャンバスにロードされた参照データセットをクリックして座標を入力できます。
通常の画像ジオレファレンス手順では、ラスタ上の複数の点の選択、それらの座標指定、そして利用する変換タイプの選択が必要です。入力パラメータとデータに従ってプラグインではワールドファイルパラメータを計算します。座標を多く指定するほど結果はより良いものになるでしょう。
The first step is to start QGIS, load the Georeferencer Plugin (see プラグインダイアログ) and click on Raster ▶

Georeferencer, which appears in the QGIS menu bar. The Georeferencer Plugin dialog appears as shown in figure_georeferencer_dialog.
For this example, we are using a topo sheet of South Dakota from SDGS. It can later be visualized together with the data from the GRASS spearfish60 location. You can download the topo sheet here: https://grass.osgeo.org/sampledata/spearfish_toposheet.tar.gz.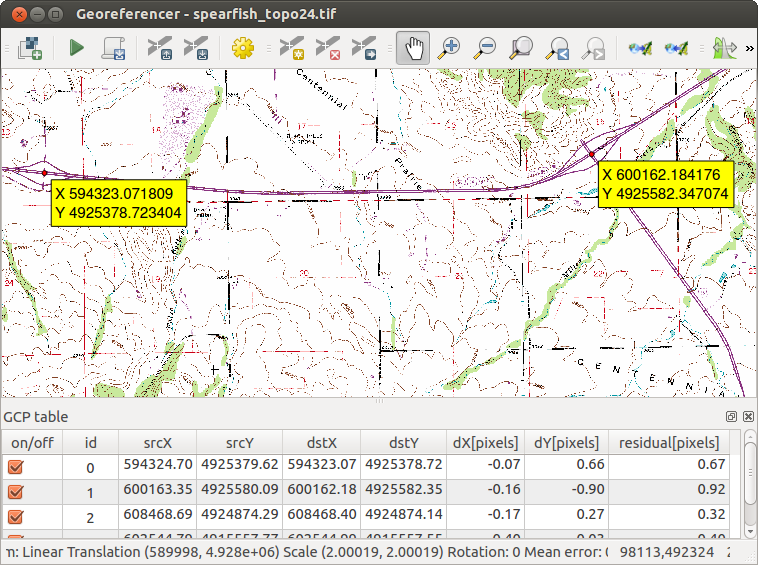 ジオリファレンスされていないラスタのジオリファレンスを開始するには、 ボタンを使用してそのラスタをロードする必要があります。ラスタはダイアログのメインの作業領域に表示されます。ラスタがロードされると、基準点の入力を開始できます。

Using the Add Point button, add points to the main working area and enter their coordinates (see Figure figure_georeferencer_add_points). For this procedure you have three options:

Click on a point in the raster image and enter the X and Y coordinates manually.

Click on a point in the raster image and choose the From map canvas button to add the X and Y coordinates with the help of a georeferenced map already loaded in the QGIS map canvas.

With the button, you can move the GCPs in both windows, if they are at the wrong place.

Continue entering points. You should have at least four points, and the more coordinates you can provide, the better the result will be. There are additional tools on the plugin dialog to zoom and pan the working area in order to locate a relevant set of GCP points.

通常一緒にラスター画像と地図に追加された点は、別個のテキストファイル( [ファイル名].points )に格納されます。これは、後日ジオリファレンサプラグインを再び開いて、新しいポイントを追加したり、結果を最適化するために、既存のものを削除できます。 mapX、mapY、pixelX、pixelY :ポイント・ファイルは、フォームの値が含まれています。

GCP点をロード と

名前を付けてGCPポイントを保存 ボタンを使用してファイルを管理できます。
After you have added your GCPs to the raster image, you need to define the transformation settings for the georeferencing process.
Clicking on the Raster properties option in the Settings menu opens the Layer properties dialog of the raster file that you want to georeference.
After all GCPs have been collected and all transformation settings are defined, just press the

Start georeferencing button to create the new georeferenced raster.