Expresiones¶
Basada en datos de capa y funciones predefinidas o definidas por el usuario, Expressions ofrece una forma poderosa de manipular el valor del atributo, la geometría y las variables para cambiar dinámicamente el estilo de la geometría, el contenido o la posición de la etiqueta, el valor del diagrama, la altura de un elemento de diseño, seleccionar algunas entidades, cree un campo virtual …
El diálogo principal para construir expresiones, el :guilabel: Expression string builder está disponible desde muchas partes en QGIS y, en particular, se puede acceder mediante:
El cuadro de diálogo del generador de expresiones ofrece acceso a:
Expression tab que, gracias a una lista de funciones predefinidas, ayuda a escribir y verificar la expresión a usar;

Function Editor tab lo que ayuda a ampliar la lista de funciones mediante la creación de funciones personalizadas.
Algunos casos de uso de expresiones:
Desde la Calculadora de campos, calcule un campo «pop_density» utilizando los campos existentes «total_pop» y «area_km2»

Actualice el campo «density_level» con categorías de acuerdo con los valores «pop_density»

CASE

 

WHEN

 

"pop_density"

 

<

 

50

 

THEN

 

'Low population density'


     

WHEN

 

"pop_density"

 

>=

 

50

 

and

 

"pop_density"

 

<

 

150

 

THEN

 

'Medium population density'


     

WHEN

 

"pop_density"

 

>=

 

150

 

THEN

 

'High population density'




END




Apply a categorized style to all the features according to whether their average house price is smaller or higher than 10000€ per square metre:

Using the «Select By Expression…» tool, select all the features representing areas of "High population density" and whose average house price is higher than 10000€ per square metre:

"density_level"

 

=

 

'High population density'

 

and

 

"price_m2"

 

>

 

10000




Likewise, the previous expression could also be used to define which features should be labeled or shown in the map.
Using expressions offers you a lot of possibilities.
Truco
Use named parameters to improve the expression reading
Some functions require many parameters to be set. The expression engine supports the use of named parameters. This means that instead of writing the cryptic expression clamp( 1, 2, 9), you can use clamp( min:=1, value:=2, max:=9). This also allows arguments to be switched, e.g. clamp( value:=2, max:=9, min:=1). Using named parameters helps clarify what the arguments for an expression function refer to, which is helpful when you are trying to interpret an expression at a later date!
The Expression tab provides the main interface to write expressions using functions, layer's fields and values. It contains following widgets:
An expression editor area to type or paste expressions. Autocompletion is available to speed expression writing:

Corresponding variables, function names and field names to the input text are shown below: use the Up and Down arrows to browse the items and press Tab to insert in the expression or simply click on the wished item.

Function parameters are shown while filling them.

QGIS also checks the expression rightness and highlights all the errors using:

Underline: for unknown functions, wrong or invalid arguments;

Marker: for every other error (eg, missing parenthesis, unexpected character) at a single location.

Truco

Document your expression with comments

When using complex expression, it is good practice to add text either as a multiline comment or inline comments to help you remember.

/*
Labels each region with its highest (in altitude) airport(s)
and altitude, eg 'AMBLER : 264m' for the 'Northwest Artic' region
*/
with_variable(
  'airport_alti', -- stores the highest altitude of the region
  aggregate(
    'airports',
    'max',
    "ELEV", -- the field containing the altitude
    -- and limit the airports to the region they are within
    filter := within( $geometry, geometry( @parent ) )
  ),
    aggregate( -- finds airports at the same altitude in the region
      'airports',
      'concatenate',
      "NAME",
      filter := within( $geometry, geometry( @parent ) )
        and "ELEV" = @airport_alti
    )
    || ' : ' || @airport_alti || 'm'
    -- using || allows regions without airports to be skipped
)


Under the expression editor, an Output preview displays the result of the expression evaluated on the first feature of the layer. In case of error, it indicates it and you can access details with the provided hyperlink.

A function selector displays the list of functions, variables, fields… organized in groups. A search box is available to filter the list and quickly find a particular function or field. Double-clicking an item adds it to the expression editor.

A help panel displays help for each selected item in the function selector.

Truco

Press Ctrl+Click when hovering a function name in an expression to automatically display its help in the dialog.

A field's values widget shown when a field is selected in the function selector helps to fetch features attributes. Double-clicking a value adds it to the expression editor.

Truco

The right panel, showing functions help or field values, can be collapsed (invisible) in the dialog. Press the Show Values or Show Help button to get it back.
With the Function Editor tab, you are able to write your own functions in Python language. This provides a handy and comfortable way to address particular needs that would not be covered by the predefined functions.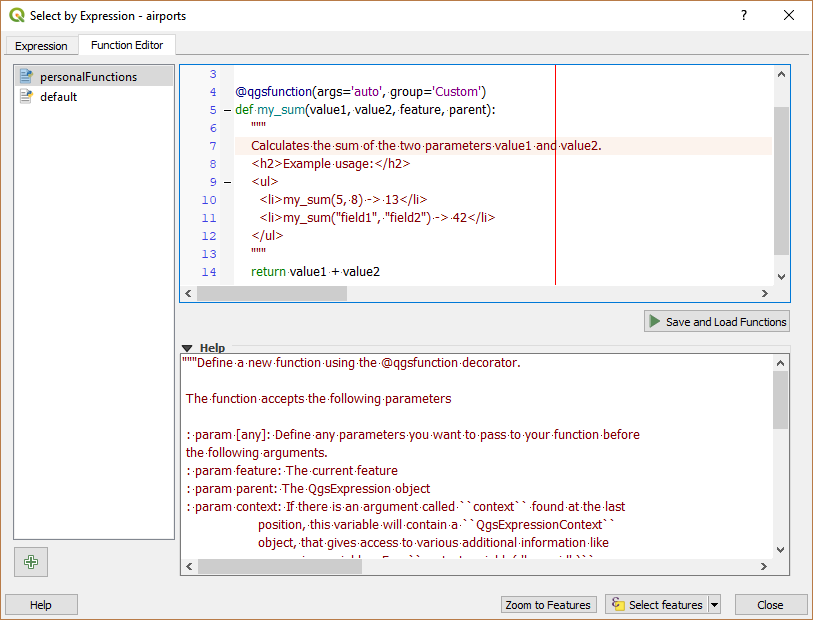 To create a new function:
Enter a name to use in the form that pops up and press OK.

A new item of the name you provide is added in the left panel of the Function Editor tab; this is a Python .py file based on QGIS template file and stored in the /python/expressions folder under the active user profile directory.

The right panel displays the content of the file: a python script template. Update the code and its help according to your needs.

Press the Save and Load Functions button. The function you wrote is added to the functions tree in the Expression tab, by default under the Custom group.

Enjoy your new function.

If the function requires improvements, enable the Function Editor tab, do the changes and press again the Save and Load Functions button to make them available in the file, hence in any expression tab.
Custom Python functions are stored under the user profile directory, meaning that at each QGIS startup, it will auto load all the functions defined with the current user profile. Be aware that new functions are only saved in the /python/expressions folder and not in the project file. If you share a project that uses one of your custom functions you will need to also share the .py file in the /python/expressions folder.
Here's a short example on how to create your own functions:
from

 

qgis.core

 

import

 

*




from

 

qgis.gui

 

import

 

*





@qgsfunction

(

args

=

'auto'

,

 

group

=

'Custom'

)




def

 

my_sum

(

value1

,

 

value2

,

 

feature

,

 

parent

):


    

"""




    Calculates the sum of the two parameters value1 and value2.




    <h2>Example usage:</h2>




    <ul>




      <li>my_sum(5, 8) -> 13</li>




      <li>my_sum("field1", "field2") -> 42</li>




    </ul>




    """


    

return

 

value1

 

+

 

value2



The short example creates a function my_sum that will give you a function with two values. When using the args='auto' function argument the number of function arguments required will be calculated by the number of arguments the function has been defined with in Python (minus 2 - feature, and parent).
This function can then be used in expressions: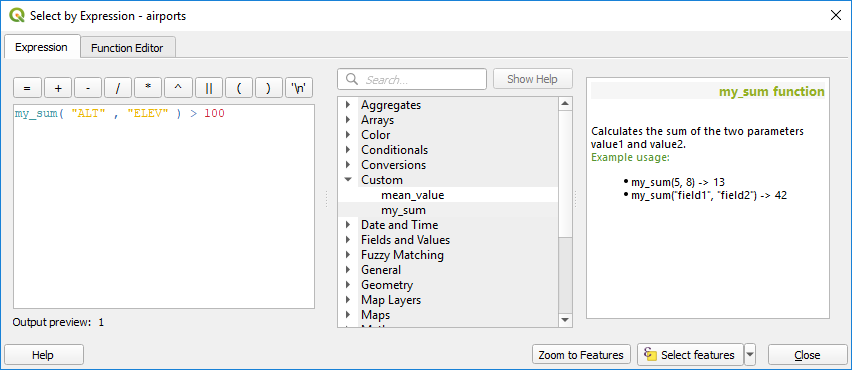 Se puede encontrar más información sobre cómo crear código Python en:ref:PyQGIS-Developer-Cookbook.