Identify features
Identify features allow to interact with map canvas to get data attribut on a pop-up windows. To identify feature use or Ctrl+Shift+I, or click on the

Identify features icon in the toolbar.
If you click on several feature, this pop-up will list all data attributes of all features. The first item is the number of the item in the list of result followed by layer name. Then its first child will be the name of a field with its value. Finally all informations of the feature is displayed.
This window can be customized to display custom fields but by default it will display three kind of information:
Actions: actions can be added to the identify feature windows. When clicking on the action label, action will be run. By default only one action is added to View feature form for editing.
Derived: those informations are calculated or derived from other information. You can find clicked coordinate, X and Y coordinates, area in map unit and perimeter in map unit for polygon, length in map unit for line and feature id.
Data attributes: this is the list of attribute fields from data.
Figure Identify 1: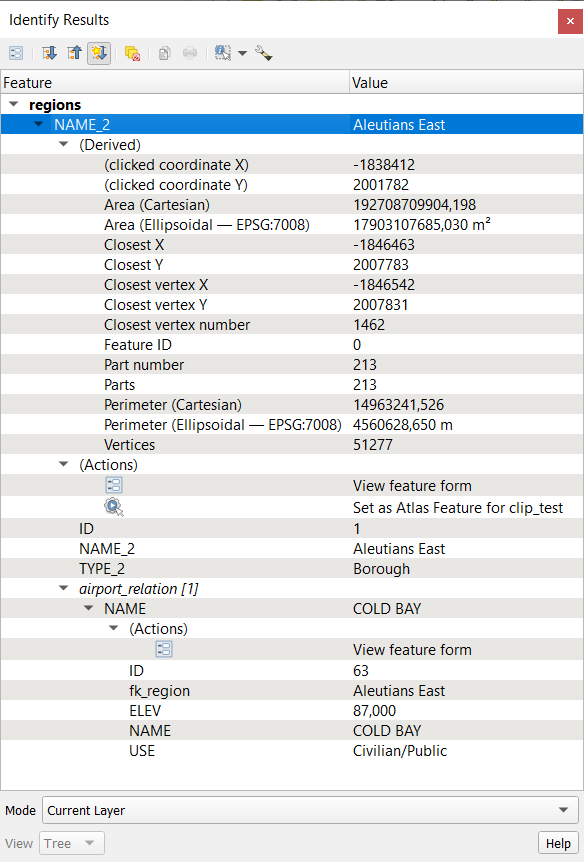 At the bottom of the windows, you have five icons:
More feature can be found in the menu display with a right click of the mouse somewhere in the response tree.
This menu allows to:
View Feature form
Zoom to feature
Copy feature: copy all feature ie geometry and attributes;
Copy attribute value: copy only the value of the attribut you click on;
Copy feature attributes: copy only attributes;
Clear result: result in the window are removed
Clear highlights: features highlight on the map are removed
Highlight all
Highlight layer
Layer properties: open layer properties window
Expand all
Collapse all
Atalhos de teclado
QGIS provides default keyboard shortcuts for many features. You find them in Section Barra de Menu. Additionally the menu option allows to change the default keyboard shortcuts and to add new keyboard shortcuts to QGIS features.
Figure Shortcuts 1: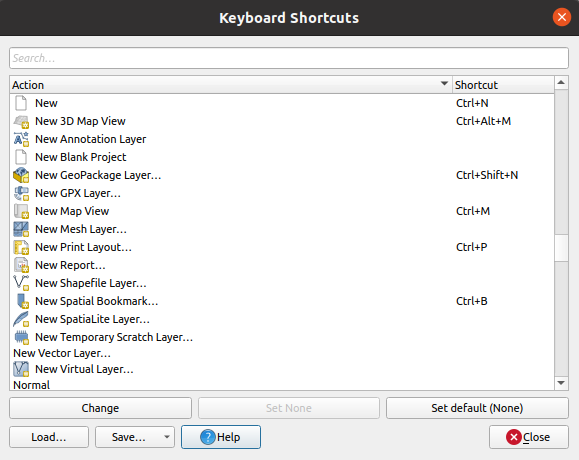 Configuration is very simple. Just select a feature from the list and click on [Change], [Set none] or [Set default]. Once you have found your configuration, you can save it as XML file and load it to another QGIS installation.
Conteúdo da ajuda
Quando precisar de ajuda sobre um tópico específico, você pode acessar a contúdo da ajuda através do: guilabel: Botão 'Ajuda' disponível na maioria dos diálogos - observe que complementos de terceiros podem apontar para páginas web dedicadas.
Renderização
By default, QGIS renders all visible layers whenever the map canvas must be refreshed. The events that trigger a refresh of the map canvas include:
QGIS allows you to control the rendering process in a number of ways.
Escala dependente da renderização
Scale dependent rendering allows you to specify the minimum and maximum scales at which a layer will be visible. To set scale dependency rendering, open the Properties dialog by double-clicking on the layer in the legend. On the General tab, click on the

Use scale dependent rendering checkbox to activate the feature then set the minimum and maximum scale values. .
You can determine the scale values by first zooming to the level you want to use and noting the scale value in the QGIS status bar.
Controlando a renderização do mapa
A renderização do mapa pode ser controlada por vários caminhos:
Medição
Medindo obras nos sistemas de coordenadas projetadas (por exemplo, UTM) e dados não projetados. Se o mapa carregado é definido com um sistema de coordenadas geográficas (latitude / longitude), os resultados da linha ou a medição da área será incorreta. Para corrigir isso, você precisa definir um sistema de coordenadas adequado ao mapa (ver secção: ref: label_projections). Todos os módulos de medição também usam as configurações de encaixe do módulo de digitalização. Isso é útil se você quiser medir ao longo de linhas ou áreas em camadas vetoriais.
Para selecionar uma ferramenta clique medida em

e selecione a ferramenta que deseja usar.
Medição de linha, áreas ou ângulos

Measure Line: QGIS is able to measure real distances between given points according to a defined ellipsoid. To configure this, choose menu option , click on the Map tools tab and choose the appropriate ellipsoid. There you can also define a rubberband color and your preferred measurement units (meters or feet) and angle units (degrees, radians and gon). The tools then allows you to click points on the map. Each segment-length as well as the total shows up in the measure-window. To stop measuring click your right mouse button.
Figure Measure 1:

Measure Area: Areas can also be measured. In the measure window the accumulated area size appears. In addition, the measuring tool will snap to the currently selected layer, provided that layer has its snapping tolerance set. (See Section Definir o valor de tolerância de proximidade para buscar apartir do raio). So if you want to measure exactly along a line feature, or around a polygon feature, first set its snapping tolerance, then select the layer. Now, when using the measuring tools, each mouse click (within the tolerance setting) will snap to that layer.
Figure Measure 2: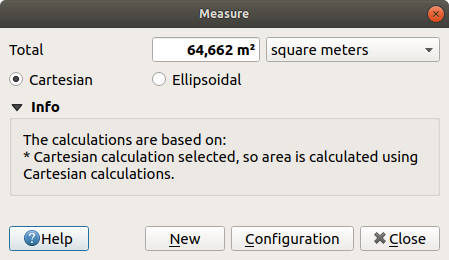 Measure Angle: You can also measure angles. The cursor becomes cross-shaped. Click to draw the first segment of the angle you wish to measure, then move the the cursor to draw the desired angle. The measure is displayed in a popup dialog.
Figure Measure 3: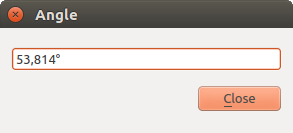 Selecionar e desselecionar feições
The QGIS toolbar provides several tools to select features in the map canvas. To select one or several features just click on
and select your tool:
To deselect all selected features click on

Deselect features from all layers.
Decorações
The Decorations of QGIS includes the Grid, Copyright Label, the North Arrow and the Scale Bar. They are used to 'decorate' the map by adding cartographic elements.
Projetos animados
If you want to embed content from other project files into your project you can choose .
Incorporando camadas
A seguinte aba permite incorporar camadas de outros projetos:
Pressione para olhar para outro projeto do conjunto de dados Alasca.

Selecione o arquivo de projeto grassland. Você pode ver o conteúdo do projeto (ver figure_embed_dialog).

Press Ctrl and klick on the layers grassland and regions. The layers are embedded in the map legend and the map view now.
Figure Nesting 1: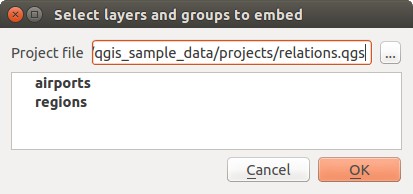 Enquanto as camadas incorporadas estão editáveis ​​que você não pode alterar suas propriedades como estilo e rotulagem.
Removing embedded layers
Right-click on the embedded layer and choose

Remove.
Add Delimited Text Layer
This function allows you to load a delimited text file as a layer in QGIS. Following settings need to be defined:
As an example of a valid text file we import the elevation point data file elevp.csv coming with the QGIS sample dataset (See Section Sample Data):
X;Y;ELEV
-300120;7689960;13
-654360;7562040;52
1640;7512840;3
[...]

Some items of note about the text file are:
The example text file uses ; (semicolon) as delimiter. Any character can be used to delimit the fields.
The first row is the header row. It contains the fields X, Y and ELEV.
No quotes (") are used to delimit text fields.
The x coordinates are contained in the X field.
The y coordinates are contained in the Y field.
Using the function
Click the toolbar icon
Add Delimited Text Layer in the Manage layers toolbar to open the Create a Layer from a Delimited Text File dialog as shown in figure_delimited_text_1.
Figure Delimited Text 1: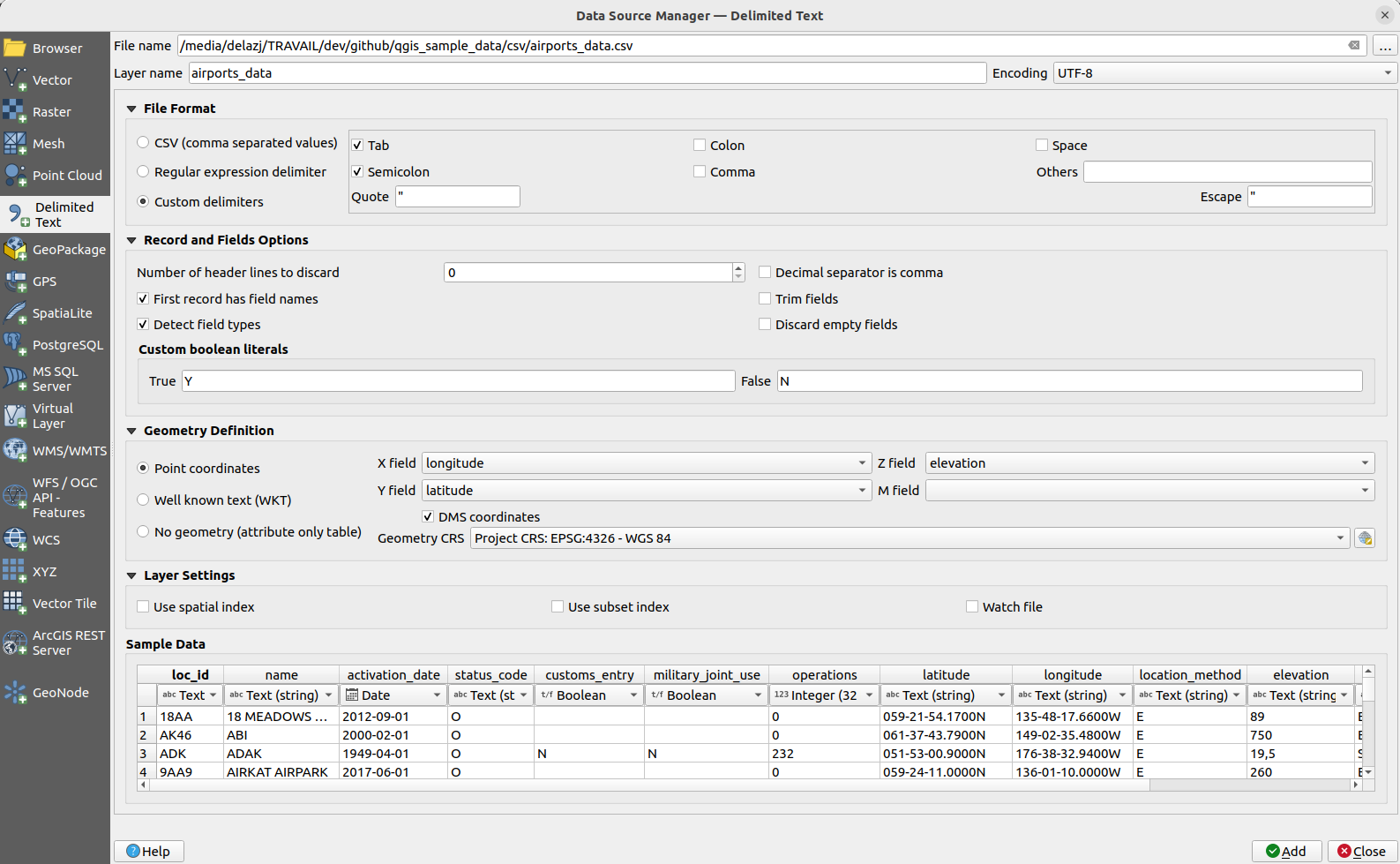 First select the file (e.g., qgis_sample_data/csv/elevp.csv) to import by clicking on the [Browse] button. Once the file is selected, QGIS attempts to parse the file using the last used delimiter, in this case a semicolon (;). To properly parse the file, it is important to select the correct delimiter. To change the delimiter to tab use \t (this is a regular expression for the tab character).
Once the file is parsed, make a Geometry definition

Point coordinates and choose the X and Y fields from the dropdown lists. Finally enter a Layer name (e.g., elevp) as shown in figure_delimited_text_1 . To add the layer to the map, click [OK]. The delimited text file now behaves as any other map layer in QGIS.