QGIS as OGC Data Client
A Open Geospatial Consortium (OGC), é uma organização internacional com mais de 300 organizações comerciais, governamentais, sem fins lucrativos e de pesquisa em todo o mundo. Seus membros desenvolvem e implementam normas para conteúdo geoespacial e de serviços, processamento de dados SIG e intercâmbio.
Descrevendo um modelo de dados básico para feições geográficas de um número crescente de especificações são desenvolvidos para atender necessidades específicas de localização interoperabilidade ​​e tecnologia geoespacial, incluindo SIG. Mais informações podem ser encontradas em http://www.opengeospatial.org/.
Important OGC specifications supported by QGIS are:
OGC services are increasingly being used to exchange geospatial data between different GIS implementations and data stores. QGIS can deal with the above specifications as a client, being SFS (through support of the PostgreSQL / PostGIS data provider, see Section Camadas PostGIS).
WMS/WMTS Client
WCS Client

A Web Coverage Service (WCS) provides access to raster data in forms that are useful for client-side rendering, as input into scientific models, and for other clients. The WCS may be compared to the WFS and the WMS. As WMS and WFS service instances, a WCS allows clients to choose portions of a server's information holdings based on spatial constraints and other query criteria.
QGIS has a native WCS provider and supports both version 1.0 and 1.1 (which are significantly different), but currently it prefers 1.0, because 1.1 has many issues, each server implements it in different way with various particularities.
The native WCS provider handles all network requests and uses all standard QGIS network settings (especially proxy). It is also possible select cache mode (always cache, prefer cache, prefer network, always network) and the provider also supports selection of time position if temporal domain is offered by server.
Clientes WFS e WFS-T
In QGIS, a WFS layer behaves pretty much like any other vector layer. You can identify and select features and view the attribute table. Since QGIS 1.6 editing (WFS-T) is also supported.
Em geral, a adição de uma camada WFS é muito semelhante ao procedimento utilizado com WMS. A diferença é que não há servidores padrão definidos, por isso temos de acrescentar o nosso.
Carregando uma camada WFS
Como exemplo, vamos usar o DM Solutions servidor WFS e exibir uma camada. A URL é: http://www2.dmsolutions.ca/cgi-bin/mswfs_gmap
Clique no : sup: ferramenta Adicionar Camada WFS na barra de ferramentas Camadas, o diálogo: guilabel: aparece 'Adiciona camada WFS de um Servidor `

Click em [Novo]

Enter 'DM Solutions' as name

Entre com a URL (ver acima citada)

Clique [OK]

Choose 'DM Solutions' from the dropdown list Server Connections

Clique [Conectar]

Aguarde a lista de camadas a ser preenchida

Select the Parks layer in the list

Clique [Aplicar] para adicionar a camada para o mapa
Note that proxy settings you have set in your preferences are also recognized.
Figure OGR 3: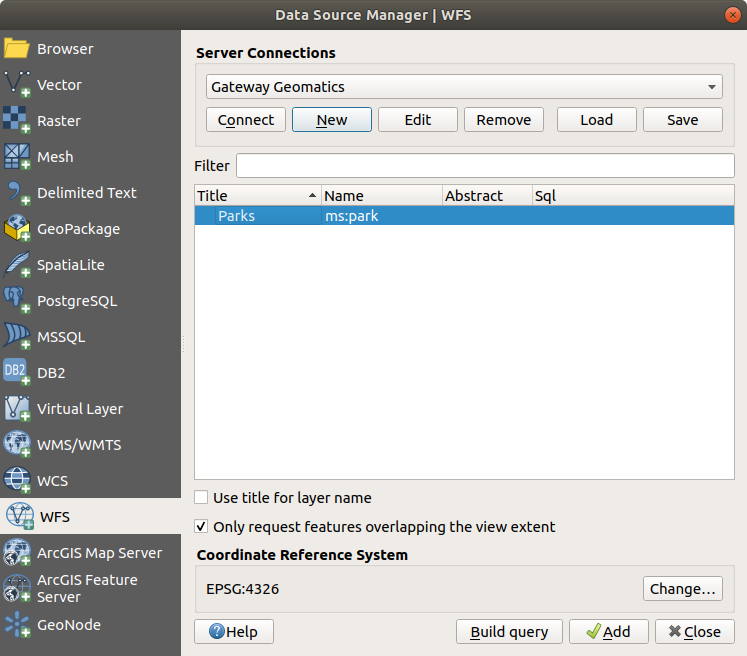 You'll notice the download progress is visualized in the left bottom of the QGIS main window. Once the layer is loaded, you can identify and select a province or two and view the attribute table.
Only WFS 1.0.0 is supported. At this point there have not been many tests against WFS versions implemented in other WFS-servers. If you encounter problems with any other WFS-server, please do not hesitate to contact the development team. Please refer to Section Ajuda e Suporte for further information about the mailinglists.
Dica
Conclusão do servidor WFS
Você pode encontrar mais servidores WFS, usando o Google ou o seu motor de busca favorito. Há um número de listas com URLs públicas, algumas delas mantidas e algumas não.