QGIS as OGC Data Client
Das Open Geospatial Consortium (OGC) ist eine internationale Organisation mit mehr als 300 Mitgliedern aus kommerziellen und behördlichen Bereichen, aus der Forschung sowie aus Vereinen (Non-Profit). Die Mitglieder entwickeln und implementieren Standards für den Austausch räumlicher Daten (Datendienste), GIS-Datenprocessing und standardisierte Bereitstellung von Geodaten.
Zur Beschreibung von geographischen Objekten in einem einfachen Datenmodell wurden eine steigende Zahl von Spezifikationen entwickelt, die spezielle Bedürfnisse der Interoperabilität bedienen, räumliche Informationen und GIS einbezogen. Weitere Informationen können unter http://www.opengeospatial.org/ abgerufen werden.
Important OGC specifications supported by QGIS are:
OGC services are increasingly being used to exchange geospatial data between different GIS implementations and data stores. QGIS can deal with the above specifications as a client, being SFS (through support of the PostgreSQL / PostGIS data provider, see Section PostGIS Layer laden).
WMS/WMTS Client
WCS Client

A Web Coverage Service (WCS) provides access to raster data in forms that are useful for client-side rendering, as input into scientific models, and for other clients. The WCS may be compared to the WFS and the WMS. As WMS and WFS service instances, a WCS allows clients to choose portions of a server's information holdings based on spatial constraints and other query criteria.
QGIS has a native WCS provider and supports both version 1.0 and 1.1 (which are significantly different), but currently it prefers 1.0, because 1.1 has many issues, each server implements it in different way with various particularities.
The native WCS provider handles all network requests and uses all standard QGIS network settings (especially proxy). It is also possible select cache mode (always cache, prefer cache, prefer network, always network) and the provider also supports selection of time position if temporal domain is offered by server.
WFS und WFS-T Klient
In QGIS, a WFS layer behaves pretty much like any other vector layer. You can identify and select features and view the attribute table. Since QGIS 1.6 editing (WFS-T) is also supported.
Das Hinzufügen eines WFS-Layers ist fast identisch mit dem Vorgehen beim Laden eines WMS-Layers. Der aktuelle Unterschied ist, dass keine Beispielserver vordefiniert sind, daher soll dies in dem folgenden Beispiel vorgeführt werden.
Einen WFS-Layer laden
In diesem Beispiel verwenden wir den WFS-Server der Firma DMSolutions und laden einen Layer. Die URL ist: http://www2.dmsolutions.ca/cgi-bin/mswfs_gmap
Klicken Sie auf das WFS-Layer hinzufügen Werkzeug in der Werkzeugleiste. Der Dialog WFS-Layer des Servers hinzufügen erscheint

Klicken Sie auf [Neu]

Geben Sie 'DM Solutions' als Namen ein

Geben Sie die URL (siehe oben) ein

Klicken Sie [OK]

Choose 'DM Solutions' from the dropdown list Server Connections

Klicken Sie [Verbinden]

Warten Sie bis die Liste der Layer aufgefüllt wird

Wählen Sie den Layer Parks aus der Liste aus

Klicken Sie [Anwenden] um den Layer der Karte hinzuzufügen
Note that proxy settings you have set in your preferences are also recognized.
Figure OGR 3: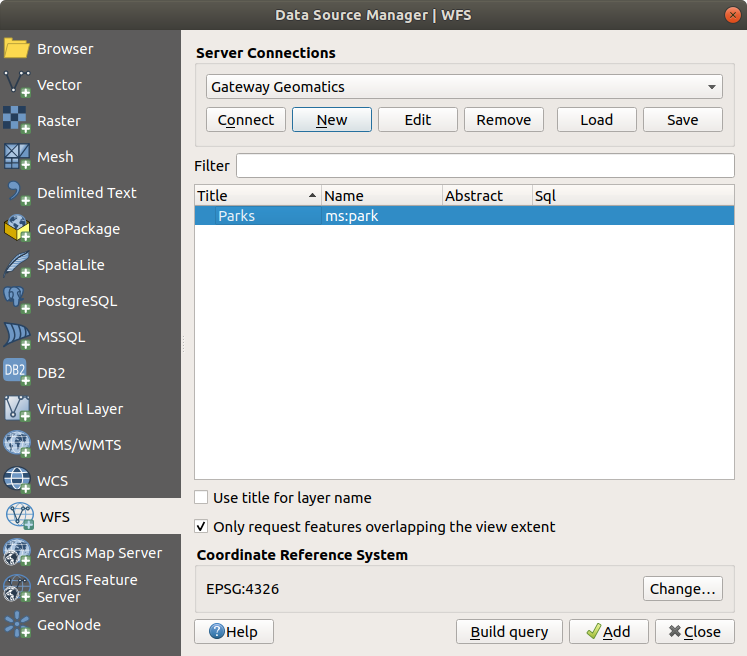 You'll notice the download progress is visualized in the left bottom of the QGIS main window. Once the layer is loaded, you can identify and select a province or two and view the attribute table.
Es wird nur WFS 1.0.0 unterstützt. Bis zu diesem Zeitpunkt wurde noch nicht sehr umfangreich die Anbindung mit anderen WFS Servern getestet. Wenn Sie Probleme feststellen, zögern Sie bitte nicht, eine Email an das QGIS Projekt zu schicken oder einen Fehlerreport zu schreiben. Sie finden eine Liste möglicher Kontakte in Kapitel Hilfe und Support.
Tipp
WFS-Server finden
Sie können weitere WFS Server mit Hilfe von Google oder ihrer bevorzugten Suchmaschine finden. Es gibt eine Vielzahl von Listen im Internet, die Links zu öffentlichen Servern bereitstellen.