8.2.

Lesson: Combinarea Analizelor

Folosind rezultatele vectorizate ale analizei raster, veți putea selecta numai acele clădiri de pe terenul potrivit.

Scopul acestei lecții: De a utiliza terenul vectorizat rezultat la selectarea terenurilor adecvate.
8.2.1.

Try Yourself
Save your current map (raster_analysis.qgs).

Open the map which you created during the vector analysis earlier (you should have saved the file as analysis.qgs).

In the Layers panel, enable these layers:

relieful,

soluția (or buildings_over_100)

In addition to these layers, which should already be loaded in the map from when you worked on it before, also add the suitable_terrain.shp dataset.

If you are missing some layers, you should find them in exercise_data/residential_development/

Use the Intersection tool (Vector ► Geoprocessing Tools) to create a new vector layer called new_solution.shp which contains only those buildings which intersect the suitable_terrain layer.
Ar trebui să aveți de acum un strat care prezintă anumite clădiri din soluția dvs., cum ar fi:
8.2.2.

Try Yourself Inspectarea Rezultatelor

Uitați-vă la fiecare dintre clădirile dumneavoastră din stratul new_solution. Comparați-le cu stratul suitable_terrain, prin schimbarea simbologiei stratului new_solution, astfel încât acesta să aibă numai are contur. Ce părere aveți despre observa unele dintre clădiri? Sunt toate acestea potrivite doar pentru că se intersectează cu stratul suitable_terrain? De ce sau de ce nu? Pe care dintre ele le-ați considera ca fiind necorespunzătoare?

Răspuns

You may notice that some of the buildings in your new_solution layer have been "sliced" by the Intersection tool. This shows that only part of the building - and therefore only part of the property - lies on suitable terrain. We can therefore sensibly eliminate those buildings from our dataset.
8.2.3.

Try Yourself Rafinarea Analizei

Puteți vedea din rezultate, că unele clădirile care au fost incluse nu au fost cu adevărat adecvate, astfel încât să putem rafina acum analiza.

We want to ensure that our analysis returns only those buildings which fall entirely within the suitable_terrain layer. How would you achieve this? Use one or more Vector Analysis tools and remember that our buildings are all over 100m squared in size.

Răspuns

At the moment, your analysis should look something like this:
Consider a circular area, continuous for 100 meters in all directions.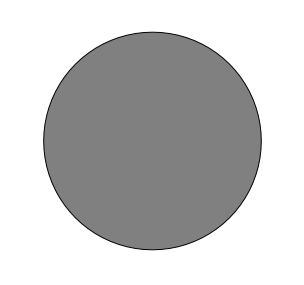 If it is greater than 100 meters in radius, then subtracting 100 meters from its size (from all directions) will result in a part of it being left in the middle.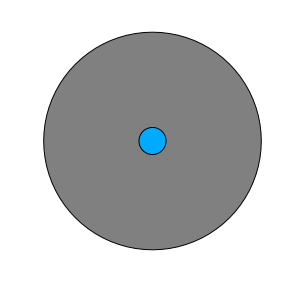 Therefore, you can run an interior buffer of 100 meters on your existing suitable_terrain vector layer. In the output of the buffer function, whatever remains of the original layer will represent areas where there is suitable terrain for 100 meters beyond.
To demonstrate:
Go to Vector ► Geoprocessing Tools ► Buffer(s) to open the Buffer(s) dialog.

Setați-l astfel:

Use the suitable_terrain layer with 10 segments and a buffer distance of -100. (The distance is automatically in meters because your map is using a projected CRS.)

Save the output in exercise_data/residential_development/ as suitable_terrain_continuous100m.shp.

If necessary, move the new layer above your original suitable_terrain layer.

Your results will look like something like this:

Now use the Select by Location tool (Vector ► Research Tools ► Select by location).

Set up like this:

Select features in new_solution that intersect features in suitable_terrain_continuous100m.shp.

This is the result:

The yellow buildings are selected. Although some of the buildings fall partly outside the new suitable_terrain_continuous100m layer, they lie well within the original suitable_terrain layer and therefore meet all of our requirements.

Save the selection under exercise_data/residential_development/ as final_answer.shp.
8.2.4.

In Conclusion

Ați răspuns acum la întrebarea de cercetare originală, și v-ați conturat deja o opțiune (argumentată și susținută de o analiză) care poate sta la baza unei recomandări cu privire la proprietatea de dezvoltat.
8.2.5.

What's Next?

Mai departe, vom prezenta aceste rezultate ca parte a celei de-a doua dvs. misiuni.