2.1.

Lesson: O Privire de Ansamblu asupra Interfeței

Vom explora interfața cu utilizatorul QGIS, pentru a vă familiariza cu meniurile, barele de instrumente, canevasul hărții și lista de straturi care formează structura de bază a interfeței.

Scopul acestei lecții: De a înțelege noțiunile de bază ale interfeței QGIS.
2.1.1.

Try Yourself: Noțiuni de Bază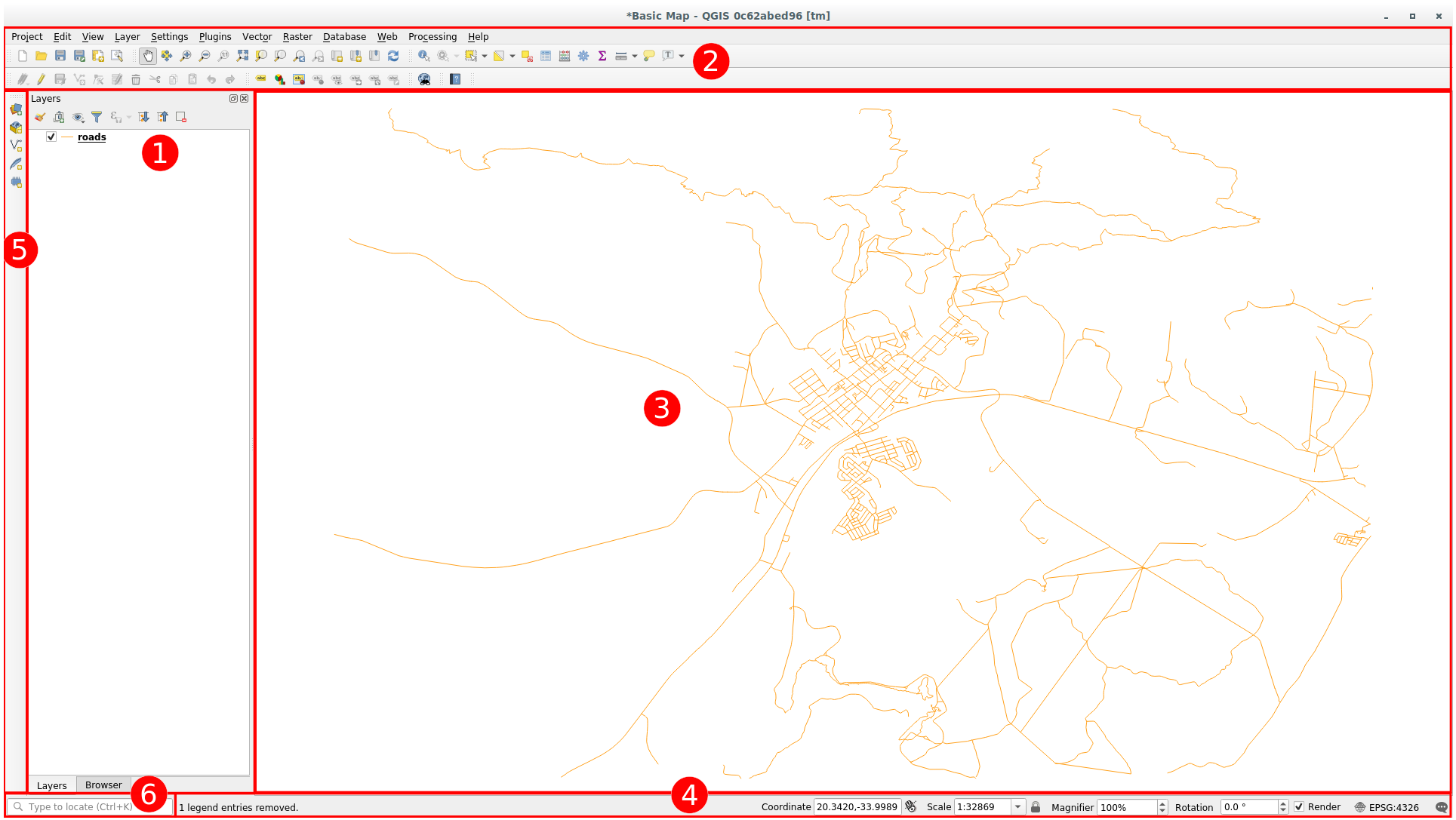 Elementele identificate în figura de mai sus sunt:
Lista Straturilor/Panoul Navigatorului

Bare de instrumente

Canevasul hărții

Bara de Stare

Bara Laterală de Instrumente

Bara locatorului
2.1.2.

Try Yourself 1

Încercați să identificați cele patru elemente enumerate pe ecranul dvs., fără a face referire la diagrama de mai sus. Vedeți dacă puteți identifica numele și funcțiile lor. Vă veți familiariza cu aceste elemente, pe măsură ce le veți folosi în următoarele zile.

Răspuns

Refer back to the image showing the interface layout and check that you remember the names and functions of the screen elements.
2.1.3.

Try Yourself 2

Încercați să identificați fiecare dintre aceste instrumente pe ecran. Care este scopul lor?
Notă
Dacă nici unul dintre aceste instrumente nu este vizibil pe ecran, încercați să activați unele bare de instrumente care sunt în prezent ascunse. De asemenea, rețineți că, dacă nu există suficient spațiu pe ecran, o bară de instrumente poate fi redusă prin ascunderea unora dintre instrumentele sale. Puteți vedea instrumentele ascunse, făcând clic pe butonul cu două săgeți îndreptate în dreapta, de pe oricare bară de instrumente restrânsă. Puteți vedea un balon cu numele oricărui instrument, prin trecerea un pic a mouse-ului pe deasupra unui instrument.
Răspuns
Save as

Zoom to layer(s)

Invert selection

Rendering on/off

Measure line
2.1.4.

What's Next?

Now that you are familiar with the basics of the QGIS interface, in the next lesson we will see how to load some common data types.