Shortcut Papanketik
QGIS provides default keyboard shortcuts for many features. You can find them in section Bar Menu. Additionally, the menu option allows you to change the default keyboard shortcuts and to add new keyboard shortcuts to QGIS features.
Figure Shortcuts 1: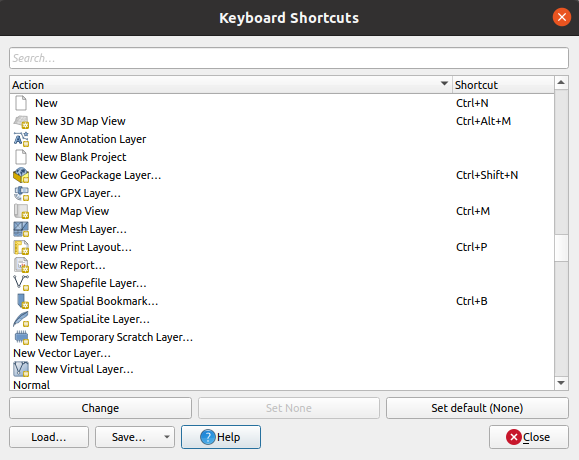 Configuration is very simple. Just select a feature from the list and click on [Change], [Set none] or [Set default]. Once you have finished your configuration, you can save it as an XML file and load it to another QGIS installation.
Konteks Bantuan
Saat Anda membutuhkan bantuan dengan topik yang spesifik, Anda dapat mengakses konteks bantuan melalui tombol [Bantuan] tersedia disebagian besar dialog - harap dicatat bahwa plugin pihak ketiga dapat mengarah ke halaman web khusus.
Rendering
By default, QGIS renders all visible layers whenever the map canvas is refreshed. The events that trigger a refresh of the map canvas include:
Menambahkan lapisan (layer)

Menggeser atau memperbesar

Resizing the QGIS window

Merubah visitabilitas dari lapisan (layer)
QGIS allows you to control the rendering process in a number of ways.
Scale Dependent Rendering
Skala render memungkinkan Anda untuk menentukan skaa minimum dan skala maksimum di mana lapisan akan terlihat. Untuk mengatur skala render bergantung, buka dialog Properti dengan mengklik-dobel pada lapisan di legenda. Pada tab Umum klik pada kotak centang

Skala bergantung pada visibilitas untuk mengaktifkan fitur, kemudian atur nilai maskimum dan minimum skala.
You can determine the scale values by first zooming to the level you want to use and noting the scale value in the QGIS status bar.
Mengontrol Rendering Peta
Map rendering can be controlled in the various ways, as described below.
Mengukur
Measuring works within projected coordinate systems (e.g., UTM) and unprojected data. If the loaded map is defined with a geographic coordinate system (latitude/longitude), the results from line or area measurements will be incorrect. To fix this, you need to set an appropriate map coordinate system (see section Working with Projections). All measuring modules also use the snapping settings from the digitizing module. This is useful, if you want to measure along lines or areas in vector layers.
To select a measuring tool, click on

and select the tool you want to use.
Measure length, areas and angles

Measure Line: QGIS is able to measure real distances between given points according to a defined ellipsoid. To configure this, choose menu option , click on the Map tools tab and select the appropriate ellipsoid. There, you can also define a rubberband color and your preferred measurement units (meters or feet) and angle units (degrees, radians and gon). The tool then allows you to click points on the map. Each segment length, as well as the total, shows up in the measure window. To stop measuring, click your right mouse button. Note that you can interactively change the measurement units in the measurement dialog. It overrides the Preferred measurement units in the options. There is an info section in the dialog that shows which CRS settings are being used during measurement calculations.
Figure Measure 1: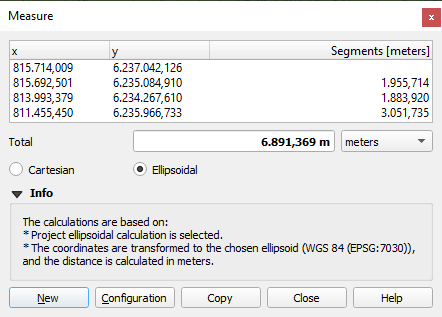 Measure Area: Areas can also be measured. In the measure window, the accumulated area size appears. In addition, the measuring tool will snap to the currently selected layer, provided that layer has its snapping tolerance set (see section Setting the Snapping Tolerance and Search Radius). So, if you want to measure exactly along a line feature, or around a polygon feature, first set its snapping tolerance, then select the layer. Now, when using the measuring tools, each mouse click (within the tolerance setting) will snap to that layer.
Figure Measure 2: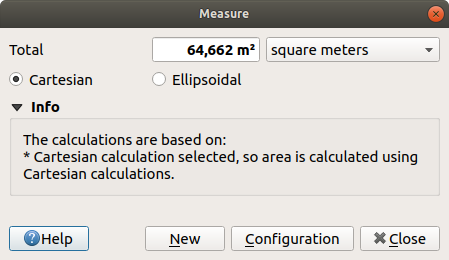 Measure Angle: You can also measure angles. The cursor becomes cross-shaped. Click to draw the first segment of the angle you wish to measure, then move the cursor to draw the desired angle. The measure is displayed in a pop-up dialog.
Figure Measure 3:
Pilih dan lepas fitur
The QGIS toolbar provides several tools to select features in the map canvas. To select one or several features, just click on

and select your tool:
To deselect all selected features click on

Deselect features from all layers.

Select feature using an expression allow user to select feature using expression dialog. See Expressions chapter for some example.
Users can save features selection into a New Memory Vector Layer or a New Vector Layer using and choose the mode you want.
Fitur Identifikasi
The Identify tool allows you to interact with the map canvas and get information on features in a pop-up window. To identify features, use or press Ctrl + Shift + I, or click on the

Identify features icon in the toolbar.
If you click on several features, the Identify results dialog will list information about all the selected features. The first item is the number of the layer in the list of results, followed by the layer name. Then, its first child will be the name of a field with its value. The first field is the one selected in . Finally, all information about the feature is displayed.
Jendela ini dapat disesuaikan untuk menampilkan kolom kustom namun secara default akan menampilkan tiga jenis informasi:
Actions: Actions can be added to the identify feature windows. When clicking on the action label, action will be run. By default, only one action is added, to view feature form for editing.
Derived: This information is calculated or derived from other information. You can find clicked coordinate, X and Y coordinates, area in map units and perimeter in map units for polygons, length in map units for lines and feature ids.
Data attributes: This is the list of attribute fields from the data.
Figure Identify 1: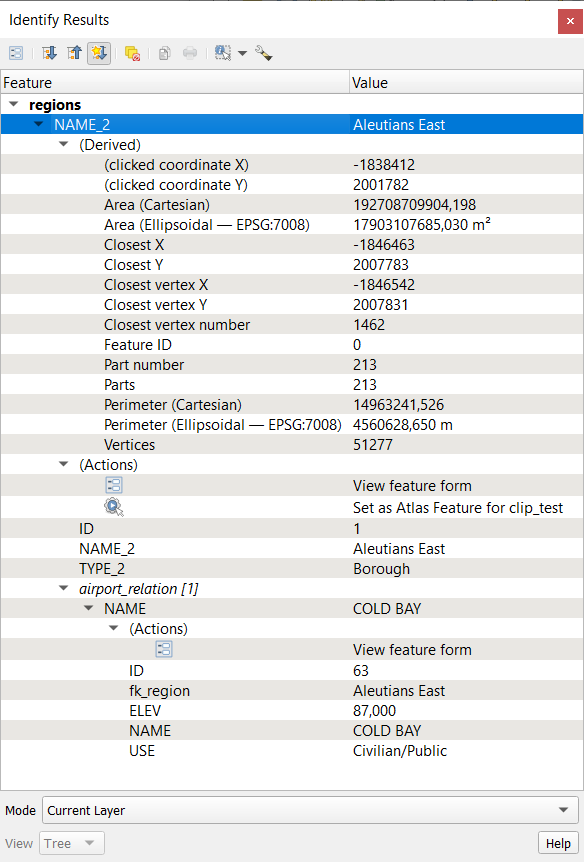 At the top of the window, you have five icons:
At the bottom of the window, you have the Mode and View comboboxes. With the Mode combobox you can define the identify mode: 'Current layer', 'Top down, stop at first', 'Top down' and 'Layer selection'. The View can be set as 'Tree', 'Table' and 'Graph'.
The identify tool allows you to auto open a form. In this mode you can change the feautures attributes.
Fungsi lain dapat ditemukan dalam menu konteks dari ditentukannya item. Sebagai contoh, dari menu konteks Anda dapat:
Lihat form fitur

Perbesar ke fitur

Salin fitur: salin semua fitur geometri dan atribut

Toggle feature selection: adds identified feature to selection

Salin nilai atribut: hanya menyalin nilai dari atribut yang Anda klik

Copy feature attributes: Copy only attributes

Bersihkan hasilnya: Hapus hasil di jendela

Bersihkan highlight: Hapus fitur highlight pada peta

Highlight semua

Highlight lapisan

Aktifkan lapisan: Pilih lapisan yang akan diaktifkan

Properti lapisa: buka jendel properti lapisan

Perluas (expand) semua

Runtuh (collapse) semua
Dekorasi
The Decorations of QGIS include the Grid, the Copyright Label, the North Arrow and the Scale Bar. They are used to 'decorate' the map by adding cartographic elements.
Proyek-proyek Nesting
Jika Anda ingin menanamkan (embed) isi dari berkas proyek lain kedalam proyek Anda, Anda bisa memilih .
Menanam (Embedding) lapisan
Dialog berikut memungkinkan Anda menanamkan lapisan dari proyek-proyek lain. Berikut ini adalah contoh kecil:
Press to look for another project from the Alaska dataset.
Select the project file grassland. You can see the content of the project (see figure_embed_dialog).
Press Ctrl and click on the layers grassland and regions. Press [OK]. The selected layers are embedded in the map legend and the map view now.
Figure Nesting 1: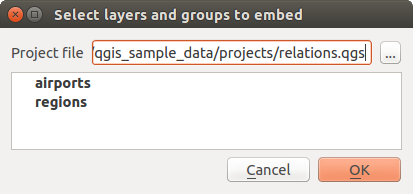 Sementara lapisan tertanam dapat diedit, Anda tidak dapat mengubah properti mereka seperti gaya dan pelabelan.
Menghapus lapisan-lapisan ditanam (embdded)
Right-click on the embedded layer and choose

Remove.