Complemento Captura de coordenadas
El complemento de captura de coordenadas es fácil de usar y proporciona la capacidad de mostrar coordenadas en la vista del mapa para dos sistemas de referencia de coordenadas (SRC).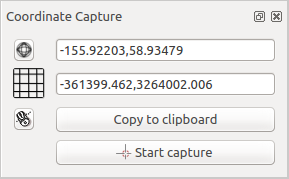 Start QGIS, select Project Properties from the Settings (KDE, Windows) or File (Gnome, macOS) menu and click on the Projection tab. As an alternative, you can also click on the CRS status icon in the lower right-hand corner of the status bar.

Pulse en la casilla de verificación Activar transformación de SRC al vuelo y seleccione un sistema de coordenadas proyectadas de su elección (vea también Trabajar con Proyecciones)

Activate the coordinate capture plugin in the Plugin Manager (see El diálogo de complementos) and ensure that the dialog is visible by going to and ensuring that Coordinate Capture is enabled. The coordinate capture dialog appears as shown in Figure figure_coordinate_capture. Alternatively, you can also go to and see if Coordinate Capture is enabled.

Haga clic en el icono Pulse para seleccionar el SRC a usar para la visualización de coordenadas y elija un SRC diferente al que seleccionó anteriormente.

To start capturing coordinates, click on [Start capture]. You can now click anywhere on the map canvas and the plugin will show the coordinates for both of your selected CRS.

También se pueden copiar las coordenadas seleccionadas al portapapeles.