QGIS is highly configurable through the menu. Choose between Options, Project Properties and Customization.
Bemerkung
QGIS follows desktop guidelines for the location of options and project properties item. Consequently related to the OS you are using, location of some of items described below could be in the or the menu.

Some basic options for QGIS can be selected using the Options dialog. Select the menu option

. You can modify the options according to your needs. Some of the changes may require a restart of QGIS before they will be effective.
The tabs where you can customize your options are described below.
In the properties window for the project under (or

), you can set project-specific options.
The project-specific options overwrite their equivalent in the options described above.
In the General tab, the general settings let you:

einen Titel für das Projekt hinter dem Projektpfad vergeben

die Farbe auswählen, die markierte Objekte haben, wenn sie ausgewählt sind

die Hintergrundfarbe wählen: die Farbe für den Kartenhintergrund

einstellen, ob der Pfad zu den Layern des Projekts als absolute (voll) oder als relative zu der Projektdatei gespeichert werden soll. Sie bevorzugen wahrscheinlich relative Pfade, wenn Layer und Projektdatei bewegt werden oder geteilt oder wenn Sie von Computern auf verschiedenen Plattformen auf das Projekt zugreifen wollen.

wählen Sie Artefakte bei der Darstellung von Kartenkacheln vermeiden. Beachten Sie, dass diese Option zu Leistungseinbußen führen kann.

Calculating areas and distances is a common need in GIS. However, these values are really tied to the underlying projection settings. The Measurements frame lets you control these parameters. You can indeed choose:

the ellipsoid to use: it can be an existing one, a custom one (you'll need to set values of the semi-major and semi-minor axis) or None/Planimetric.

Die Einheiten für Entfernungsmessung für Länge und Umfang und die Einheiten für Flächenmessung. Diese Einstellungen, die standardmäßig über die festgelegten Einheiten in den QGIS Optionen definiert sind, werden dann aber überschrieben für das aktuelle Projekt, werden eingesetzt in:

Attributtabellen Feld mit Aktualisierungsleiste

Feldrechner Berechnungen

Abfragewerkzeug abgeleitet von Länge, Umfang und Flächenwerten

Standardeinheiten gezeigt im Messen Dialog

The Coordinate display allows you to choose and customize the format of units to use to display the mouse coordinate in the status bar and the derived coordinates shown via the identify tool.

Finally, you can define a project scale list, which overrides the global predefined scales.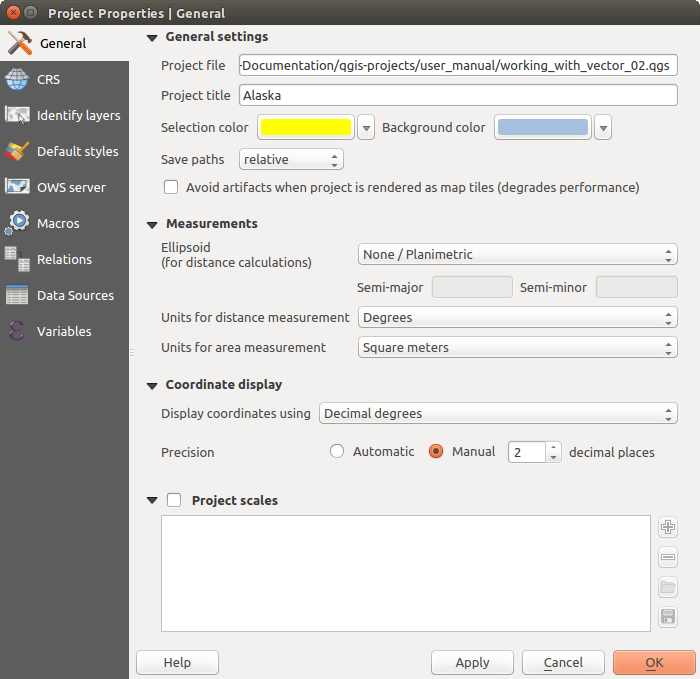 The CRS tab enables you to choose the Coordinate Reference System for this project, and to enable on-the-fly re-projection of raster and vector layers when displaying layers from a different CRS. For more information on projection's handling in QGIS, please read Arbeiten mit Projektionen section.

With the Identify layers tab, you set (or disable) which layers will respond to the identify tool. By default, layers are set queryable.

You can also set whether a layer should appear as read-only, meaning that it can not be edited by the user, regardless of the data provider's capabilities. Although this is a weak protection, it remains a quick and handy configuration to avoid end-users modifying data when working with file-based layers.

The Default Styles tab lets you control how new layers will be drawn when they do not have an existing .qml style defined. You can also set the default transparency level for new layers and whether symbols should have random colors assigned to them. There is also an additional section where you can define specific colors for the running project. You can find the added colors in the drop down menu of the color dialog window present in each renderer.

The tab OWS Server allows you to configure your project in order to publish it online. Here you can define information about the QGIS Server WMS and WFS capabilities, extent and CRS restrictions. More information available in section Prepare a project to serve and subsequent.

The Macros tab is used to edit Python macros for projects. Currently, only three macros are available: openProject(), saveProject() and closeProject().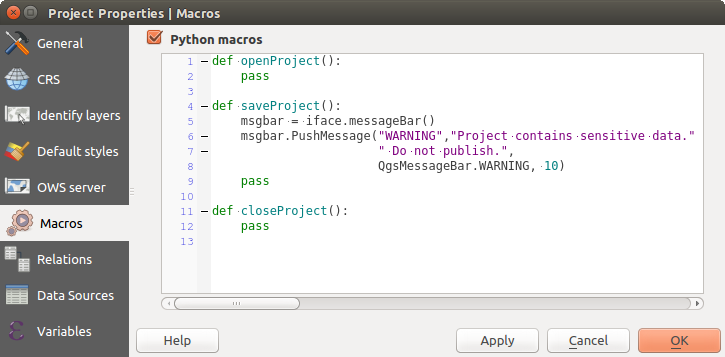 The Relations tab is used to define 1:n relations. The relations are defined in the project properties dialog. Once relations exist for a layer, a new user interface element in the form view (e.g. when identifying a feature and opening its form) will list the related entities. This provides a powerful way to express e.g. the inspection history on a length of pipeline or road segment. You can find out more about 1:n relations support in Section Creating one or many to many relations.
In the Data Sources tab, you can:

Evaluate default values on provider side: When adding new features in a PostGreSQL table, fields with default value constraint are evaluated and populated at the form opening, and not at the commit moment. This means that instead of an expression like nextval('serial'), the field in the Add Feature form will display expected value (e.g., 25).
Automatically create transaction groups where possible: When this mode is turned on, all (postgres) layers from the same database are synchronised in their edit state, i.e. when one layer is put into edit state, all are, when one layer is committed or one layer is rolled back, so are the others. Also, instead of buffering edit changes locally, they are directly sent to a transaction in the database which gets committed when the user clicks save layer. Note that you can (de)activate this option only if no layer is being edited in the project.

The Variables tab lists all the variables available at the project's level (which includes all global variables). Besides, it also allows the user to manage project-level variables. Click the button to add a new custom project-level variable. Likewise, select a custom project-level variable from the list and click the button to remove it. More information on variables usage in the General Tools Variables section.
The customization dialog lets you (de)activate almost every element in the QGIS user interface. This can be very useful if you want to provide your end-users with a 'light' version of QGIS, containing only the icons, menus or panels they need.
Bemerkung
Bevor Ihre Änderungen übernommen werden, müssen Sie QGIS neu starten.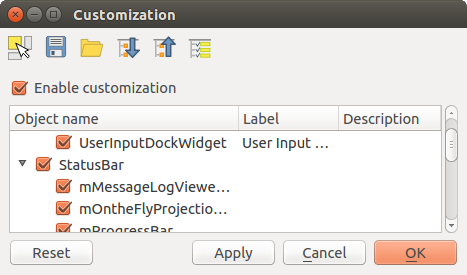 Die

Anpassung aktivieren Checkbox anzuklicken ist der erste Schritt, zur QGIS Anpassung. Dies aktiviert die Werkzeugleiste und das Widget-Panel, hier können Sie einige QGIS Elemente unsichtbar schalten.
Die konfigurierbaren Elemente können sein:
ein Menü oder einige ihrer Untermenüs von dem Menüleiste

das komplette Panel (siehe Bedienfelder und Werkzeugkästen)

die Statusleiste beschrieben in Statusleiste oder einige ihrer Elemente

eine Werkzeugleiste: die komplette oder einige ihrer Icons

oder irgendein Widget aus irgendeinem QGIS Dialog: Beschriftung, Knöpfe, Komboboxen...
Mit

Umschalten um Bedienelemente der Hauptapplikation zu fangen können Sie auf Elemente im QGIS Interface klicken, die Sie verstecken wollen und QGIS deaktiviert automatisch den entsprechenden Eintrag in dem Anpassung Dialog.
Once you setup your configuration, click [Apply] or [Ok] to validate your changes. This configuration becomes the one used by default by QGIS at the next startup.
Die Modifikationen können auch in einer .ini Datei gespeichert werden unter Verwendung des

Als Datei speichern Knopfs. Dies ist eine praktische Möglichkeit, eine gemeinsame QGIS Schnittstelle zwischen mehreren Benutzern zu teilen. Klicken Sie einfach auf

Laden von Datei von dem Zielcomputer aus, um die``.ini`` Datei zu importieren. Sie können auch command line tools starten und verschiedene Einstellungen für verschiedene Anwendungsfälle speichern.
Tipp
Voreingestelltes QGIS einfach wiederherstellen
Die erste QGIS GUI-Konfiguration kann durch eine der Methoden unten wiederhergestellt werden:
In den meisten Fällen müssen Sie QGIS neu starten, damit die Änderungen angewendet werden.
QGIS provides default keyboard shortcuts for many features. You can find them in section Menüleiste. Additionally, the menu option allows you to change the default keyboard shortcuts and add new keyboard shortcuts to QGIS features.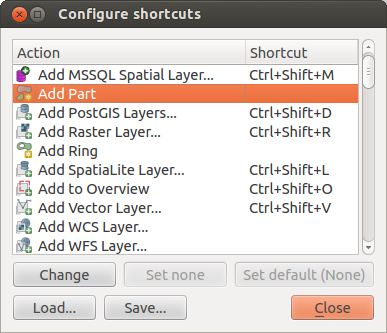 Configuration is very simple. Just select a feature from the list and click on :
[Change] and press the new combination you want to assign as new shortcut
[Set none] to clear any assigned shortcut
or [Set default] to backup the shortcut to its original and default value.
Proceed as above for any other tools you wish to customize. Once you have finished your configuration, simply [Close] the dialog to have your changes applied. You can also [Save] the changes as an .XML file and [Load] them into another QGIS installation.