Arbeiten mit Projektionen
QGIS ermöglicht es, globale und projektbezogene KBS (Koordinatenbezugssysteme) für Layer ohne vordefinierte KBS zu definieren. Es können benutzerdefinierte Koordinatenbezugssysteme erstellt werden und für Raster- und Vektorlayer wird On-The-Fly (OTF) Projektion unterstützt, um Layer gemeinsam und lagegenau darzustellen, auch wenn sie unterschiedliche KBSs besitzen.
QGIS unterstützt etwa 2700 bekannte Koordinatenbezugssysteme (KBS). Diese sind in einer SQlite-Datenbank abgelegt, die mit QGIS installiert wird Normalerweise muss diese Datenbank nicht editiert werden, und es kann Probleme verursachen, wenn Sie es dennoch versuchen. Selbst definierte KBS sind in einer Benutzerdatenbank abgelegt. Informationen zum Anlegen einer Benutzerdatenbank finden Sie im Abschnitt Eigenes Koordinatenbezugssystem definieren.
Die Koordinatenbezugssysteme in QGIS basieren auf EPSG Codes der European Petroloium Survey Group und dem Institut Geographic National de France (IGNF) und entsprechen weitestgehend den spatial reference Tabellen der Software GDAL. Die EPSG IDs sind in einer SQlite-Datenbank abgelegt und werden benutzt, um KBS in QGIS zu spezifizieren.
In order to use OTF projection, either your data must contain information about its coordinate reference system or you will need to define a global, layer or project-wide CRS. For PostGIS layers, QGIS uses the spatial reference identifier that was specified when the layer was created. For data supported by OGR, QGIS relies on the presence of a recognized means of specifying the CRS. In the case of shapefiles, this means a file containing the well-known text (WKT) specification of the CRS. This projection file has the same base name as the shapefile and a .prj extension. For example, a shapefile named alaska.shp would have a corresponding projection file named alaska.prj.
Whenever you select a new CRS, the layer units will automatically be changed in the General tab of the

Project Properties dialog under the Project (or

Settings) menu.
QGIS starts each new project using the global default projection. The global default CRS is EPSG:4326 - WGS 84 (proj=longlat +ellps=WGS84 +datum=WGS84 +no_defs), and it comes predefined in QGIS. This default can be changed via the

Select CRS button in the first section, which is used to define the default coordinate reference system for new projects, as shown in figure_projection_options. This choice will be saved for use in subsequent QGIS sessions.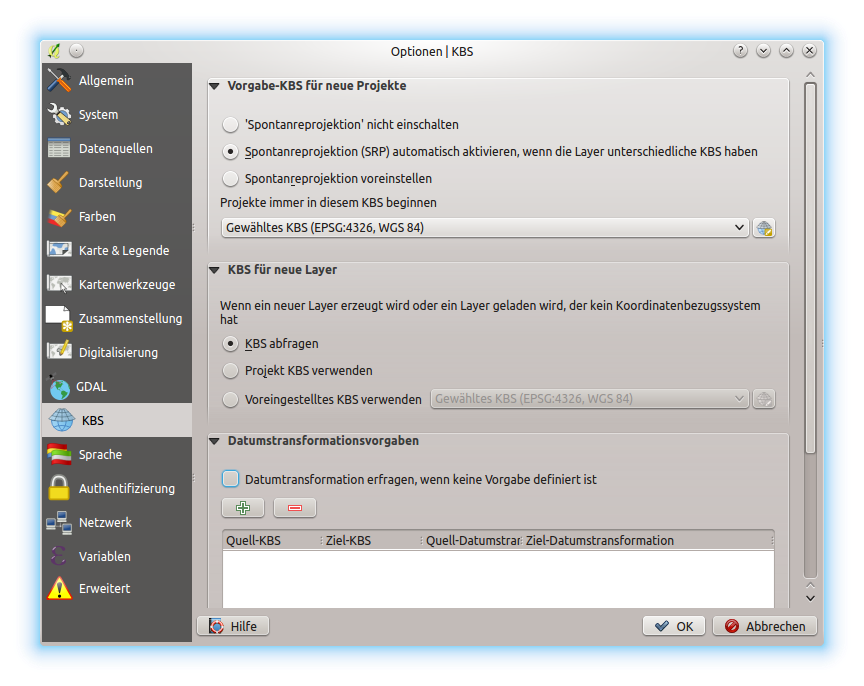 Wenn Sie Layer, die kein KBS besitzen, verwenden, müssen Sie festlegen wie QGIS auf diese Layer reagiert. Dies kann global oder projektbezogen im KBS Menü unter

Optionen erfolgen.
The options shown in figure_projection_options are:
KBS abfragen

KBS des Projektes nutzen

Folgendes KBS benutzen
If you want to define the coordinate reference system for a certain layer without CRS information, you can also do that in the General tab of the raster and vector properties dialog (see General Properties for rasters and General Properties for vectors). If your layer already has a CRS defined, it will be displayed as shown in General tab in vector layers properties dialog.
Tipp
CRS in the Layers Panel
Right-clicking on a layer in the Layers Panel (section Layers Panel) provides two CRS shortcuts. Set layer CRS takes you directly to the Coordinate Reference System Selector dialog (see figure_projection_project). Set project CRS from Layer redefines the project CRS using the layer's CRS.
QGIS supports on the fly CRS transformation for both raster and vector data. However, OTF is not activated by default. When OTF is off, each layer is drawn using the coordinates as read from the data source. When OTF is on, each layer's coordinates are transformed to the CRS of the project.
There are three ways to enable On The Fly CRS Transformation:
Select from the ( or ) menu. You can then activate the Enable on the fly CRS transformation (OTF) checkbox in the CRS tab and select the CRS to use (see Coordinate Reference System Selector)
Click on the CRS status icon in the lower right-hand corner of the status bar, leading you to the previous dialog.
If you have already loaded a layer and you want to enable OTF reprojection, the best practice is to open the

CRS tab of the Project Properties dialog, activate the

Enable 'on the fly' CRS transformation checkbox, and select a CRS. The

CRS status icon will no longer be greyed out, and all layers will be OTF projected to the CRS shown next to the icon.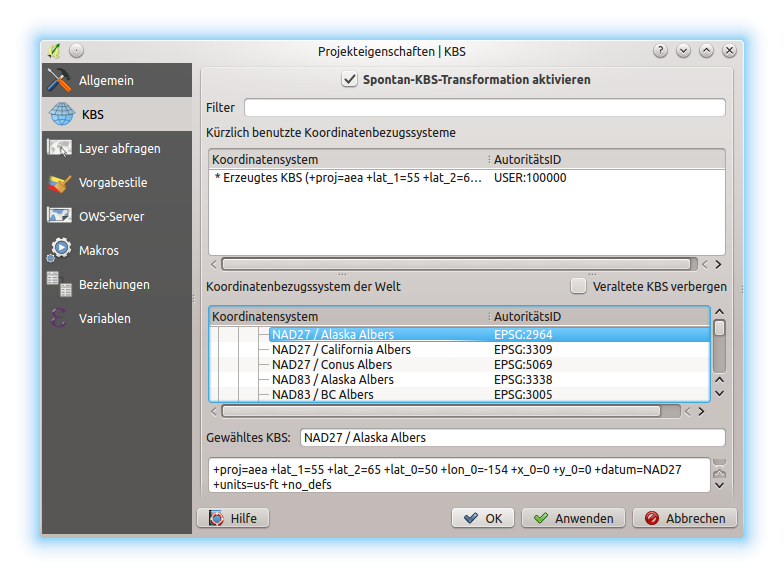 This dialog helps you assign a Coordinate Reference System to a project or a layer, provided a set of projection databases. Items in the dialog are:
Filter: If you know the EPSG code, the identifier, or the name for a coordinate reference system, you can use the search feature to find it. Enter the EPSG code, the identifier or the name.
Recently used coordinate reference systems: If you have certain CRSs that you frequently use in your everyday GIS work, these will be displayed in this list. Click on one of these items to select the associated CRS.
Coordinate reference systems of the world: This is a list of all CRSs supported by QGIS, including Geographic, Projected and Custom coordinate reference systems. To define a CRS, select it from the list by expanding the appropriate node and selecting the CRS. The active CRS is preselected.
PROJ.4 text: This is the CRS string used by the PROJ.4 projection engine. This text is read-only and provided for informational purposes.
Tipp
Looking for a layer CRS? Use the CRS selector.
Sometimes, you receive a layer and you don't know its projection. Assuming that you have another layer with a valid crs that should overlaps with it, enable the OTF reprojection and, in the General tab of the Layer properties dialog, use the Coordinate Reference System selector to assign a projection. Your layer position is then moved accordingly. You may have to do some trial and error in order to find the right position, hence its original CRS.
Bemerkung
When operating across layers, for example, computing intersections between two layers, it is important that both layers have the same CRS. To change the projection of an existing layer, it is insufficient to simply change the CRS in that layer's properties. Instead you must save the layer as a new layer, and choose the desired CRS for the new layer.
Wenn QGIS nicht das Koordinatenbezugssystem das Sie brauchen zur Verfügung stellt können Sie ein Benutzerdefiniertes Koordinatensystem definieren. Um ein KBS zu definieren wählen Sie

Benutzerkoordinatenbezugssystem ... aus dem Menü . Benutzerkoordinatenbezugssysteme werden in Ihrer QGIS Benutzerdatenbank gespeichert. Zusätzlich zu Ihrem Benutzerkoordinatensystem enthält diese Datenbank auch Ihre Räumlichen Lesezeichen und andere Benutzerdaten.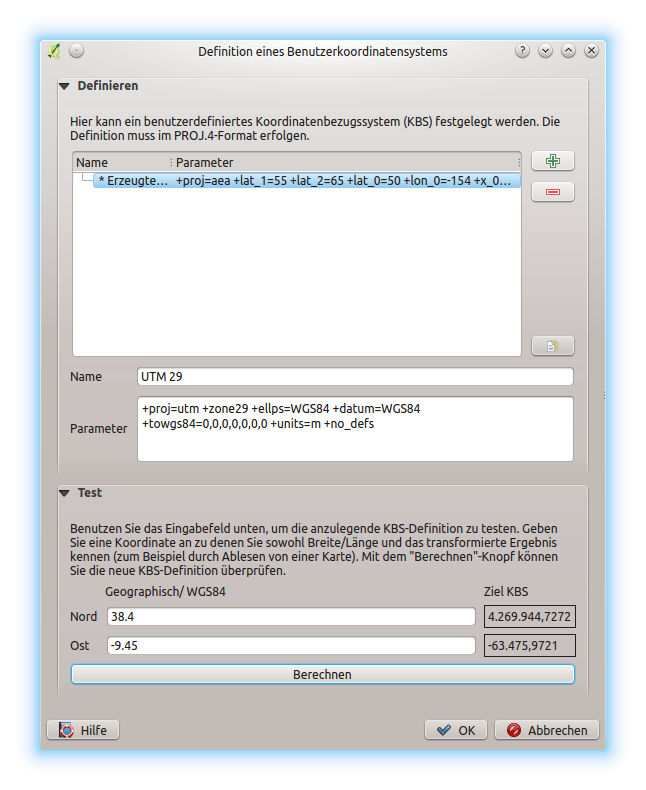 Wenn man in QGIS eine eigene Projektion erstellen möchte bedarf es einem grundlegenden Verständnis im Umgang mit der PROJ.4-Bibliothek. Zu Beginn sollten Sie einen Blick in das Benutzerhandbuch von PROJ werfen. "Cartographic Projection Procedures for the UNIX Environment - A User's Manual" by Gerald I. Evenden, U.S. Geological Survey Open-File Report 90-284, 1990 (zu finden unter ftp://ftp.remotesensing.org/proj/OF90-284.pdf).
Dieses Handbuch beschreibt die Anwendung von proj.4 und die damit verbundenen Kommandozeilenprogramme. Die dort beschriebenen kartographischen Parameter sind identisch mit denen, die in QGIS verwendet werden.
Der Dialog Definition eines Benutzerkoordinatensystems braucht nur zwei Einträge, um eine eigene Projektion zu definieren:
Ein beschreibender Name

Die kartografischen Parameter im PROJ.4-Format
Um ein neues KBS zu erstellen klicken Sie

Neu Knopf und geben Sie einen aussagekräftigen Namen sowie die KBS-Parameter ein.
Denken Sie daran, dass die kartographischen Parameter mit einem +proj=-Block beginnen müssen, um den Beginn eines neuen KBS anzuzeigen.
You can test your CRS parameters to see if they give sane results. To do this, enter known WGS 84 latitude and longitude values in North and East fields, respectively. Click on [Calculate], and compare the results with the known values in your coordinate reference system.
OTF depends on being able to transform data into a 'default CRS', and QGIS uses WGS84. For some CRS there are a number of transforms available. QGIS allows you to define the transformation used otherwise QGIS uses a default transformation.
In the CRS tab under

Options you can:
set QGIS to ask you when it needs define a transformation using Ask for datum transformation when no default is defined
edit a list of user defaults for transformations.
QGIS asks which transformation to use by opening a dialogue box displaying PROJ.4 text describing the source and destination transforms. Further information may be found by hovering over a transform. User defaults can be saved by selecting

Remember selection.