QGIS as OGC Data Client
L'Open Geospatial Consortium (OGC), è un'organizzazione internazionale che raggruppa più di 300 organizzazioni commerciali, governative, nonprofit e di ricerca. I suoi membri sviluppano e implementano standard per contenuti e servizi geospaziali, analisi GIS e scambio dati.
OGC ha elaborato un numero crescente di specifiche per la descrizione di un modello dati di base per elementi geografici: le specifiche sono orientate a garantire l'interoperabilità nell'ambito della tecnologia geospaziale. Ulteriori informazioni all'indirizzo http://www.opengeospatial.org/.
Important OGC specifications supported by QGIS are:
OGC services are increasingly being used to exchange geospatial data between different GIS implementations and data stores. QGIS can deal with the above specifications as a client, being SFS (through support of the PostgreSQL / PostGIS data provider, see Section Layer PostGIS).
WMS/WMTS Client
WCS Client

A Web Coverage Service (WCS) provides access to raster data in forms that are useful for client-side rendering, as input into scientific models, and for other clients. The WCS may be compared to the WFS and the WMS. As WMS and WFS service instances, a WCS allows clients to choose portions of a server's information holdings based on spatial constraints and other query criteria.
QGIS has a native WCS provider and supports both version 1.0 and 1.1 (which are significantly different), but currently it prefers 1.0, because 1.1 has many issues, each server implements it in different way with various particularities.
The native WCS provider handles all network requests and uses all standard QGIS network settings (especially proxy). It is also possible select cache mode (always cache, prefer cache, prefer network, always network) and the provider also supports selection of time position if temporal domain is offered by server.
Client WFS e WFS-T
In QGIS, a WFS layer behaves pretty much like any other vector layer. You can identify and select features and view the attribute table. Since QGIS 1.6 editing (WFS-T) is also supported.
Normalmente la procedura per l'aggiunta di un layer WFS è molto simile a quella vista per i WMS. La differenza sta nel fatto che non vi sono server predefiniti, di conseguenza è necessario aggiungere manualmente quelli noti.
Caricare un layer WFS
Come esempio è possibile caricare il server WFS DM Solutions e mostrare un layer. L'indirizzo da inserire è: http://www2.dmsolutions.ca/cgi-bin/mswfs_gmap
Cliccare sullo strumento Aggiungi layer WFS nella barra dei layer ed apparirà la finsetra di dialogo Aggiungi layer WFS da server

Cliccare su [Nuovo]

Inserire il nome 'DM Solutions'

Inserire l'indirizzo precedentemente indicato

Cliccare su [OK]

Choose 'DM Solutions' from the dropdown list Server Connections

Cliccare su [Connetti]

Attendere la ricezione dell'elenco dei layer

Selezionare dalla lista il layer Parks

Cliccare su [Applica] per aggiungere il layer alla mappa
Note that proxy settings you have set in your preferences are also recognized.
Figure OGR 3: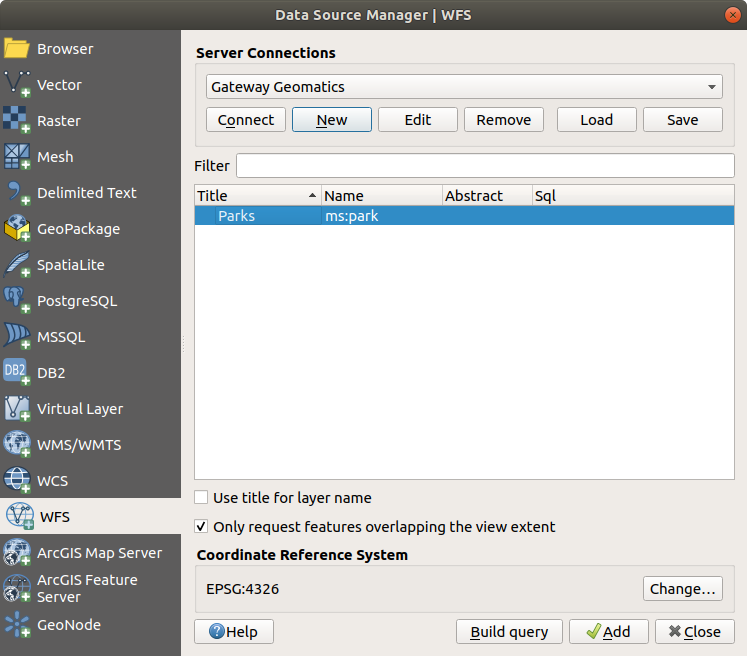 You'll notice the download progress is visualized in the left bottom of the QGIS main window. Once the layer is loaded, you can identify and select a province or two and view the attribute table.
Questo significa che attualmente è supportato solo WFS 1.0.0. Al momento non vi sono stati ancora molti test relativi a versioni di WFS basate su altri server. In caso di problemi con il plugin, non esitare a contattare il team di sviluppo. Si veda la sezione Aiuto e supporto per ulteriori informazioni sulle mailinglist.
Suggerimento
Cercare server WFS
È possibile ricercare ulteriori server WFS tramite Google o altro motore di ricerca preferito. Ci sono anche diversi elenchi di URL pubblici, alcuni dei quali aggiornati e altri non più manutenuti.