11.2.

Lesson: Serving WMS

The data used for this exercise are available in the qgis-server-tutorial-data subdirectory of the training data you downloaded. For convenience and to avoid possible permissions problems, we will assume that these files are stored in /home/qgis/projects directory. Hence, adapt the following instructions to your path.

Datele demo conțin un proiect QGIS denumit world.qgs, care este pregătit deja pentru a fi expus de către serverul QGIS. Dacă doriți să utilizați propriul proiect sau să aflați cum se poate pregăti un proiect, consultați secțiunea Configure your project.

Notă

Acest modul prezintă adresele URL, astfel încât audiența să poată distinge cu ușurință parametri și valorile acestora. În timp ce formatul normal este:
...&

field1

=

value1

&

field2

=

value2

&

field3

=

value3



acest tutorial folosește:
&

field1

=

value1




&

field2

=

value2




&

field3

=

value3



Pasting them into Mozilla Firefox works properly but other web browsers like Chrome may add unwanted spaces between the field:parameter pairs. So, if you encounter this issue you can either use Firefox or modify the URLs so that they're in one line format.
Let's make a WMS GetCapabilities request in the web browser or with curl:
http://qgisplatform.demo/cgi-bin/qgis_mapserv.fcgi
?SERVICE

=

WMS


&

VERSION

=

1

.3.0


&

REQUEST

=

GetCapabilities


&

map

=

/home/qgis/projects/world.qgs

In the Apache config from the previous lesson the QGIS_PROJECT_FILE variable sets the default project to /home/qgis/projects/world.qgs. However, in the above request we made use of the map parameter to be explicit and to show it can be used to point at any project. If you delete the map parameter from the above request QGIS Server will output the same response.
By pointing any WMS client to the GetCapabilities URL, the client gets in response an XML document with metadata of the Web Map Server's information, e.g. what layers does it serve, the geographical coverage, in what format, what version of WMS etc.
As QGIS is also a Client WMS/WMTS you can create a new WMS server connection with the help of the above GetCapabilities url. See the Lesson: Serviciile Web Mapping or the Selectarea serverelor WMS/WMTS section on how to do it.
By adding the countries WMS layer to your QGIS project you should get an image like the one below: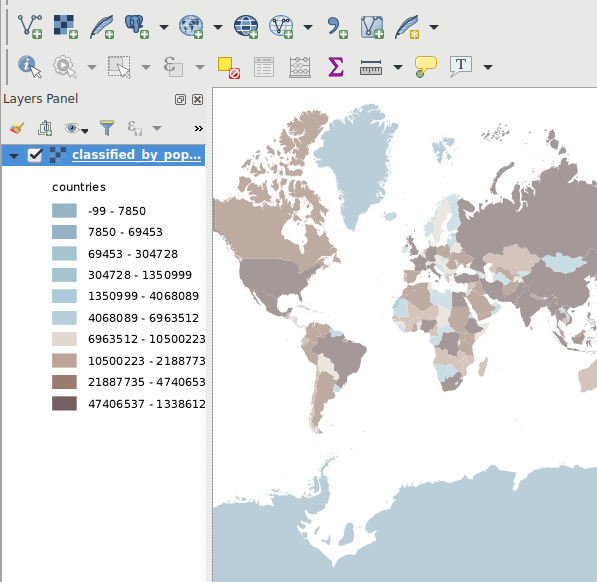 Notă
QGIS Server serves layers that are defined in the world.qgs project. By opening the project with QGIS you can see there are multiple styles for the countries layer. QGIS Server is also aware of this and you can choose the style you want in your request. The classified_by_population style was chosen in the above image.