15.1.

Proprietà raster¶

Per visualizzare e impostare le proprietà di un layer raster, fai doppio clic sul nome del layer nella legenda della mappa, oppure fai clic con il tasto destro del mouse sul nome del layer e scegli Proprietà dal menu contestuale. In questo modo si aprirà la finestra di dialogo Proprietà layer

Ci sono diverse schede nella finestra di dialogo:

Suggerimento

Aggiornamenti in tempo reale

The Pannello Stile Layer provides you with some of the common features of the Layer properties dialog and is a good modeless widget that you can use to speed up the configuration of the layer styles and view your changes on the map canvas.

Nota

Because properties (symbology, label, actions, default values, forms…) of embedded layers (see Progetti nidificati) are pulled from the original project file, and to avoid changes that may break this behavior, the layer properties dialog is made unavailable for these layers.

The

Information tab is read-only and represents an interesting place to quickly grab summarized information and metadata for the current layer. Provided information are:
in base alla fonte dati del layer (formato di memorizzazione, percorso, tipo di dati, estensione, larghezza/altezza, compressione, dimensione dei pixel, statistiche sulle bande, numero di colonne, numero di righe e valore per nessun dato del raster….);

picked from the provided metadata: access, links, contacts, history… as well as dataset information (CRS, Extent, bands…).
La scheda

Sorgente mostra le informazioni di base sul raster selezionato, inclusi: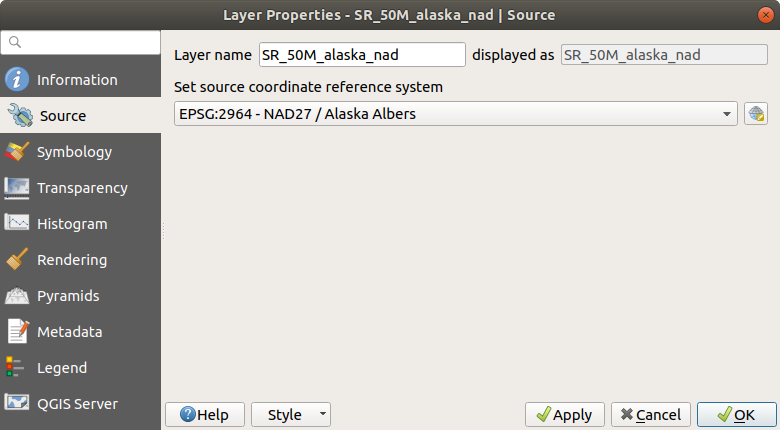 QGIS offers four different Render types. The choice of renderer depends on the data type.
For all kinds of Band rendering, the Color rendering set.
You can achieve special rendering effects for your raster file(s) by using one of the blending modes (see Metodi di fusione).
Further settings can be made by modifying the Brightness, Saturation and Contrast. You can also use a Grayscale option, where you can choose between "Off", "By lightness", "By luminosity" and "By average". For one Hue in the color table, you can modify the "Strength".
The Resampling option has effect when you zoom in and out of an image. Resampling modes can optimize the appearance of the map. They calculate a new gray value matrix through a geometric transformation.

When applying the "Nearest neighbour" method, the map can get a pixelated structure when zooming in. This appearance can be improved by using the "Bilinear" or "Cubic" method, which cause sharp edges to be blurred. The effect is a smoother image. This method can be applied to for instance digital topographic raster maps.
Nella parte inferiore della scheda Simbologia, puoi vedere una miniatura del layer, della legenda e della tavolozza.

QGIS has the ability to set the transparency level of a raster layer. Use the transparency slider

to set to what extent the underlying layers (if any) should be visible through the current raster layer. This is very useful if you overlay raster layers (e.g., a shaded relief map overlayed by a classified raster map). This will make the look of the map more three dimensional.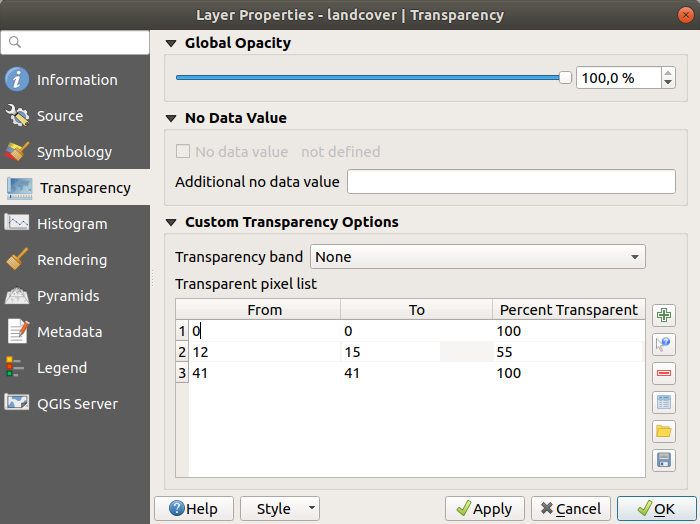 Additionally, you can enter a raster value that should be treated as an Additional no data value.
An even more flexible way to customize the transparency is available in the Custom transparency options section:
Use Transparency band to apply transparency for an entire band.

Provide a list of pixels to make transparent with corresponding levels of transparency:

Inserisci i valori Rosso, Verde e Blu del pixel e regola la Percentuale Trasparenza da applicare.

Alternatively, you can fetch the pixel values directly from the raster using the Add values from display button. Then enter the transparency value.

Ripeti i passi per regolare più valori con una trasparenza personalizzata.

Premi il pulsante Applica e dai una controllata alla mappa.

Come puoi vedere è molto semplice impostare una trasparenza personalizzata, però richiede comunque un po' di lavoro. Proprio per questo puoi usare il pulsante Esporta su file per salvare la lista dei valori su un file esterno. Il pulsante Importa da file ti permette di caricare le impostazioni di trasparenza e applicarle al raster selezionato.
The

Histogram tab allows you to view the distribution of the values in your raster. The histogram is generated when you press the Compute Histogram button. All existing bands will be displayed together. You can save the histogram as an image with the

button.
Nella parte inferiore dell'istogramma, puoi selezionare una banda raster nel menu a discesa e Imposta stile min/max per. Il menu a discesa

Preferiti/Azioni offre opzioni avanzate per personalizzare l'istogramma:
With the Visibility option, you can display histograms for individual bands. You will need to select the option Show selected band.

Le Opzioni Min/max permettono di "Mostra sempre i simboli min/max", "Zoom a min/max" e "Aggiorna stile a min/max".

The Actions option allows you to "Reset" or "Recompute histogram" after you have changed the min or max values of the band(s).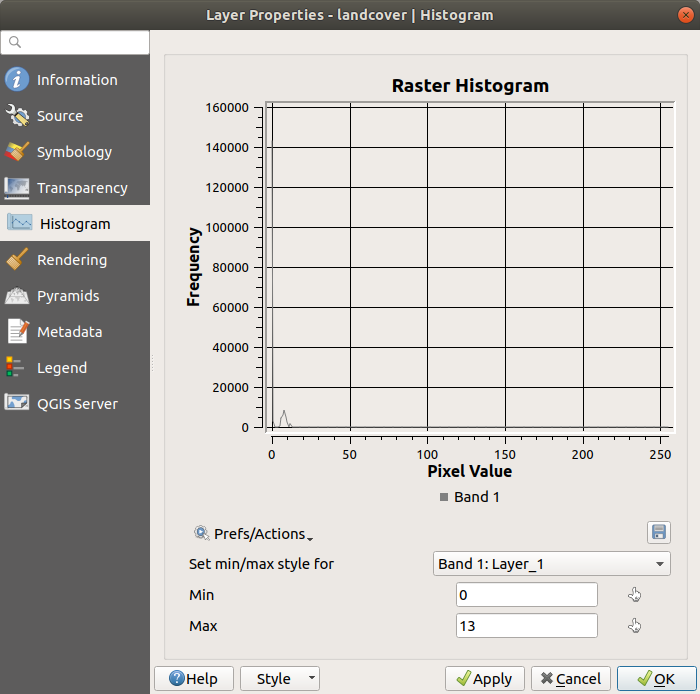 Nella scheda

Visualizzazione, è possibile:
set Scale dependent visibility for the layer: You can set the Maximum (inclusive) and Minimum (exclusive) scale, defining a range of scales in which the layer will be visible. It will be hidden outside this range. The Set to current canvas scale button helps you use the current map canvas scale as a boundary. See Visualizzazione in funzione della scala for more information.

Refresh layer at interval (seconds): set a timer to automatically refresh individual layers. Canvas updates are deferred in order to avoid refreshing multiple times if more than one layer has an auto update interval set.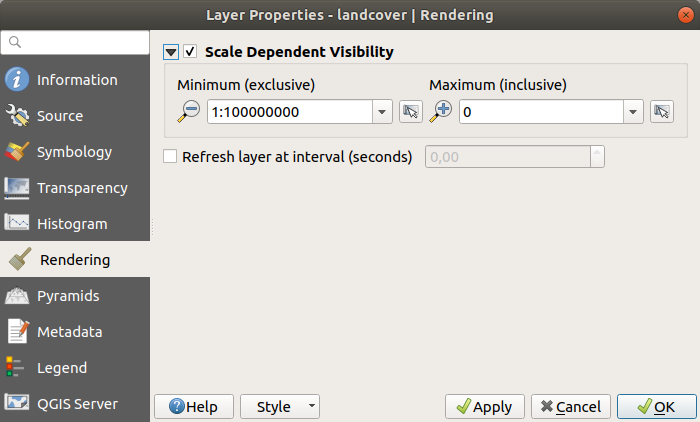 High resolution raster layers can slow navigation in QGIS. By creating lower resolution copies of the data (pyramids), performance can be considerably improved, as QGIS selects the most suitable resolution to use depending on the zoom level.
Per creare piramidi devi avere i permessi di scrittura nella cartella contenente il dato originale: in questa cartella verranno salvate le copie a bassa risoluzione.
From the Resolutions list, select resolutions at which you want to create pyramid levels by clicking on them.
Se scegli Interno (se possibile) dal menu a tendina Formato panoramica, QGIS proverà a costruire le piramidi internamente.
Nota
Please note that building pyramids may alter the original data file, and once created they cannot be removed. If you wish to preserve a "non-pyramided" version of your raster, make a backup copy prior to pyramid building.
Se scegli Esterno e Esterno (immagine Erdas) le piramidi verranno create in un file accanto al raster originale con lo stesso nome e un'estensione .ovr.
Several Resampling methods can be used for pyramid calculation:
Vicino più prossimo (metodo Nearest Neighbour)

Media

Gauss

Cubico

Spline Cubica

Laczos

Moda

Nessuno
Infine, fai clic su Costruisci piramidi per avviare il processo.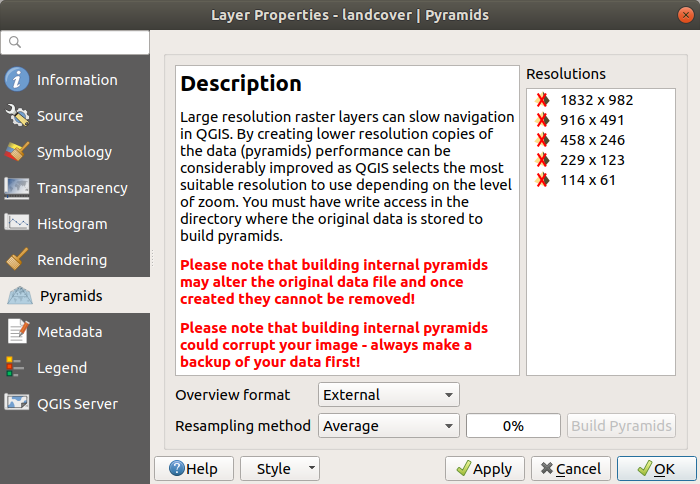 La scheda

Metadati ti fornisce le opzioni per creare e modificare un report dei metadati sul tuo layer. Vedi vector layer metadata properties per ulteriori informazioni.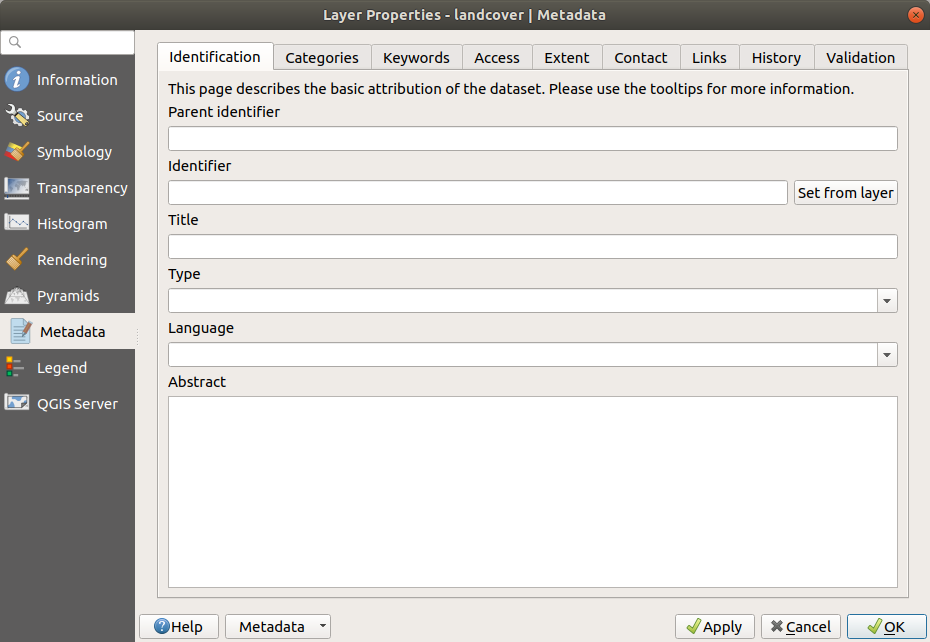 La scheda

Legenda ti fornisce una lista di widget che puoi inserire all'interno dell'albero dei layer nel Pannello Layer. L'idea è quella di avere un modo per accedere rapidamente ad alcune azioni che sono spesso usate con il layer (impostazioni trasparenza, filtraggio, selezione, stile o altre cose….).
By default, QGIS provides a transparency widget but this can be extended by plugins that register their own widgets and assign custom actions to layers they manage.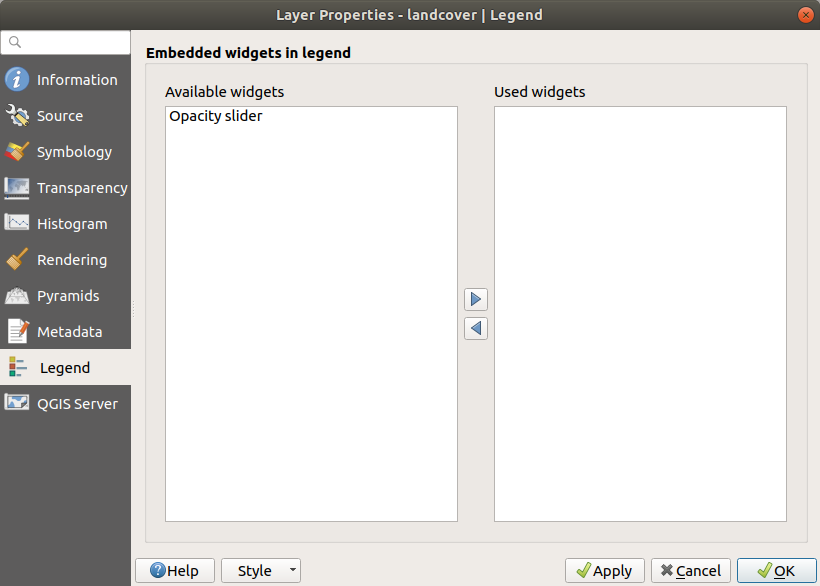 From the

QGIS Server tab, information can be provided for Description, Attribution, MetadataUrl and LegendUrl.