9.

QGIS anpassen¶

Sie können QGIS auf vielfache Art und Weise an Ihre Bedürfnisse anpassen. Im Menü Einstellungen finden Sie verschiedene Werkzeuge um:

Einige grundlegende Optionen für QGIS können Sie mit dem Dialog Optionen einstellen. Wählen Sie den Menüpunkt Einstellungen ▶

Optionen. Sie können die Optionen an Ihre Bedürfnisse anpassen. Einige Änderungen können einen Neustart von QGIS erfordern um wirksam zu werden.
Im Nachfolgenden werden die Registerkarten beschrieben, in denen Sie Optionen anpassen können.
The Settings ▶ User Profiles menu provides functions to set and access user profiles. A user profile is a unified application configuration that allows to store in a single folder:
all the global settings, including locale, projections, authentication settings, color palettes, shortcuts…

GUI configurations and customization

installed plugins and their configurations

project templates and history of saved project with their image preview

processing settings, logs, scripts, models.
By default, a QGIS installation contains a single user profile named default. But you can create as many user profiles as you want:
Click the New profile… entry.

You'll be prompted to provide a profile name, creating a folder of the same name under ~/<UserProfiles>/ where:

and <UserProfiles> represents the main profiles folder, i.e.:

The user profile folder can be opened from within QGIS using the Open Active Profile Folder.

A new instance of QGIS is started, using a clean configuration. You can then set your custom configurations.
If you have more than one profile in your QGIS installation, the name of the active profile is shown in the application title bar between square brackets.
As each user profile contains isolated settings, plugins and history they can be great for different workflows, demos, users of the same machine, or testing settings, etc. And you can switch from one to the other by selecting them in the Settings ▶ User Profiles menu. You can also run QGIS with a specific user profile from the command line.
Unless changed, the profile of the last closed QGIS session will be used in the following QGIS sessions.
Tipp
Run QGIS under a new user profile to check for bug persistence
When you encounter weird behavior with some functions in QGIS, create a new user profile and run the commands again. Sometimes, bugs are related to some leftovers in the current user profile and creating a new one may fix them as it restarts QGIS with the new (clean) profile.
In the properties window for the project under Project ▶ Project Properties, you can set project-specific options. The project-specific options overwrite their equivalent in the Options dialog described above.
The customization dialog lets you (de)activate almost every element in the QGIS user interface. This can be very useful if you want to provide your end-users with a 'light' version of QGIS, containing only the icons, menus or panels they need.
Bemerkung
Bevor Ihre Änderungen übernommen werden, müssen Sie QGIS neu starten.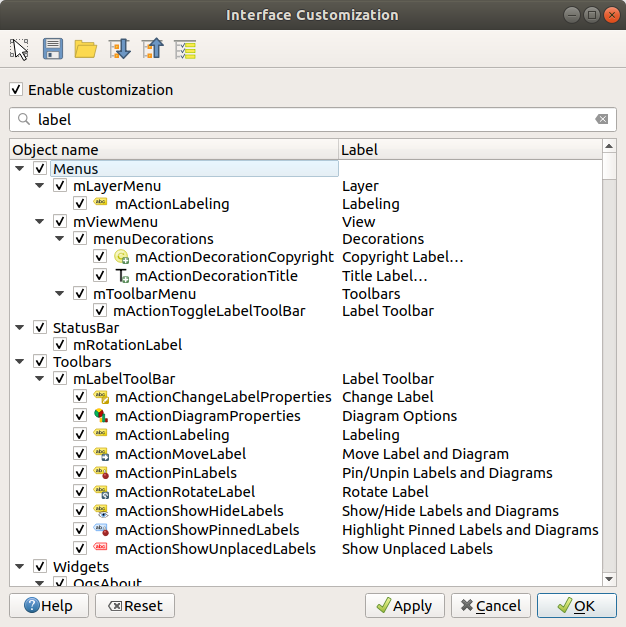 Die

Anpassung aktivieren Checkbox anzuklicken ist der erste Schritt, zur QGIS Anpassung. Dies aktiviert die Werkzeugleiste und das Widget-Panel, hier können Sie einige QGIS Elemente unsichtbar schalten.
Die konfigurierbaren Elemente können sein:
ein Menü oder einige ihrer Untermenüs von dem Menüleiste

das komplette Panel (siehe Bedienfelder und Werkzeugkästen)

die Statusleiste beschrieben in Statusleiste oder einige ihrer Elemente

eine Werkzeugleiste: die komplette oder einige ihrer Icons

oder irgendein Widget aus irgendeinem QGIS Dialog: Beschriftung, Knöpfe, Komboboxen…
With

Switch to catching widgets in main application, you can click on an item in QGIS interface that you want to be hidden and QGIS automatically unchecks the corresponding entry in the Customization dialog. You can also use the Search box to find items by their name or label.
Once you setup your configuration, click Apply or OK to validate your changes. This configuration becomes the one used by default by QGIS at the next startup.
Die Modifikationen können auch in einer .ini Datei gespeichert werden unter Verwendung des

Als Datei speichern Knopfs. Dies ist eine praktische Möglichkeit, eine gemeinsame QGIS Schnittstelle zwischen mehreren Benutzern zu teilen. Klicken Sie einfach auf

Laden von Datei von dem Zielcomputer aus, um die``.ini`` Datei zu importieren. Sie können auch command line tools starten und verschiedene Einstellungen für verschiedene Anwendungsfälle speichern.
Tipp
Voreingestelltes QGIS einfach wiederherstellen
Die erste QGIS GUI-Konfiguration kann durch eine der Methoden unten wiederhergestellt werden:
pressing the Reset button in the QSettings frame under Settings ▶ Options menu, System tab

starte QGIS an einer Eingabeaufforderung mit der folgenden Befehlszeile qgis --customization

setting to false the value of UI ▶ Customization ▶ Enabled variable under Settings ▶ Options menu, Advanced tab (see the warning).
In den meisten Fällen müssen Sie QGIS neu starten, damit die Änderungen angewendet werden.
QGIS provides default keyboard shortcuts for many features. You can find them in section Menüleiste. Additionally, the menu option Settings ▶

Keyboard Shortcuts… allows you to change the default keyboard shortcuts and add new ones to QGIS features.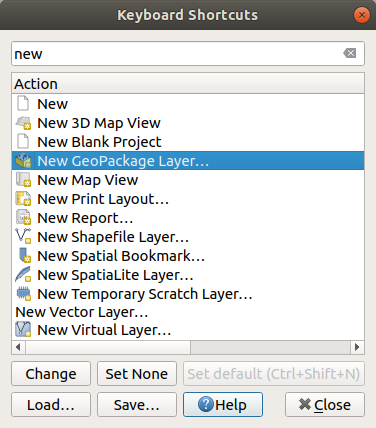 Configuration is very simple. Use the search box at the top of the dialog to find a particular action, select it from the list and click on :
Change and press the new combination you want to assign as new shortcut

Set None to clear any assigned shortcut

or Set Default to backup the shortcut to its original and default value.
Proceed as above for any other tools you wish to customize. Once you have finished your configuration, simply Close the dialog to have your changes applied. You can also Save the changes as an .XML file and Load them into another QGIS installation.
We've seen that launching QGIS is done as for any application on your OS. QGIS provides command line options for more advanced use cases (in some cases you can use an environment variable instead of the command line option). To get a list of the options, enter qgis --help on the command line, which returns:
If you need to deploy QGIS within an organization with a custom configuration file, first you need to copy/paste the content of the default settings file located in your_QGIS_PKG_path/resources/qgis_global_settings.ini. This file already contains some default sections identified by a block starting with []. We recommend that you keep these defaults values and add your own sections at the bottom of the file. If a section is duplicated in the file, QGIS will take the last one from top to bottom.
You can change allowVersionCheck=false to disable the QGIS version check.
If you do not want to display the migration window after a fresh install, you need the following section:
[migration]




fileVersion

=

2




settings

=

true



If you want to add a custom variable in the global scope:
[variables]




organisation

=

"Your organization"



To discover the possibilities of the settings INI file, we suggest that you set the config you would like in QGIS Desktop and then search for it in your INI file located in your profile using a text editor. A lot of settings can be set using the INI file such as WMS/WMTS, PostGIS connections, proxy settings, maptips…
Finally, you need to set the environment variable QGIS_GLOBAL_SETTINGS_FILE to the path of your customized file.
In addition, you can also deploy files such as Python macros, color palettes, layout templates, project templates… either in the QGIS system directory or in the QGIS user profile.
Layout templates must be deployed in the composer_templates directory.

Project templates must be deployed in the project_templates directory.

Custom Python macros must be deployed in the python directory.