.
QGIS Configuration
QGIS is highly configurable through the menu. Choose between Panels, Toolbars, Project Properties, Options and Customization.
Nota
QGIS follows desktop guidelines for the location of options and project properties item. Consequently related to the OS you are using, location of some of items described above could be located in the menu (Panels and Toolbars) or in for Options.
Proprietà progetto
In the properties window for the project under

(kde) or


(Gnome), you can set project-specific options. These include:
In the General menu, the project title, selection and background color, layer units, precision, and the option to save relative paths to layers can be defined. If the CRS transformation is on, you can choose an ellipsoid for distance calculations. You can define the canvas units (only used when CRS transformation is disabled) and the precision of decimal places to use. You can also define a project scale list, which overrides the global predefined scales.

La scheda SR permette di scegliere il sistema di riferimento e di abilitare la riproiezione al volo di raster e vettori quando questi hanno un SR diverso.

With the third Identify layers menu, you set (or disable) which layers will respond to the identify tool (see the "Map tools" paragraph from the Opzioni dell'interfaccia grafica (GUI) section to enable identifying of multiple layers).
The Default Styles menu lets you control how new layers will be drawn when they do not have an existing .qml style defined. You can also set the default transparency level for new layers and whether symbols should have random colours assigned to them. There is also an additional section where you can define specific colors for the running project. You can find the added colors in the drop down menu of the color dialog window present in each renderer.
The tab OWS Server allows you to define information about the QGIS Server WMS and WFS capabilities, extent and CRS restrictions.

La scheda Macro serve per modificare le macro di Python per il progetto. Attualmente sono disponibili tre macro: openProject(), saveProject() e closeProject().
La scheda Relazioni permette di impostare relazioni 1:n. Le relazioni sono definite nella finestra di dialogo delle proprietà del progetto. Una volta impostate le relazioni per un vettore, la vista modulo (cioè quando si interroga il vettore con lo strumento informazioni elemento) elencherà le relazioni in una finestra dedicata. Le relazioni 1:n sono uno strumento molto prezioso che può essere utilizzato, per esempio, per tenere traccia delle ispezioni storiche di un tratto stradale o di manutenzione delle tubature. Per maggiori informazioni sulle relazioni 1:n dai un'occhiata alla sezione Creating one to many relations.
Opzioni dell'interfaccia grafica (GUI)

Some basic options for QGIS can be selected using the Options dialog. Select the menu option

. The tabs where you can customize your options are described below.
Personalizzazione
The customization tool lets you (de)activate almost every element in the QGIS user interface. This can be very useful if you have a lot of plugins installed that you never use and that are filling your screen.
Figure Customization 1: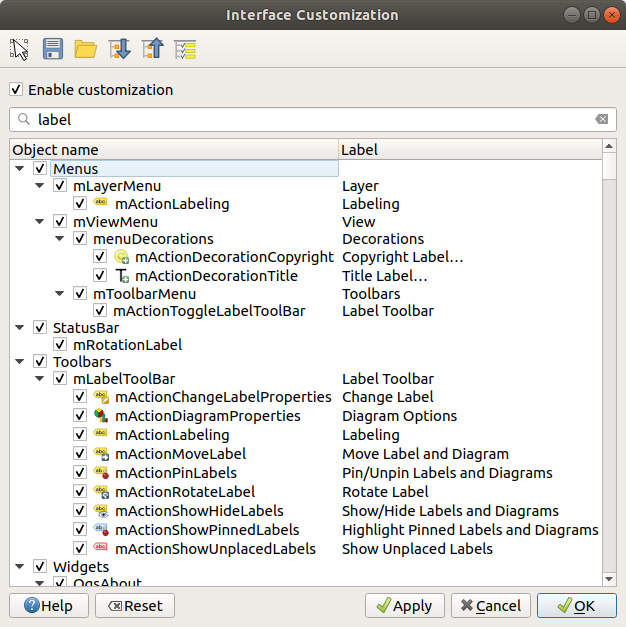 QGIS Customization is divided into five groups. In

Menus, you can hide entries in the Menu bar. In

Panels, you find the panel windows. Panel windows are applications that can be started and used as a floating, top-level window or embedded to the QGIS main window as a docked widget (see also Panels and Toolbars). In the

Status Bar, features like the coordinate information can be deactivated. In

Toolbars, you can (de)activate the toolbar icons of QGIS, and in

Widgets, you can (de)activate dialogs as well as their buttons.
With

Switch to catching widgets in main application, you can click on elements in QGIS that you want to be hidden and find the corresponding entry in Customization (see figure_customization). You can also save your various setups for different use cases as well. Before your changes are applied, you need to restart QGIS.