Expresii
Based on layer data and prebuilt or user defined functions, Expressions offer a powerful way to manipulate attribute value, geometry and variables in order to dynamically change the geometry style, the content or position of the label, the value for diagram, the height of a composer item, select some features, create virtual field ...
Main dialog to build expressions, the Expression string builder is available from many parts in QGIS and, can particularly be accessed when:
făcând clic pe butonul ;

selecting features with the Select By Expression... tool;
editing attributes with e.g. the Field calculator tool;
manipulating symbology, label or composer item parameters with the Data defined override tool (see Configurarea suprascrierii definită de date);
building a geometry generator symbol layer;
doing some geoprocessing.
Dialogul Constructorului de Expresii oferă acces la:
Expression tab which, thanks to a list of predefined functions, helps to write and check the expression to use;
Function Editor tab which helps to extend the list of functions by creating custom ones.
Some use cases of expressions:
De la câmp Calculator, se calculează câmpul "pop_density" folosind câmpurile existente "total_pop" și "area_km2":

Actualizarea câmpului "density_level" cu categorii, în funcție de valorile "pop_density":

CASE WHEN "pop_density" < 50 THEN 'Low population density'
     WHEN "pop_density" >= 50 and "pop_density" < 150 THEN 'Medium population density'
     WHEN "pop_density" >= 150 THEN 'High population density'
END

Aplicarea unui stil categorisit pentru toate entitățile, în funcție de prețul mediu al casei, dacă este mai mică sau mai mare de 10000€ pe metru pătrat:

Folosind instrumentul de "Selectare După Expresie...", selectați toate entitățile care reprezintă zonele cu "Densitate ridicată a populației" și în care prețul mediu pentru o casă este mai mare de 10000€ pe metru pătrat:

"density_level" = 'High population density' and "price_m2" > 10000


Likewise, the previous expression could also be used to define which features should be labeled or shown in the map.
Using expressions offers you a lot of possibilities.
Tip
Use named parameters to improve the expression reading
Some functions require many parameters to be set. The expression engine supports the use of named parameters. This means that instead of writing the cryptic expression clamp( 1, 2, 9), you can use clamp( min:=1, value:=2, max:=9). This also allows arguments to be switched, e.g. clamp( value:=2, max:=9, min:=1). Using named parameters helps clarify what the arguments for an expression function refer to, which is helpful when you are trying to interpret an expression at a later date!
The Expression tab provides the main interface to write expressions using functions, layer's fields and values. It contains widgets to:
type expressions using functions and/or fields. At the bottom of the dialog, is displayed the result of the expression evaluated on the first feature of the layer.
select the appropriate function among a list, organized in groups. A search box is available to filter the list and quickly find a particular function or field. Double-clicking on the item's name adds it to the expression being written.
display help for each function selected. When a field is selected, this widget shows a sample of its values. Double-clicking a value adds it to the expression.
With the Function Editor, you are able to define your own Python custom functions in a comfortable way.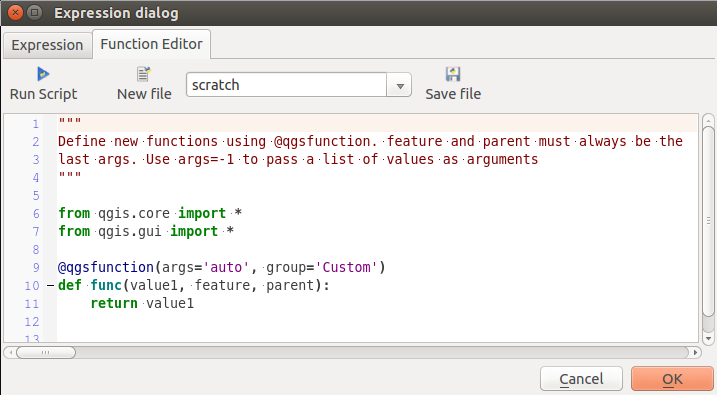 The function editor will create new Python files in .qgis2\python\expressions folder and will auto load all functions defined when starting QGIS. Be aware that new functions are only saved in the expressions folder and not in the project file. If you have a project that uses one of your custom functions you will need to also share the .py file in the expressions folder.
Iată un scurt exemplu cu privire la modul de creare a propriilor funcții:
@qgsfunction(args="auto", group='Custom')
def myfunc(value1, value2, feature, parent):
    pass

The short example creates a function myfunc that will give you a function with two values. When using the args='auto' function argument the number of function arguments required will be calculated by the number of arguments the function has been defined with in Python (minus 2 - feature, and parent).
This function then can be used with the following expression:
Your function will be implemented in the Custom functions group of the Expression tab after using the Run Script button.
Mai multe informații despre crearea de cod Python pot fi găsite în Cartea de rețete a dezvoltatorului PyQGIS.
The function editor is not only limited to working with the field calculator, it can be found whenever you work with expressions.