QGIS Server supports some vendor parameters and requests that greatly enhance the possibilities of customising its behavior. The following paragraphs list the vendor parameters and the environment variables supported by the server.
Deze mogelijkheid is beschikbaar en kan worden gebruikt met verzoeken GetMap, GetPrint.
De mogelijkheid Redlining kan worden gebruikt om geometrieën en labels door te geven in het verzoek die door de server worden overlapt over de standaard teruggegeven afbeelding (kaart). Dit geeft de gebruiker de mogelijkheid om nadruk te leggen of misschien enkele opmerkingen (labels) toe te voegen aan sommige gebieden, locaties etc. die niet op de standaard kaart staan.
Het verzoek is in de indeling:
http://qgisplatform.demo/cgi-bin/qgis_mapserv.fcgi?map=/world.qgs&SERVICE=WMS&VERSION=1.3.0&
REQUEST=GetMap
...
&HIGHLIGHT_GEOM=POLYGON((590000 5647000, 590000 6110620, 2500000 6110620, 2500000 5647000, 590000 5647000))
&HIGHLIGHT_SYMBOL=<StyledLayerDescriptor><UserStyle><Name>Highlight</Name><FeatureTypeStyle><Rule><Name>Symbol</Name><LineSymbolizer><Stroke><SvgParameter name="stroke">%23ea1173</SvgParameter><SvgParameter name="stroke-opacity">1</SvgParameter><SvgParameter name="stroke-width">1.6</SvgParameter></Stroke></LineSymbolizer></Rule></FeatureTypeStyle></UserStyle></StyledLayerDescriptor>
&HIGHLIGHT_LABELSTRING=Write label here
&HIGHLIGHT_LABELSIZE=16
&HIGHLIGHT_LABELCOLOR=%23000000
&HIGHLIGHT_LABELBUFFERCOLOR=%23FFFFFF
&HIGHLIGHT_LABELBUFFERSIZE=1.5
Hier is de afbeelding die is uitgevoerd door het bovenstaande verzoek waarin een polygoon en een label zijn getekend bovenop de normale kaart: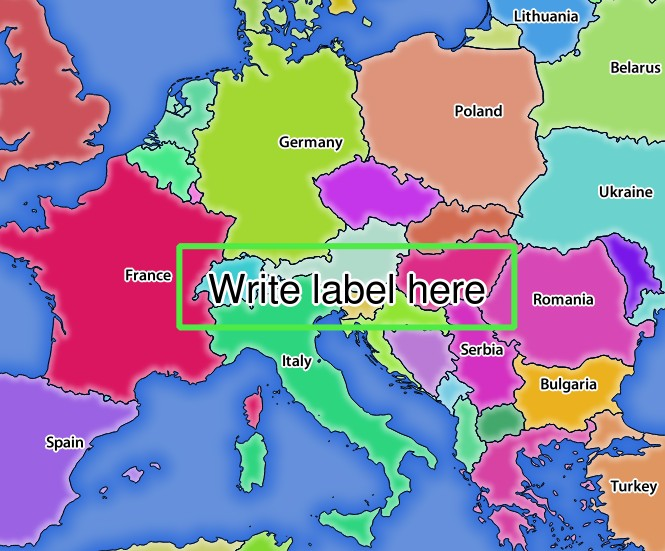 U kunt zien dat er verscheidene parameters in dit verzoek staan:
HIGHLIGHT_GEOM: U kunt toevoegen POINT, MULTILINESTRING, POLYGON etc. Het ondersteunt meerdelige geometrieën. Hier is een voorbeeld: HIGHLIGHT_GEOM=MULTILINESTRING((0 0, 0 1, 1 1)). De coördinaten zouden in het CRS van het verzoek GetMap/GetPrint moeten zijn.

HIGHLIGHT_SYMBOL: Dit beheert hoe de omtrek van de geometrie zal zijn en u kunt de breedte van de lijn, kleur en doorzichtbaarheid wijzigen.

HIGHLIGHT_LABELSTRING: U kunt de tekst voor uw labels doorgeven met deze parameter.

HIGHLIGHT_LABELSIZE: Deze parameter beheert de grootte van het label.

HIGHLIGHT_LABELCOLOR: Deze parameter beheert de kleur van het label.

HIGHLIGHT_LABELBUFFERCOLOR: Deze parameter beheert de kleur van de buffer van het label.

HIGHLIGHT_LABELBUFFERSIZE: Deze parameter beheert de grootte van de buffer van het label.