Le Gestionnaire de symboles permet aux utilisateurs de créer et gérer des symboles génériques à utiliser dans différents projets QGIS. Il s'ouvre via le menu ou depuis l'onglet Style de la fenêtre des d'une couche vectorielle. Il permet de:
ajouter, éditer et supprimer des symboles

organiser les symboles en groupes

exporter et importer des symboles.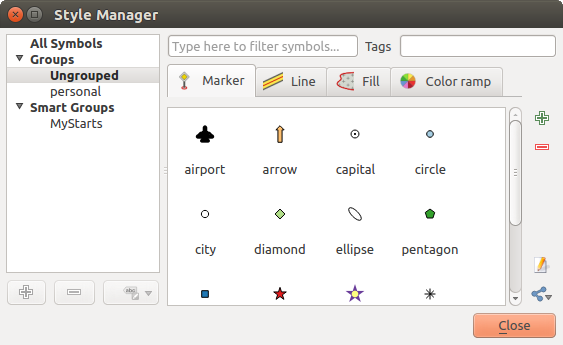 Vous pouvez organiser les symboles en différentes catégories. Ces catégories, listées dans le panneau sur la gauche, peuvent être statiques (appelées Groupe) ou dynamique (nommées Groupe Intelligent). Un groupe est intelligent lorsque ses symboles sont récupérés dynamiquement selon un ensemble de conditions. Voir figure_smart_group :
Pour créer un groupe, faites un clic-droit sur un groupe existant ou sur Groupes sur la gauche du gestionnaire. Vous pouvez également sélectionner un groupe et cliquer sur le bouton

Ajouter un groupe. Le nouveau groupe sera un sous-groupe de celui qui est sélectionné.
La création de Groupes Intelligents est similaire à la création de groupes mais en sélectionnant l'entrée Groupes Intelligents. La boîte de dialogue permet à utilisateur de choisir une expression permettant de sélectionner les symboles à intégrer au groupe (via un tag, l'appartenance à un groupe, un mot dans le nom du symbole, etc.). Tout symbole qui satisfait à la/aux condition(s) est automatiquement ajouté au groupe intelligent.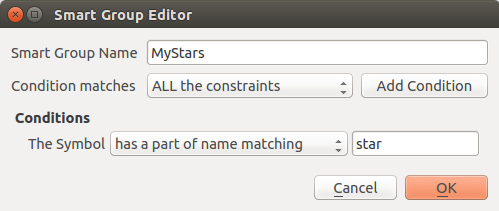 Pour supprimer un groupe ou un groupe intelligent, faites un clic-droit sur le groupe et sélectionnez ou sélectionnez-le et cliquez sur le bouton

Supprimer le groupe.
Contrairement aux groupes intelligents qui récupèrent automatiquement leurs symboles, les groupes simples sont gérés par l'utilisateur. Pour ajouter un symbole au groupe, vous pouvez soit faire un clic droit sur un symbole, choisir puis le nom du groupe. Il existe une autre méthode pour ajouter plusieurs symboles dans un groupe: sélectionnez le groupe et cliquez sur

puis sur . Tous les symboles affichent une boîte à cocher qui vous permet d'ajouter le symbole dans les groupes sélectionnés. Lorsque la sélection est terminée, vous pouvez cliquer sur le même bouton et choisir .
Tous les symboles qui ne sont pas placés directement sous un groupe personnalisé appartient au groupe par défaut nommé Non groupés.
Sélectionner un groupe affiche dans le panneau de droite, si possible, la liste des symboles du groupe (en incluant ceux de ses sous-groupes). Ces symboles sont organisés en quatre onglets différents.
Marqueur pour les symboles ponctuels

Ligne pour les symboles linéaires

Remplissage pour les symboles surfaciques
Pour supprimer un symbole dont vous n'avez plus besoin, sélectionnez-le et cliquez sur

Supprimer l'objet (disponible également via un clic droit). Le symbole sera alors supprimé de la base de données locale des symboles.
La liste des symboles peut être modifiée en ajoutant de nouveaux symboles avec le bouton

Ajouter objet ou en modifiant les symboles existants avec

Éditer l'objet. Voir The Symbol Selector pour plus d'informations.
L'ongle Palette de couleurs du Gestionnaire de Style affiche plusieurs types de palettes de couleurs utilisables pour représenter des couches.
Pour créer une rampe de couleur personnalisée, activez l'onglet Palette de couleur et cliquez sur le bouton

Ajouter objet. Le bouton affiche alors une liste déroulante pour choisir le type de palette de couleur :
Graduée: génère une palette de couleurs à partir d'une couleur de départ et une couleur de fin, soit de type continue or discrète. En double-cliquant sur la pré-visualisation de la palette, vous pouvez ajouter autant de couleurs intermédiaires que vous le souhaitez.

Aléatoire: crée un ensemble aléatoire de couleurs, basé sur un assortiment de valeurs de teinte, saturation, valeur, opacité et le nombre de couleurs utilisées (classes).

Mélangeur de couleur : un ensemble de dégradés discrets prédéfinis que vous pouvez personnaliser en fonction du nombre de couleurs de la rampe.

or cpt-city: donne accès à tout un catalogue de dégradés de couleurs, que l'on peut localement :guilabel:` enregistrer en tant que dégradé de couleur`.
Astuce
Easily custom the color stops of the gradient color ramp
Double-clicking the ramp preview or drag-and-drop a color from the color spot onto the ramp preview adds a new color stop. Each color stop can be tweaked using the sélecteur de couleur widgets or by plotting each of its parameters. You can also reposition it using the mouse, the arrow keys (combine with Shift key for a larger move) or the Relative position spinbox. Pressing Delete stop as well as DEL key removes the selected color stop.
You can use the

Invert option while classifying the data with a color ramp. See figure_color_custom_ramp for an example of a custom color ramp and figure_color_cpt_city for the cpt-city Colors dialog.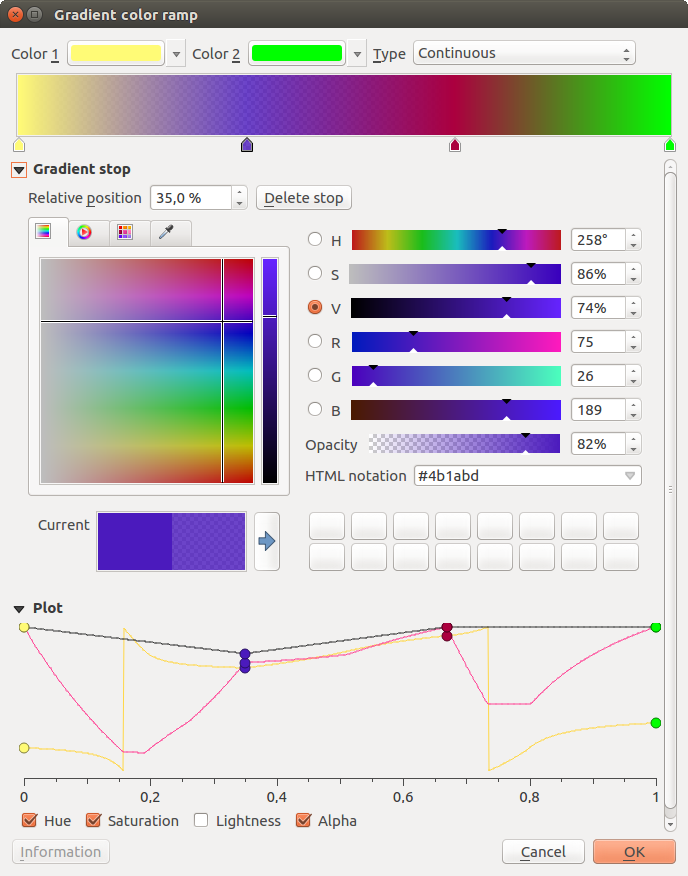 Le type cpt-city ouvre une fenêtre qui permet de choisir parmi des centaines de palettes prédéfinies.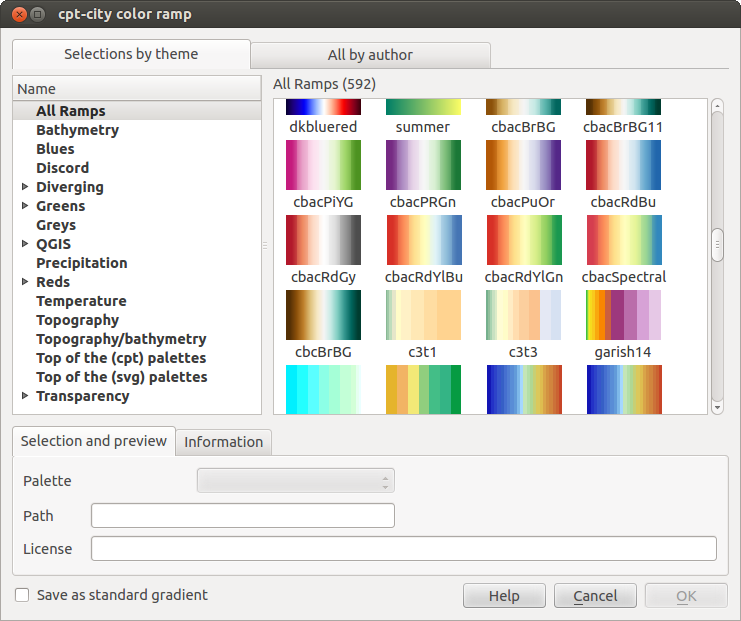 Le sélecteur de symbole est la boîte de dialogue principale pour construire un symbole. Vous pouvez créer ou éditer des marqueurs, des lignes ou des symboles de remplissage.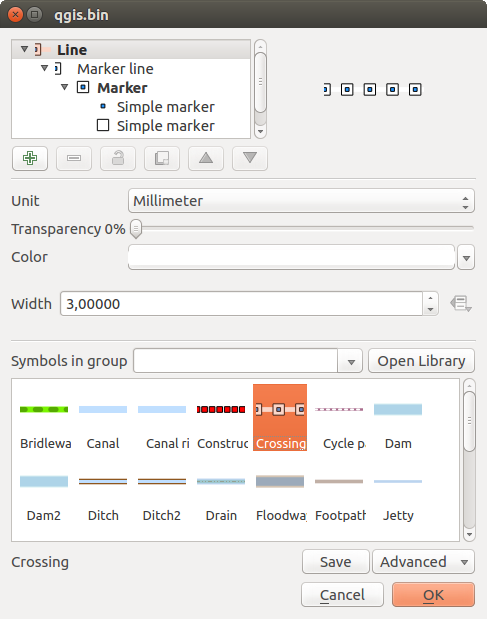 Two main components structure the symbol selector dialog:
the symbol tree, showing symbol layers that are combined afterwards to shape a new global symbol
and settings to configure the selected symbol layer in the tree.
A symbol can consist of several Symbol layers. The symbol tree shows the overlay of these symbol layers that are combined afterwards to shape a new global symbol. Besides, a dynamic symbol representation is updated as soon as symbol properties change.
A set of tools is available to manage the symbol tree items and according to the level selected, you'll get enabled different tools at the bottom of the dialog to:
Ajouter une nouvelle couche de symbole: vous pouvez empiler autant de symboles que vous voulez.

Supprimer la couche de symbole sélectionnée.

Verrouiller les couleurs d'une couche de symbole: une couleur verrouillée reste non modifiée lorsque l'utilisateur modifie la couleur du symbole global (ou supérieur).

Dupliquer une (un groupe de) couche(s) de symbole.

Déplacer en haut ou en bas la couche de symbole.
In QGIS, configuring a symbol is done in two steps: the symbol and then the symbol layer.
At the top level of the tree, it depends on the layer geometry and can be of Marker, Line or Fill type. Each symbol can embed one or more symbols (including, of any other type) or symbol layers.
You can setup some parameters that apply to the global symbol:
Unit: it can be Millimeter, Pixels or Map unit
Transparency
Color: when this parameter is changed by the user, its value is echoed to all unlocked sub-symbols color
Size and Rotation for marker symbols
Width for line symbols
Note
The Data-defined override button beside the last layer-related parameters is inactive when setting the symbol from the Style manager dialog. When the symbol is connected to a map layer, this button offers access to the size assistant dialog which helps to create proportional or multivariate analysis rendering.
The symbols used at this level are items you can pick from the symbols library. A list of available symbols of the same type from your symbol library is shown and can be filtered by selecting a group in the drop-down list just above. Click the Save button to add the designed symbol to your symbol library.
With the Advanced

option, you can:
set the symbol levels: defining the way symbol layers are connected to each other in the map canvas (see Niveaux de symbole for more information)
and for line and fill symbols, clip features to canvas extent.
Astuce
Note that once you have set the size in the lower levels of the Symbol layers dialog, the size of the whole symbol can be changed with the Size (for marker symbols) or the Width (for line symbols) menu in the first level again. The size of the lower levels changes accordingly, while the size ratio is maintained.
At a lower level of the tree, you can customize the symbol layers. The available symbol layer types depend on the upper symbol type. You can apply on the symbol layer

paint effects to enhance its rendering.
Because describing all the options of all the symbol layer types would not be possible, only particular and significative ones are mentioned below.