The Style Manager is the place where users can manage and create generic symbols to be used in several QGIS projects. You can open it with the or from the Style tab in the vector layer's . It allows users to:
You can organize symbols into different categories. These categories, listed in the panel at the left, can be static (called Group) or dynamic (named Smart Group). A group is smart when its symbols are dynamically fetched according to conditions set. See figure_smart_group:
To create a group, right click on an existing group or on the main Groups directory in the left of the dialog. You can also select a group and click the

Add Group button. The new group will be a sub-group of the selected one.
Create Smart Group is similar to creating group, but instead select Smart Groups. The dialog box allows user to choose the expression to select symbols in order to appear in the smart group (contains some tags, member of a group, have a string in its name, etc.). Any symbol that satisfies the entered condition(s) is automatically added to the smart group.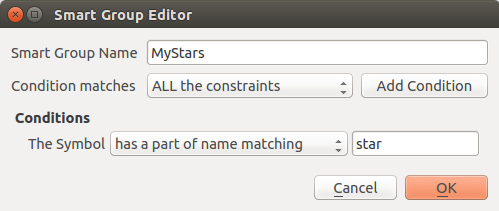 To remove a group or a smart group, right click on the group and select or select it and push

Remove Group button.
Unlike the smart groups that automatically fetch their belonged symbols, simple groups are filled by the user. To add a symbol into a group, you can either right click on a symbol, choose and then the group name. There is a second way to add several symbols into a group: just select the group, click

and choose . All symbols display a checkbox that allows you to add the symbol into the selected groups. When selection is finished, you can click the same button, and choose .
All the symbols that are not placed under a custom group belong to a default group named Ungrouped.
Selecting a group returns in the right panel, if applicable, the list of symbols of the group (including its subgroups). These symbols are organized in four different tabs:
Marker for point symbols
Line for linear symbols
Fill for surface symbols
and Palettes de couleur.
To delete a symbol you no longer need, just select it and click

Remove item (also available through right-click). The symbol will be deleted from the local symbols database.
The symbol list can be modified by adding new symbols with

Add item button or modifying existing ones with

Edit item. See The Symbol Selector for further information.
The Color ramp tab in the Style Manager presents different types of color ramps you can use to style layers.
Pour créer une rampe de couleur personnalisée, activez l'onglet Palette de couleur et cliquez sur le bouton

Ajouter objet. Le bouton affiche alors une liste déroulante pour choisir le type de palette de couleur :
Graduée: génère une palette de couleurs à partir d'une couleur de départ et une couleur de fin, soit de type continue or discrète. En double-cliquant sur la pré-visualisation de la palette, vous pouvez ajouter autant de couleurs intermédiaires que vous le souhaitez.

Random: creates a random set of colors based on range of values for hue, saturation, value and opacity and a number of colors (classes)
ColorBrewer: a set of predefined discrete color gradients you can custom the number of colors in the ramp
or cpt-city: an access to a whole catalog of color gradients to locally save as gradient color.
Astuce
Easily custom the color stops of the gradient color ramp
Double-clicking the ramp preview or drag-and-drop a color from the color spot onto the ramp preview adds a new color stop. Each color stop can be tweaked using the sélecteur de couleur widgets or by plotting each of its parameters. You can also reposition it using the mouse, the arrow keys (combine with Shift key for a larger move) or the Relative position spinbox. Pressing Delete stop as well as DEL key removes the selected color stop.
You can use the

Invert option while classifying the data with a color ramp. See figure_color_custom_ramp for an example of a custom color ramp and figure_color_cpt_city for the cpt-city Colors dialog.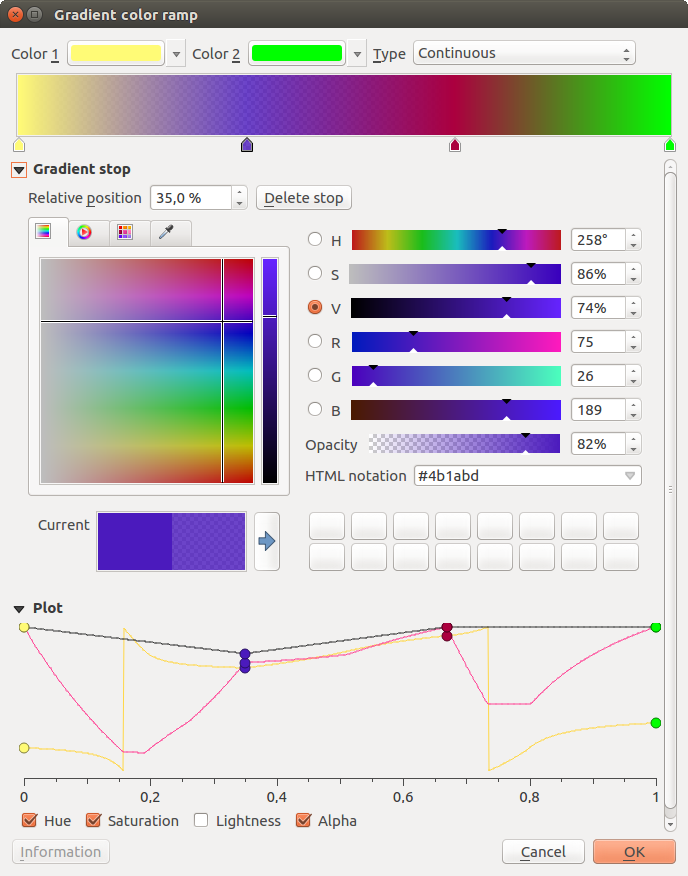 The cpt-city option opens a new dialog with hundreds of themes included 'out of the box'.