Configuration de QGIS
QGIS is highly configurable through the menu. Choose between Options, Project Properties and Customization.
Note
QGIS follows desktop guidelines for the location of options and project properties item. Consequently related to the OS you are using, location of some of items described below could be in the or the menu.

Quelques paramétrages basiques de QGIS peuvent s'effectuer dans la fenêtre Options. Selectionnez le menu

. Vous pouvez modifier les options à votre guise. Certaines modifications peuvent nécessiter un redémarrage de QGIS pour être effectives.
Les onglets où vous pouvez configurer vos options sont décrits ci-dessous.
In the properties window for the project under (or

), you can set project-specific options.
The project-specific options overwrite their equivalent in the options described above.
In the General tab, the general settings let you:

Donner un titre au projet en supplément du chemin de fichier

Choisir la couleur des entités sélectionnées

Choisir la couleur de fond du canevas

Définir si le chemin d'accès aux couches dans le projet doit être enregistré en absolu (complet) ou en relatif par rapport à l'emplacement du fichier de projet. Vous pouvez préférer le chemin relatif lorsque les couches et le fichier de projet peuvent être déplacés ou partagés ou si le projet est accessible à partir d'ordinateurs sur différentes plates-formes.

Choisir d'éviter les artefacts lorsque le projet est rendu sous forme de tuiles. Utiliser cette option peut entraîner une dégradation des performances.

Calculating areas and distances is a common need in GIS. However, these values are really tied to the underlying projection settings. The Measurements frame lets you control these parameters. You can indeed choose:

the ellipsoid to use: it can be an existing one, a custom one (you'll need to set values of the semi-major and semi-minor axis) or None/Planimetric.

Les Unités pour les mesures de distance pour les longueurs et périmètres et Unités pour les mesures de surface. Ces paramètres remplacent les unités définies par défaut dans les options QGIS pour le projet en cours, elles sont utilisés dans:

Barre de mise à jour des champs de la table des attributs

Les calculs de la calculatrice de champ

Les calculs dérivés de longueurs, périmètres et surfaces de l'outil identifier

Unité par défaut affichée dans la boîte de dialogue de mesure

The Coordinate display allows you to choose and customize the format of units to use to display the mouse coordinate in the status bar and the derived coordinates shown via the identify tool.

Finally, you can define a project scale list, which overrides the global predefined scales.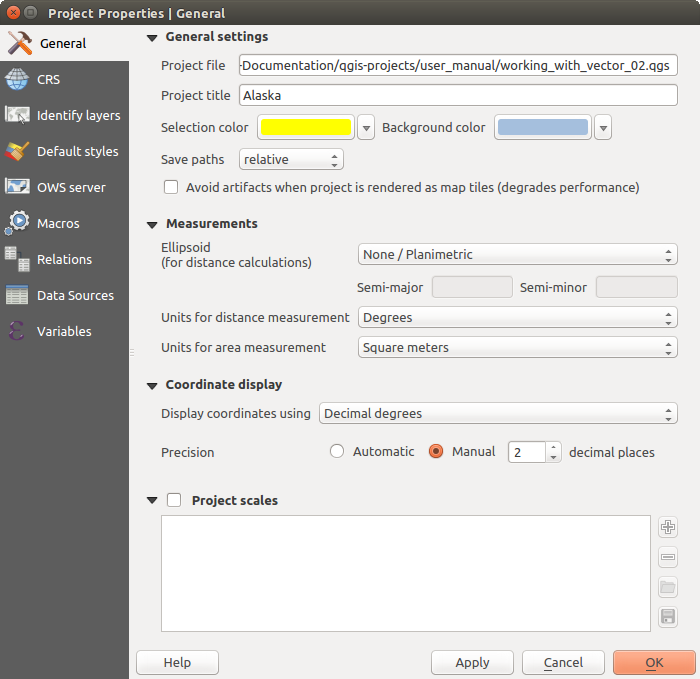 The CRS tab enables you to choose the Coordinate Reference System for this project, and to enable on-the-fly re-projection of raster and vector layers when displaying layers from a different CRS. For more information on projection's handling in QGIS, please read Utiliser les projections section.

With the Identify layers tab, you set (or disable) which layers will respond to the identify tool. By default, layers are set queryable.

You can also set whether a layer should appear as read-only, meaning that it can not be edited by the user, regardless of the data provider's capabilities. Although this is a weak protection, it remains a quick and handy configuration to avoid end-users modifying data when working with file-based layers.

The Default Styles tab lets you control how new layers will be drawn when they do not have an existing .qml style defined. You can also set the default transparency level for new layers and whether symbols should have random colors assigned to them. There is also an additional section where you can define specific colors for the running project. You can find the added colors in the drop down menu of the color dialog window present in each renderer.

The tab OWS Server allows you to configure your project in order to publish it online. Here you can define information about the QGIS Server WMS and WFS capabilities, extent and CRS restrictions. More information available in section Prepare a project to serve and subsequent.

L'onglet Macros permet d'éditer des modules Python pour les projets. Actuellement, seules trois macros sont disponibles : openProject(), saveProject() et closeProject().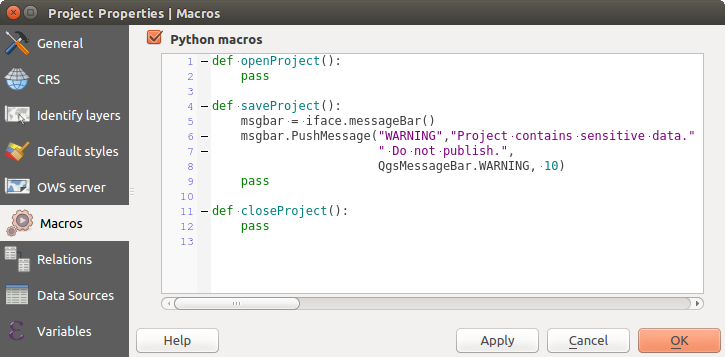 L'onglet Relations permet de définir des relations 1:n. Les relations sont définies dans la fenêtre des propriétés du projet. Une fois les relations définies sur une couche, un nouvel élément apparaît dans la vue formulaire de cette couche (par exemple, lors de l'identification d'une entité et l'ouverture du formulaire associé) et vous liste les entités qui lui sont reliées. Ceci fournit un moyen puissant d'exprimer, par exemple, l'historique d'inspection le long d'une pipeline ou d'un tronçon de route. Vous trouverez de plus amples informations sur les relation 1:n dans la section Créer des relations un ou plusieurs à plusieurs.

Dans l'onglet Sources de données, vous pouvez :

Evaluate default values on provider side: When adding new features in a PostGreSQL table, fields with default value constraint are evaluated and populated at the form opening, and not at the commit moment. This means that instead of an expression like nextval('serial'), the field in the Add Feature form will display expected value (e.g., 25).
Automatically create transaction groups where possible: When this mode is turned on, all (postgres) layers from the same database are synchronised in their edit state, i.e. when one layer is put into edit state, all are, when one layer is committed or one layer is rolled back, so are the others. Also, instead of buffering edit changes locally, they are directly sent to a transaction in the database which gets committed when the user clicks save layer. Note that you can (de)activate this option only if no layer is being edited in the project.

The Variables tab lists all the variables available at the project's level (which includes all global variables). Besides, it also allows the user to manage project-level variables. Click the button to add a new custom project-level variable. Likewise, select a custom project-level variable from the list and click the button to remove it. More information on variables usage in the General Tools Variables section.
La fenêtre de Personnalisation vous permet de (dés)activer presque tous les éléments de l'interface utilisateur de QGIS. Cela peut s'avérer très utile si vous souhaitez fournir à vos utilisateurs finaux une version 'légère' de QGIS avec uniquement les icônes, les menus ou les panneaux dont ils ont besoin.
Note
Pour que les modifications soient appliquées, vous devrez redémarrer QGIS.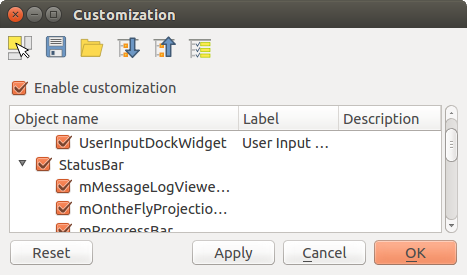 Cocher

Autoriser la modification est la première étape pour personnaliser l'IHM de QGIS. Cela active la barre d'outils et le panneau permettant de sélectionner/désélectionner les éléments d'IHM.
Les éléments personnalisables sont :
un Menu ou des sous-menus de la Barre de Menu

un Panel complet (voir Panneaux et barres d'outils)

la Barre d'état décrite dans label_statusbar ou certains de ses éléments

une Toolbar: complète, ou certains des boutons

Ou tout widget: label, bouton, combobox,... dans n'importe quelle boîte de dialogue de QGIS.
Avec

Selection interactive d'objet depuis la fenêtre principale, vous pouvez cliquer sur un élément de l'interface de QGIS que vous souhaitez cacher et automatiquement décocher l'entrée correspondante dans la liste de personnalisation.
Once you setup your configuration, click [Apply] or [Ok] to validate your changes. This configuration becomes the one used by default by QGIS at the next startup.
Les modifications peuvent également être sauvegardées dans un fichier .ini en utilsant le bouton

Enregistrer dans le fichier. C'est une façon pratique de partager une interface QGIS commune entre plusieurs utilisateurs. Il suffit de cliquer sur

Charger depuis le fichier dans l'ordinateur de destination afin d'importer le fichier .ini. Vous pouvez également utiliser les options de ligne de commande et enregistrer diverses configurations pour différents cas d'utilisation.
Astuce
Restaurer facilement l'IHM initiale de QGIS
La configuration initiale de l'IHM de QGIS peut être restaurée par l'une des méthodes ci-dessous :
décocher Autoriser la modification option dans la boite de dialogue Paramétrage ou cliquer Sélectionner tout

pressing the [Reset] button in the QSettings frame under menu, System tab

démarrer QGIS en ligne de commande avec la commande suivante qgis --nocustomization

mettre à false la valeur de la variable du menu , onglet Avancé (voir warning).
Dans la plupart des cas, vous aurez à redémarrer QGIS pour que les modifications soient prises en compte.
QGIS provides default keyboard shortcuts for many features. You can find them in section Barre de Menu. Additionally, the menu option allows you to change the default keyboard shortcuts and add new keyboard shortcuts to QGIS features.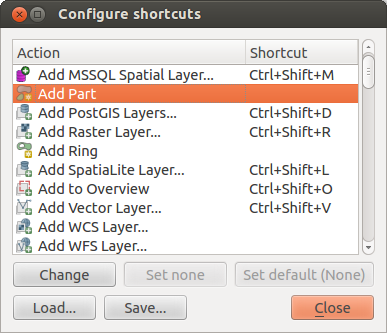 Configuration is very simple. Just select a feature from the list and click on :
[Change] and press the new combination you want to assign as new shortcut
[Set none] to clear any assigned shortcut
or [Set default] to backup the shortcut to its original and default value.
Proceed as above for any other tools you wish to customize. Once you have finished your configuration, simply [Close] the dialog to have your changes applied. You can also [Save] the changes as an .XML file and [Load] them into another QGIS installation.