Extension de Saisie de Coordonnées
L'extension Saisie de Coordonnées est simple d'utilisation et offre la possibilité d'afficher des coordonnées sur la carte en sélectionnant deux systèmes de coordonnées de référence (SCR) différents.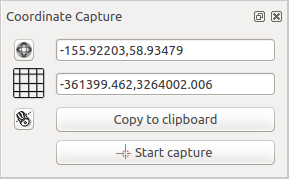 Start QGIS, select Project Properties from the Settings (KDE, Windows) or File (Gnome, macOS) menu and click on the Projection tab. As an alternative, you can also click on the CRS status icon in the lower right-hand corner of the status bar.

Cochez l'option Autoriser la projection 'à la volée' et sélectionnez le système de coordonnées de votre choix (voir également la Section Utiliser les projections).

Activate the coordinate capture plugin in the Plugin Manager (see La fenêtre des Extensions) and ensure that the dialog is visible by going to and ensuring that Coordinate Capture is enabled. The coordinate capture dialog appears as shown in Figure figure_coordinate_capture. Alternatively, you can also go to and see if Coordinate Capture is enabled.

Appuyez sur le bouton Cliquez pour sélectionner le SCR à utiliser pour l'affichage des coordonnées et sélectionnez un SCR différent de celui que vous avez choisi plus haut.

To start capturing coordinates, click on [Start capture]. You can now click anywhere on the map canvas and the plugin will show the coordinates for both of your selected CRS.

Vous pouvez également copier les coordonnées dans le presse-papier.