Çeviri nasıl çalıştığını açıklamak için, bir örnek olarak İlgi haritası eklentisi kullanacak. Bu örnekte Hollandaca İngilizce' den tercüme edecek, ancak tüm dillerde diğer belgeler için hemen hemen aynı olacaktır.
With Qt Linguist, you need to manually grab the .po file. When you open the file in Qt Linguist for the first time you will see the following dialog:
Figure Translation 1: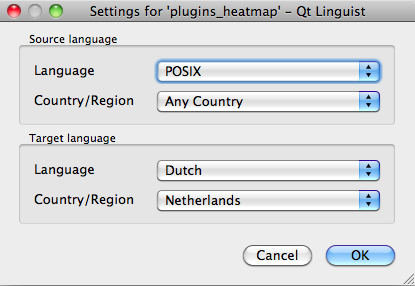 Hedef dili doğru doldurulması gerekmektedir. Herhangi bir ülke dil POSIX ve Ülke / Bölge ile olduğu gibi Kaynak dil bırakılabilir.
When you press the [OK] button Qt Linguist is filled with sentences and you can start translating, see Figure_translation_2.
Figure Translation 2: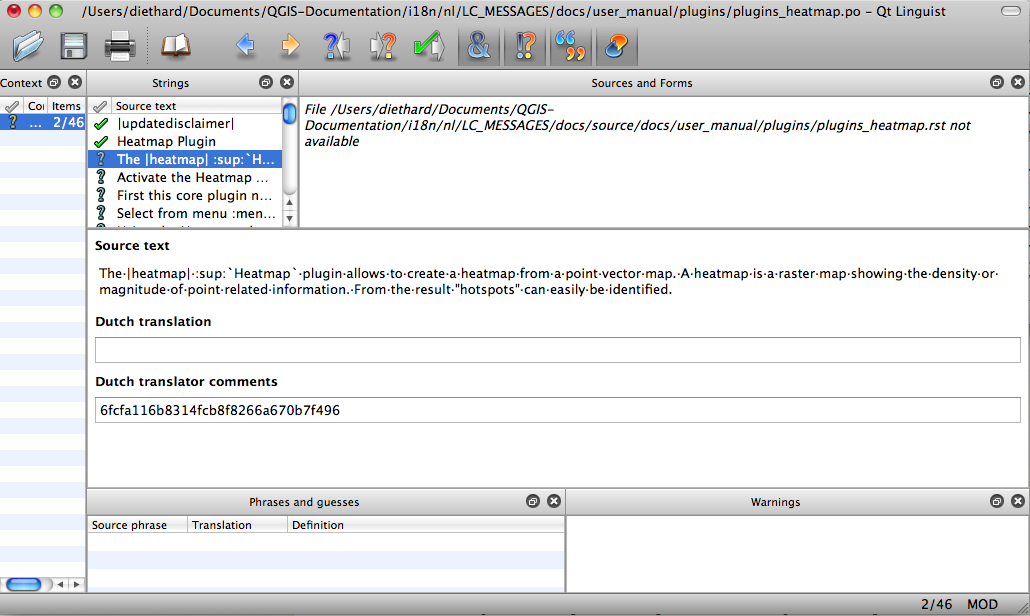 Uygulamalar için menüdeki görünen düğmeleri kullanın.
The Translation Done Next button, is the most important button. If the item needs translation, you enter a translation in the text field, then hit this button. If the item does not need translation just leave the text field for translation empty and also hit this button which indicates the item is done and you continue with the next item.

Geri Git butonu önceki çeviri parçasına gitmek için kullanılabilir.

İleri Git butonu , sonraki çeviri parçasına gitmek için kullanılabilir.

The Next Todo button, jumps to the first translation item that still needs a translation. Handy when the original document has changed and only several new/changed sentences need to be translated.

Önceki İşlem butonu , geri arama yapar ve halen çevirilmekte olan ilk çeviri parçasına geçer.
Şimdi plugin_heatmap kullanıcı dokümanını çevirmeye başlayalım.
Translating most of the sentences should be straightforward. During this translation session I will point out which parts (rst statements) need special translation.
Aşağıda, çevirmek ilginç bir cümle görüyoruz:
The |heatmap| :sup:`Heatmap` plugin allows to create a heatmap from a
point vector map. A heatmap is a raster map showing the density or
magnitude of point related information. From the result "hotspots" can
easily be identified.
Bu cümle iki rst ifadesi içerir:
|heatmap|` kelimlerinde | arasındaki kelimeler simglerin yerini alıyor ve bunlar asla çevrilmemelidir! Bunun yerine, heatmap eklentisi simgesi yerini alacak!

:sup:`Heatmap`, the :sup: statement is a superposition statement and prints the following text a bit higher. This is used to show the popup texts that appear when you hover above the toolbar item and this may be different when it is actually translated in the QGIS application. In the Dutch case it is not!
Bu cümledeki diğer tüm metinler çevrilebilir!
The next translation item contains the :ref: statement that is commonly used to refer to another section somewhere in the manual! The text following a :ref: statement should never be changed because it is a unique identifier!
First this core plugin needs to be activated using the Plugin Manager
(see Section :ref:`load_core_plugin`). After activation the heatmap icon
|heatmap| can be found in the Raster Toolbar.
In this case load_core_plugin is a unique reference identifier placed before an rst item that has a caption. The ref statement will be replaced with the text of the header and turned into a hyperlink. When the header this reference is refering to is translated, all references to this header will be automatically translated as well.
The next item contains the rst-tag :menuselection: followed by text actually displayed in a menu in QGIS application, this may be translated in the application and therefore should be changed when this is the case.
Select from menu :menuselection:`View --> Toolbars --> Raster` to activate
the Raster Toolbar when it is not yet activated.
In above item "View –>" is actually translated to "Beeld –>" because this is the translation used in the Dutch localized QGIS application.
Biraz daha ilerde çeldirici çeviri parçası ile karşılaşırız:
The |heatmap| :sup:`Heatmap` tool button starts the Dialog of the Heatmap
plugin (see figure_heatmap_2_).
It holds a reference to a figure figure_heatmap_2_, and like a reference to section this reference should not be changed!! The reference definition itself from the rst-document is not included in the .po file and can therefore not be changed. This means the reference to figures can not be translated. When HTML is created you will see figure_heatmap_2. When a PDF document is created figure_heatmap_2_ is replaced with a figure number.
rst özellikli sonraki çeviri parçası sıradaki parçadır:
**Input Point dialog**: Provides a selection of loaded point vector maps.
Do not remove the stars in above line. It will print the text it holds in bold. The text itself is often text included in the dialog itself and may well be translated in the application.
Sonraki çeviri parçası :guilabel: rst etiketi içerir.
When the |checkbox| :guilabel:`Advanced` checkbox is checked it will
give access to additional advanced options.
The text Advanced of the guilabel tag may well be translated in the QGIS application and probably needs to be changed!
The following translation item contains ``airports``. The quotes are used to give the text another text font. In this case it is a literal value and does not need translation.
For the following example, we will use the ``airports`` vector point
layer from the QGIS sample dataset (see :ref:`label_sampledata`).
Another excellent QGIS tutorial on making heatmaps can be found on
`http://qgis.spatialthoughts.com
<http://qgis.spatialthoughts.com/2012/07/tutorial-making-heatmaps-using-qgis-and.html>`_.
This item also includes a hyperlink with an url and an external presentation. The url should of course be left intact, you are allowed to change the external text http://qgis.spatialthoughts.com which is visible by the reader. Never remove the underscore at the end of the hyperlink which forms an essential part of it!!