The processing history
Every time you execute an algorithm, information about the process is stored in the history manager. Along with the parameters used, the date and time of the execution are also saved.
This way, it is easy to track the and control all the work that has been developed using the processing framework, and easily reproduce it.
The history manager is a set of registry entries grouped according to their date of execution, making it easier to find information about an algorithm executed at any particular moment.
Figure Processing 30: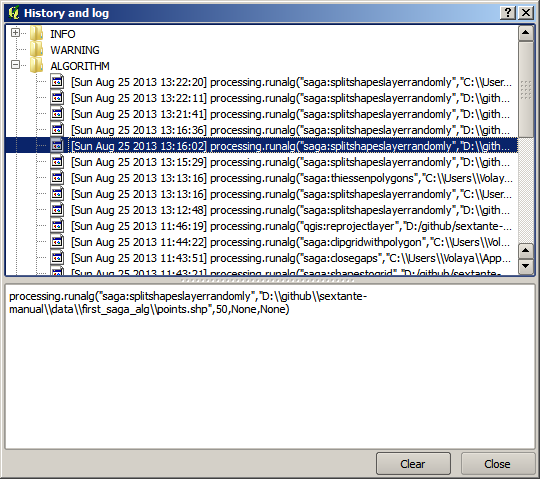 L'informazione sul processo è conservata come una espressione a linea di comando, anche se l'algoritmo è stato avviato dalla cassetta degli attrezzi. Questo lo rende utile anche per coloro che stanno imparando come usare l'interfaccia a linea di comando, in quanto possono richiamare un algoritmo usando la cassetta degli attrezzi e poi controllare il gestore cronologico per vedere come lo stesso algoritmo dovrebbe essere invocato dalla linea di comando.
Oltre a poter scorrere la lista del registro, è possibile rieseguire i processi semplicemente premendo due volte il loro nome con il mouse.
Along with algorithm executions, the processing framework communicates with the user using the other groups of the registry, namely Errors, Warnings and Information. In case something is not working properly, having a look at the Errors might help you to see what is happening. If you get in contact with a developer to report a bug or error, the information in that group will be very useful for him to find out what is going wrong.
Se eseguite algoritmi di terze parti, questo è fatto normalmente richiamando la loro interfaccia a linea di comando che comunica con l'utente attraverso il video. Per quanto questa informazione (in SEXTANTE) non è visualizzata , una copia completa è salvata nel gruppo Informazioni ogni volta che lanciate quell'algoritmo. Se ad esempio, avete dei problemi eseguendo un algoritmo di SAGA cercate nella voce 'SAGA uscita di controllo dell'esecuzione' per controllare tutti i messaggi generati da SAGA e cercare di trovare la spiegazione del problema.
Some algorithms, even if they can produce a result with the given input data, might add comments or additional information to Warning block in case they detect potential problems from that data, in order to warn you about them. Make sure you check those messages in case you are having unexpected results.