.
QGIS Configuration
QGIS is highly configurable through the menu. Choose between Panels, Toolbars, Project Properties, Options and Customization.
ノート
QGIS follows desktop guidelines for the location of options and project properties item. Consequently related to the OS you are using, location of some of items described above could be located in the menu (Panels and Toolbars) or in for Options.
プロジェクトのプロパティ
In the properties window for the project under

(kde) or


(Gnome), you can set project-specific options. These include: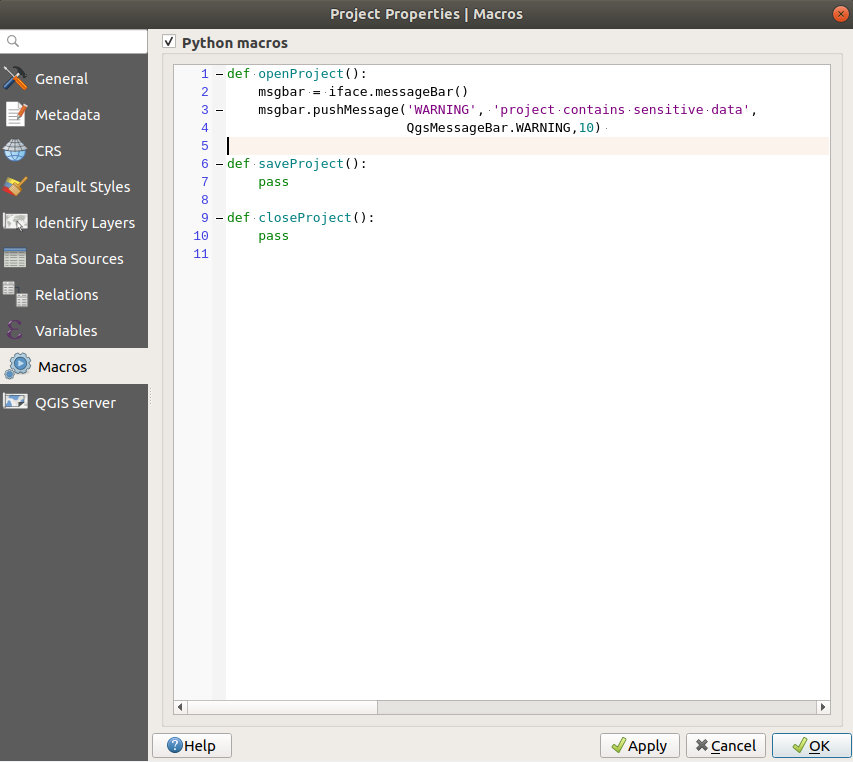 The Relations menu is used to define 1:n relations. The relations are defined in the project properties dialog. Once relations exist for a layer, a new user interface element in the form view (e.g. when identifying a feature and opening its form) will list the related entities. This provides a powerful way to express e.g. the inspection history on a length of pipeline or road segment. You can find out more about 1:n relations support in Section Creating one to many relations.
オプション

Some basic options for QGIS can be selected using the Options dialog. Select the menu option

. The tabs where you can customize your options are described below.
カスタマイゼーション
The customization tool lets you (de)activate almost every element in the QGIS user interface. This can be very useful if you have a lot of plugins installed that you never use and that are filling your screen.
Figure Customization 1: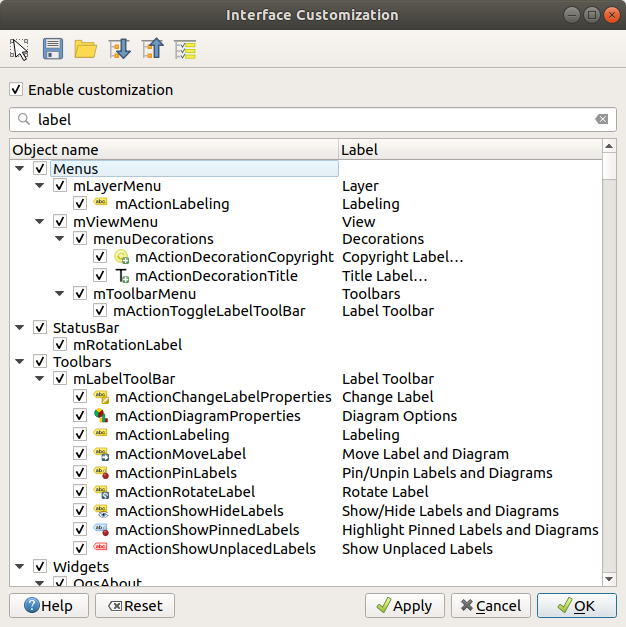 QGIS Customization is divided into five groups. In

Menus, you can hide entries in the Menu bar. In

Panels, you find the panel windows. Panel windows are applications that can be started and used as a floating, top-level window or embedded to the QGIS main window as a docked widget (see also Panels and Toolbars). In the

Status Bar, features like the coordinate information can be deactivated. In

Toolbars, you can (de)activate the toolbar icons of QGIS, and in

Widgets, you can (de)activate dialogs as well as their buttons.
With

Switch to catching widgets in main application, you can click on elements in QGIS that you want to be hidden and find the corresponding entry in Customization (see figure_customization). You can also save your various setups for different use cases as well. Before your changes are applied, you need to restart QGIS.