When a layer is added to map canvas, QGIS uses by default a random symbol/color to render its features. You can however set a default symbol in that will be applied to each newly added layer according to its geometry type.
But, most of the time, you'd prefer to have a custom and more complex style that can be applied automatically or manually (with less efforts) to the layers. You can achieve this goal using the combobox at the bottom of the Layer Properties dialog. This combobox provides you with functions to create, load and manage styles.
A style stores any information set in the layer properties dialog to render or interact with the features (including symbology, labeling, action, diagram... settings).
Figure Vector Properties 10: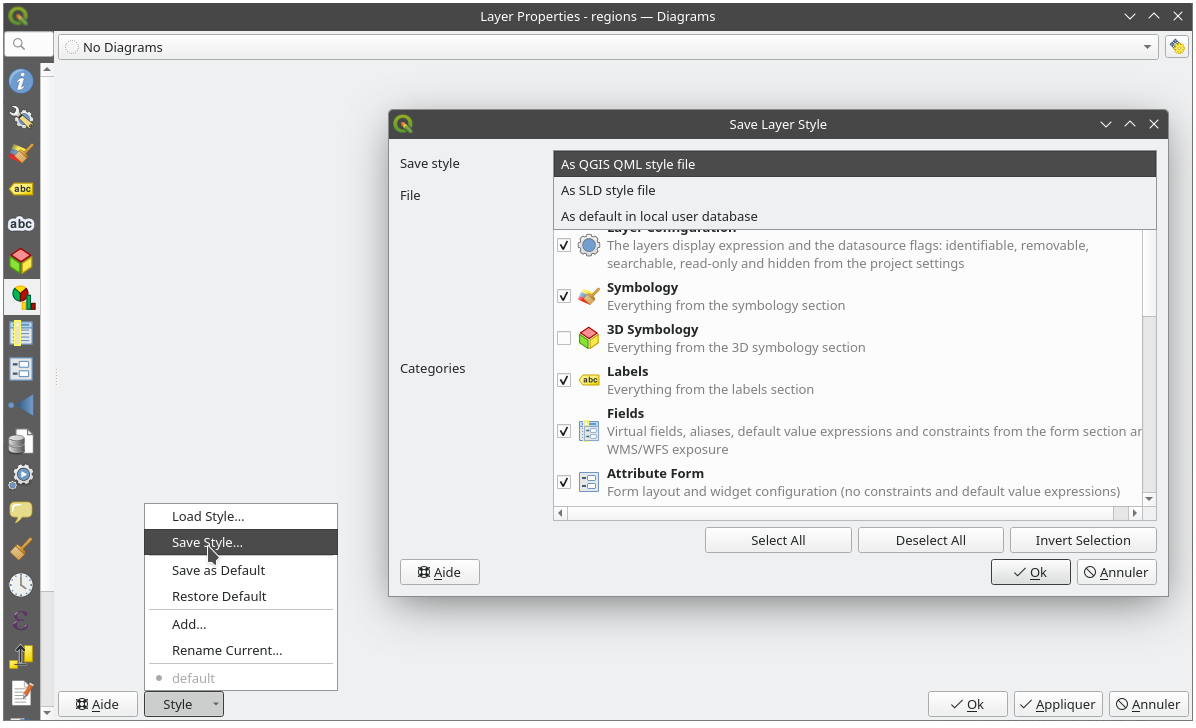 By default, the style applied to a loaded layer is named default. Once you have got the ideal and appropriate rendering for your layer, you can save it by clicking the

combobox and choose:
Rename Current: The active style gets renamed and updated with the current options
Add: A new style is created using the current options.
At the bottom of the Style drop-down list, you see the styles set for the layer and the active one is checked. Once you have more than one style defined for a layer, a Remove Current option can help you delete those you no longer want.
Note that each time you validate the layer properties dialog, the active style is updated with the changes you've done.
You can create as many styles as you wish for a layer but only one can be active at a time. Combined to layer visibility preset, this offers a quick and powerful way to manage complex projects with few layers (no need to duplicate any layer in the map legend).
Tip
Manage styles from layer context menu
Right-click on the layer in Layers Panel to add, rename or remove layer style. You can also edit feature symbols.
While these styles are saved inside the project and can be copied and pasted from layer to layer in the project, it's also possible to save them outside the project so that they can be loaded in another project. Clicking the

saves the symbol as a QGIS layer style file (.qml) or SLD file (.sld). SLDs can be exported from any type of renderer – single symbol, categorized, graduated or rule-based – but when importing an SLD, either a single symbol or rule-based renderer is created. That means that categorized or graduated styles are converted to rule-based. If you want to preserve those renderers, you have to stick to the QML format. On the other hand, it can be very handy sometimes to have this easy way of converting styles to rule-based.
If the datasource of the layer is a database (PostGIS or Spatialite for example), you can also save your layer style inside a table of the database. Just click on combobox and choose Save in database item then fill in the dialog to define a style name, add a description, an ui file if applicable and check if the style is the default style. You can add several style in the database. However each table can have only one default style.
When loading a layer in QGIS, if a default style already exists for this layer, QGIS will load the layer and its style. After you modified the layer style, you can Save as Default, creating a new style that becomes the default one or Restore Default style if you're not satisfied.
Figure Vector Properties 2:
Tip
Quickly share a layer style within the project
You can also share layer style within a project without importing a file or database style: right-click on the layer in the Layers Panel and, from the Styles combobox , copy the style of a layer and paste it to a group or a selection of layers: the style is applied to all the layers that are of the same type (vector vs raster) as the original layer and, in case of vector, have the same geometry type (point, line or polygon).