QGIS supports various capabilities for editing OGR, SpatiaLite, PostGIS, MSSQL Spatial and Oracle Spatial vector layers and tables.
Configurando a Tolerância de Atracção e Raio de Pesquisa
Antes de podermos editar os vértices, necessitamos de configurar a tolerância e o raio de pesquisa para um valor que nos permita uma edição ideal das geometrias da camada vectorial.
Tolerância de Atracção
A tolerância de atracção é a distância que o QGIS usa para procurar o vértice mais próximo e/ou segmento que está a tentar ligar quando define um novo vértice ou move um vértice existente. Se não estiver dentro da tolerância de atracção, o QGIS irá deixar o vértice onde libertou o botão do rato, em vez de atrair a um vértice e/ou segmento existente. A configuração da tolerância de atracção afecta todas as ferramentas que trabalham com a tolerância.
A general, project wide snapping tolerance can be defined choosing . On Mac: go to , on Linux: . In the Digitizing tab you can select between to vertex, to segment or to vertex and segment as default snap mode. You can also define a default snapping tolerance and a search radius for vertex edits. The tolerance can be set either in map units or in pixels. The advantage of choosing pixels, is that the snapping tolerance doesn't have to be changed after zoom operations. In our small digitizing project (working with the Alaska dataset), we define the snapping units in feet. Your results may vary, but something on the order of 300ft should be fine at a scale of 1:10 000 should be a reasonable setting.

A camada baseada na tolerância de atracção pode ser definida escolhendo (ou ) para activar e ajustar o modo de atracção e tolerância na camada base (veja figure_edit_1 ).
Note que esta camada baseada na atracção e sobrepõe-se à opção global de atracção definida no separador da Digitalização. Portanto, se necessitar de editar uma camada, e efectuar a atracção dos vértices noutra camada, então active apenas atrair à camada, e de seguida diminui a tolerância de atracção global para o valor mais pequeno. Além disso, a atracção não irá ocorrer numa camada que não está activada na janela de opções de atracção, independentemente da tolerância de atracção global. Portanto, certifique-se de marcar a caixa de verificação para estas camadas que necessita de atrair.
Figure Edit 1:

Raio de pesquisa
O Raio de Pesquisa é a distância que o QGIS usa para procurar pelo vértice mais próximo que está a tentar mover quando clica no mapa. Se não estiver dentro do raio de pesquisa, o QGIS não irá encontrar e seleccionar nenhum vértice para editar e irá mostrar um aviso para esse efeito. A tolerância de atracção e o raio de pesquisa são definidos em unidades de mapa ou pixeis, por isso pode experimentá-los para obter a definição correcta. Se especificar uma tolerância muito grande, o|qg| pode atrair o vértice errado, especialmente se necessita de lidar com um número grande de vértices que estão muitos próximos entre eles. Definir o raio de pesquisa muito pequenonão irá encontrar nada para mover.
O raio de pesquisa para as edições de vértices nas unidades da camada pode ser definida no separador Digitalização nas

. No mesmo sítio onde define o geral e a largura tolerância de atracção.
Ampliando e Movendo
Antes de editar uma camada, deve fazer uma ampliação à zona da área de interesse. Isto evita que espere enquanto os marcadores dos vértices são renderizados em toda a camada.
Além de usar os ícones

mover mapa e

aproximar /

afastar na barra de ferramentas com o rato, a navegação pode também ser feita com a roda do rato, espaço e as teclas de direcção.
Ampliando e movendo com a roda do rato
Enquanto digitaliza pode pressionar na roda do rato para mover dentro da janela principal e pode rodar a roda do rato para aproximar e afastar no mapa. Para aproximar num sítio posicione o cursor do rato dentro da área do mapa e rode para a frente (afastando de si) para aproximar e rode para trás (aproxime para si) para afastar. A posição do cursor do rato irá estar no centro da área de interesse ampliada. Pode personalizar o comportamento do zoom da roda do rato usando o separador Ferramentas do Mapa no menu

.
Movendo a direcção com as setas do teclado
O mapa pode ser movido durante a digitalização recorrendo às teclas de direcção. Posicione o cursor do rato dentro da área do mapa e clique em cima da tecla direita para mover para este, esquerda para mover para oeste, para cima para mover para norte e para baixo para mover para sul.
Pode também usar a barra de espaço para temporariamente causar movimentos no rato para mover depois o mapa. As teclas PgUp e PgDown do seu teclado irão fazer com que o mapa aproxime ou afaste interrompendo a sua sessão de edição.
Digitalizar uma camada existente
By default, QGIS loads layers read-only: This is a safeguard to avoid accidentally editing a layer if there is a slip of the mouse. However, you can choose to edit any layer as long as the data provider supports it, and the underlying data source is writable (i.e. its files are not read-only).
De um modo geral, a edição de camadas vectoriais está dividida na digitalização e na barra de ferramentas de digitalização avançada, descrita na Secção Digitalização Avançada. Pode marcar e desmarcar ambos em . Usando as ferramentas de digitalização básica pode executar as seguintes funções:
| Ícone | Finalidade | Ícone | Finalidade |
| --- | --- | --- | --- |
| | Edições actuais | | Alternar edição |
| | Adicionando Elementos: Capturar Ponto | | Adicionando Elementos: Capturar Linha |
| | Adicionando Elementos: Capturar Polígono | | Mover Elemento |
| | Ferramenta de Nós | | Apagar Seleccionados |
| | Cortar Elementos | | Copiar Elementos |
| | Colar Elementos | | Guardar edições da camada |
Edição da Tabela: Edição básica da camada vectorial pela barra de ferramentas
Todas as sessões de edição começam por escolher a opção

Alternar Edição . Isto pode ser encontrado no menu de contexto depois de clicar com o botão direito do rato na entrada da legenda para essa camada
Alternadamente, pode usar o botão Alternar Edição

Alterar edições da barra de ferramentas de digitalização para iniciar e parar o modo de edição. Estando a camada no modo de edição, os marcadores irão aparecer nos vértices e botões de ferramentas adicionais na barra de ferramentas de edição estarão disponíveis.
Tip
Guardar Regularmente
Lembre-se de

Guardar Edições da Camada regularmente. Isto irá também verificar que a sua fonte de dados aceita todas as alterações.
Adicionando Elementos
Pode usar os ícones

Adicionar Elemento,

Adicionar Elemento ou

Adicionar Elemento da barra de ferramentas para por o cursor QGIS no modo de digitalização.
Para cada elemento, primeiro digitaliza a geometria, e de seguida introduz os atributos. Para digitalizar a geometria, clique com o botão direito do rato na área do mapa para criar o primeiro ponto do seu novo elemento.
Para linhas e polígonos, mantenha o clique com o botão direito do rato para cada ponto adicional que pretende capturar. Quando acabar de adicionar os pontos, clique com o direito do rato em qualquer sítio da área do mapa para confirmar a finalização da introdução da geometria desse elemento.
The attribute window will appear, allowing you to enter the information for the new feature. Figure_edit_2 shows setting attributes for a fictitious new river in Alaska. In the Digitizing menu under the menu, you can also activate

Suppress attributes pop-up windows after each created feature

Reuse last entered attribute values.
Figure Edit 2: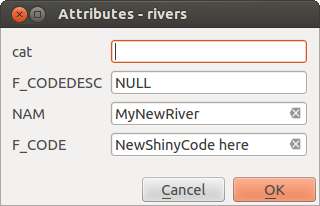 Com o ícone

Mover Elemento(s) da barra de ferramentas pode mover elementos existentes.
Tip
Tipos de Valores de Atributo
a edição dos tipos de atributo são validados durante a introdução. Por causa disso, não é possível introduzir um número na coluna de texto na janela Introduzir Valores de Atributo ou vice-versa. Se necessita de fazer isso, deve editar os atributos numa segunda etapa dentro da janela Tabela de Atributos .
Edições Actuais
Este novo elemento permite a digitalização de múltiplas camadas. Escolha

Guardar para as Camadas Seleccionadas para guardar todas as alterações que fez nas múltiplas camadas. Tem também a oportunidade de

Regressão para as Camadas Seleccionadas para que a digitalização seja retirada das camadas seleccionadas. Se deseja parar a edição das camadas seleccionadas o

Cancelar para as Camada(s) Seleccionadas é a melhor forma de o fazer.
As mesmas funções para a edição de todas as camadas do projecto estão disponíveis.
Operações Básicas
Comece por activar a
Ferramenta de Nós e seleccione um elemento clicando em cima de um, As caixas vermelhos irão aparecer em cada vértice deste elemento.
Selecting vertices: You can select vertices by clicking on them one at a time, by clicking on an edge to select the vertices at both ends, or by clicking and dragging a rectangle around some vertices. When a vertex is selected its color changes to blue. To add more vertices to the current selection, hold down the Ctrl key while clicking. Hold down Ctrl or Shift when clicking to toggle the selection state of vertices (vertices that are currently unselected will be selected as usual, but also vertices that are already selected will become unselected).
Adding vertices: To add a vertex simply double click near an edge and a new vertex will appear on the edge near to the cursor. Note that the vertex will appear on the edge, not at the cursor position, therefore it has to be moved if necessary.
Deleting vertices: After selecting vertices for deletion, click the Delete key. Note that you cannot use the Node Tool to delete a complete feature; QGIS will ensure it retains the minimum number of vertices for the feature type you are working on. To delete a complete feature use the Delete Selected tool.
Moving vertices: Select all the vertices you want to move. Click on a selected vertex or edge and drag in the direction you wish to move. All the selected vertices will move together. If snapping is enabled, the whole selection can jump to the nearest vertex or line.
Each change made with the node tool is stored as a separate entry in the undo dialog. Remember that all operations support topological editing when this is turned on. On the fly projection is also supported, and the node tool provides tooltips to identify a vertex by hovering the pointer over it.
Cortando, Copiando e Colando Elementos
Selected features can be cut, copied and pasted between layers in the same QGIS project, as long as destination layers are set to

Toggle editing beforehand.
Os elementos podem também ser colados em aplicações externas como texto: Ou seja, os elementos são representados no formato CSV com os dados de geometria a aparecerem no formato OGC Well-Known Text (WKT).
However in this version of QGIS, text features from outside QGIS cannot be pasted to a layer within QGIS. When would the copy and paste function come in handy? Well, it turns out that you can edit more than one layer at a time and copy/paste features between layers. Why would we want to do this? Say we need to do some work on a new layer but only need one or two lakes, not the 5,000 on our big_lakes layer. We can create a new layer and use copy/paste to plop the needed lakes into it.
Como exemplo vamos copiar alguns lagos para a nova camada:
Carregue a camada que quer copiar a partir (camada de origem)

Carregue ou crie a camada que quer copiar para (camada de destino)

Começar a editar a camada de destino

Active a camada de origem clicando nela na legenda

Active a camada de destino clicando na legenda

Parar a edição e guardar as alterações
What happens if the source and target layers have different schemas (field names and types are not the same)? QGIS populates what matches and ignores the rest. If you don't care about the attributes being copied to the target layer, it doesn't matter how you design the fields and data types. If you want to make sure everything - feature and its attributes - gets copied, make sure the schemas match.
Tip
Congruência dos Elementos Colados
Se a sua camada fonte e a de destino usam a mesma projecção, então os elementos colados irão ter a geometria igual à camada fonte. No entanto, se a camada de destino tem uma projecção diferente então o QGIS não garante uma geometria idêntica. Isto é simples, porque existem pequenos erros arredondados envolvidos na conversão entre projecções.
Apagando os Elementos Seleccionados
Se quisermos apagar o polígono todo, podemos faze-lo seleccionando o polígono usando a ferramenta

Seleccionar Elemento Único. Pode seleccionar múltiplos elementos para apagar. Uma vez feita a selecção do conjunto, use a ferramenta

Apagar Seleccionados para apagar os elementos.
The

Cut Features tool on the digitizing toolbar can also be used to delete features. This effectively deletes the feature but also places it on a "spatial clipboard". So we cut the feature to delete. We could then use the

Paste Features tool to put it back, giving us a one-level undo capability. Cut, copy, and paste work on the currently selected features, meaning we can operate on more than one at a time.
Guardando as Camadas Editadas
Quando a camada está em modo edição, qualquer que seja a alteração permanece na memória do QGIS. Portanto não são submetidas/guardadas imediatamente na fonte de dados ou disco. Se deseja guardar as edições na camada actual mas quer continuar a editar sem deixar o modo edição, pode clicar no botão

Guardar Edições da Camada. Quando desliga o modo edição com o

Alternar edição (ou sai do QGIS por algum motivo), será-lhe sempre perguntado se quer guardar as alterações ou rejeitá-las.
Se as alterações não poderem ser guardadas (ex.: disco cheio, ou atributos que têm valores que saem fora do intervalo), o estado da memória do QGIS é preservada. Isto permite que possa ajustar as suas edições e voltar a tentar a guardar.
Tip
Integridade dos dados
É sempre boa ideia fazer cópias de segurança da sua fonte de dados antes de começar a editar. Enquanto os autores do QGIS fizeram todo o esforço para preservar a integridade dos seus dados, nós não oferecemos garantia neste sentido.
Criando novas camadas Vectoriais
QGIS allows to create new Shapefile layers, new SpatiaLite layers, and new GPX Layers. Creation of a new GRASS layer is supported within the GRASS-plugin. Please refer to section Criando uma nova camada vectorial GRASS for more information on creating GRASS vector layers.
Criando uma nova camada Shapefile
To create a new Shape layer for editing, choose

from the menu. The New Vector Layer dialog will be displayed as shown in Figure_edit_5. Choose the type of layer (point, line or polygon) and the CRS (Coordinate Reference System).
Repare que o QGIS não suporta ainda a criação de elementos 2.5 D (ex.: elementos com coordenadas X,Y,Z).
Figure Edit 5: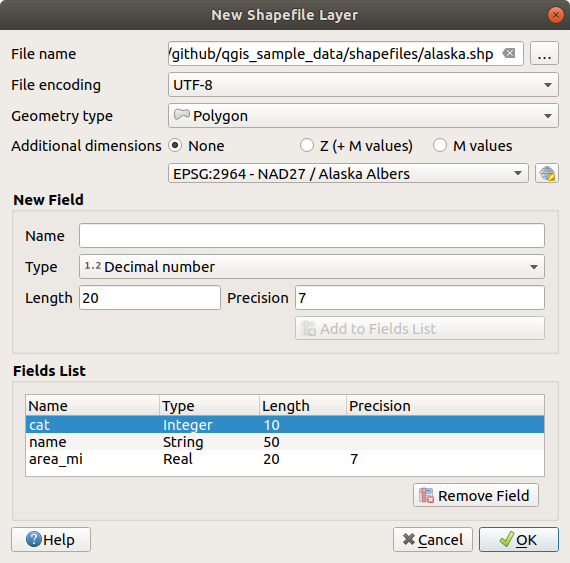 To complete the creation of the new Shapefile layer, add the desired attributes by clicking on the [Add to attributes list] button and specifying a name and type for the attribute. A first 'id' column is added as default but can be removed, if not wanted. Only Type: real

, Type: integer

, Type: string

and Type:date

attributes are supported. Additionally and according to the attribute type you can also define the width and precision of the new attribute column. Once you are happy with the attributes, click [OK] and provide a name for the shapefile. QGIS will automatically add a .shp extension to the name you specify. Once the layer has been created, it will be added to the map and you can edit it in the same way as described in Section Digitalizar uma camada existente above.
Criando uma nova camada SpatialLite
Para criar uma nova camada SpatialLite para edição, escolha

do menu . O diálogo Nova Camada SpatiaLite irá aparecer como é mostrado na Figure_edit_6.
Figure Edit 6:
First step is to select an existing SpatiaLite database or to create a new SpatiaLite database. This can be done with the browse button
to the right of the database field. Then add a name for the new layer and define the layer type and specify the Coordinate Reference System with [Specify CRS]. If desired you can select to

Create an autoincrementing primary key.
To define an attribute table for the new SpatiaLite layer, add the names of the attribute columns you want to create with the according column type and click on the [Add to attribute list] button. Once you are happy with the attributes, click [OK]. QGIS will automatically add the new layer to the legend and you can edit it in the same way as described in Section Digitalizar uma camada existente above.
A gestão das camadas SpatialLite podem ser feitas como o Gestor DB Módulo Gestor BD.
Criando uma nova camada GPX
To create a new GPX file you need to load the GPS plugin first.

opens the Plugin Manager Dialog. Activate the

GPS Tools checkbox.
When this plugin is loaded choose
from the . In the Save new GPX file as dialog you can choose where to save the new GPX layer.
Trabalhando com a Tabela de Atributos
The attribute table displays features of a selected layer. Each row in the table represents one map feature and each column contains a particular piece of information about the feature. Features in the table can be searched, selected, moved or even edited.
To open the attribute table for a vector layer, make the layer active by clicking on it in the map legend area. Then from the main menu choose

. It is also possible to rightclick on the layer and choose

from the dropdown menu and to click on the

Open Attribute Table button in the Attributes toolbar.
Isto irá abrir uma nova janela que exibe os atributos dos elementos numa camada (figure_attributes_1). O número de elementos e o número de elementos seleccionados são exibidos no título da tabela de atributos.
Figure Attributes 1: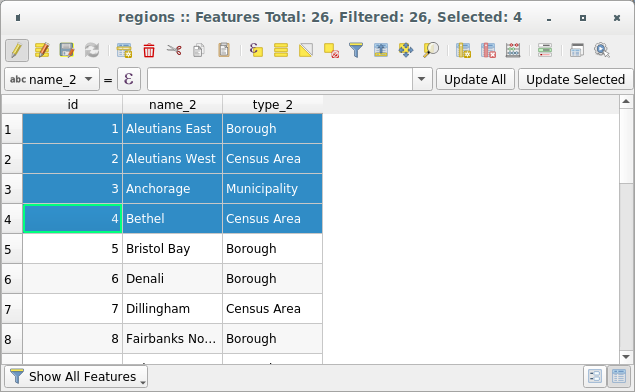 Seleccionando elementos na tabela de atributos
Each selected row in the attribute table displays the attributes of a selected feature in the layer. If the set of features selected in the main window is changed, the selection is also updated in the attribute table. Likewise, if the set of rows selected in the attribute table is changed, the set of features selected in the main window will be updated.
Rows can be selected by clicking on the row number on the left side of the row. Multiple rows can be marked by holding the Ctrl key. A continuous selection can be made by holding the Shift key and clicking on several row headers on the left side of the rows. All rows between the current cursor position and the clicked row are selected. Moving the cursor position in the attribute table, by clicking a cell in the table, does not change the row selection. Changing the selection in the main canvas does not move the cursor position in the attribute table.
A tabela pode ser ordenada por qualquer coluna, clicando no cabeçalho da coluna. Uma pequena seta indica a forma de ordenação (apontar para baixo significa valores descendentes do topo da linha, apontar para cima significa valores descendentes do topo da linha).
For a simple search by attributes on only one column choose the from the menu in the bottom left corner. Select the field (column) from which the search should be performed from the dropdown menu and hit the [Apply] button. Then only the matching features are shown in the Attribute table.
To make a selection you have to use the
Select features using an Expression icon on top of the Attribute table. The
Select features using an Expression allows you to define a subset of a table using a Function List like in the

Field Calculator (see Calculadora de Campos). The query result then can be saved as a new vector layer. For example if you want to find regions that are boroughs from the regions.shp of the QGIS sample data you have to open the >Fields and Values menu and choose the field that you want to query. Double-klick the field 'TYPE_2' and also [Load all unique values] . From list choose and double-klick 'Borough'. In the Expression field the following query appears:
The matching rows will be selected and the total number of matching rows will appear in the title bar of the attribute table, and in the status bar of the main window. For searches that display only selected features on the map use the Query Builder described in Section Ferramenta de Consulta.
To show selected records only, use Show Selected Features from the menu at the bottom left.
The other buttons at the top of the attribute table window provide following functionality:
Tip
Ignorar geometria WKT
If you want to use attribute data in external programs (such as Excel) use the

Copy selected rows to clipboard button. You can copy the information without vector geometries if you deactivate Data sources menu

Copy geometry in WKT representation from attribute table.
Guardar elementos seleccionados como nova camada
The selected features can be saved as any OGR supported vector format and also transformed into another Coordinate Reference System (CRS). Just open the right mouse menu of the layer and click on to define the name of the output file, its format and CRS (see Section Legenda do Mapa). It is also possible to specify OGR creation options within the dialog.
Trabalhando com tabelas de atributos não espaciais
QGIS allows also to load non spatial tables. This includes currently tables supported by OGR, delimited text as well as the PostgreSQL, MSSQL and Oracle provider. The tables can be used for field lookups or just generally browsed and edited using the table view. When you load the table you will see it in the legend field. It can be opened e.g. with the

Open Attribute Table tool and is then editable like any other layer attribute table.
As an example you can use columns of the non spatial table to define attribute values or a range of values that are allowed to be added to a specific vector layer during digitizing. Have a closer look at the edit widget in section Fields Menu to find out more.