8.1.

Lesson: Conversia din Raster în Vector

Conversia între formatele raster și cele vectoriale, vă permite să faceți uz atât de datele raster cât și de cele vectoriale, atunci când rezolvați o problemă GIS, precum și utilizarea diferitelor metode unice de analiză, pentru aceste două forme de date geografice. Acest lucru crește flexibilitatea atunci când luați în calcul sursele de date și metodele de procesare pentru rezolvarea unei probleme GIS.

Pentru a combina analiza raster cu cea vectorială, trebuie să convertiți un tip de date în altul. Haideți să convertim rasterul rezultat din lecția anterioară într-un vector.

Scopul acestei lecții: De a obține rezultatul raster într-un vector, care să poată fi utilizat pentru a completa analiza.
8.1.1.

Follow Along: Instrumentul

Raster to Vector



Începeți cu harta de la ultimul modul, raster_analysis.qgs. Ar trebui să aveți all_conditions_simple.tif calculat în timpul exercițiilor anterioare.
Clic pe Raster ► Conversion ► Polygonize (Raster to Vector). Va apărea fereastra de dialog a instrumentului.

Setați-l astfel:

Change the field name (describing the values of the raster) to suitable.

Save the layer under exercise_data/residential_development as all_terrain.shp.
Now you have a vector file which contains all the values of the raster, but the only areas you're interested in are those that are suitable; i.e., those polygons where the value of suitable is 1. You can change the style of this layer if you want to have a clearer visualization of it.
8.1.2.

Try Yourself

Consultați înapoi la modulul de analiză vectorială.
Create a new vector file that contains only the polygons where suitable has the value of 1.

Save the new file under exercise_data/residential_development/ as suitable_terrain.shp.
8.1.3.

Follow Along: Instrumentul

Vector to Raster



Although unnecessary for our current problem, it's useful to know about the opposite conversion from the one performed above. Convert to raster the suitable_terrain.shp vector file you just created in previous step.
Clic pe Raster ► Conversion ► Rasterize (Vector to Raster) pentru a lansa acest instrument, apoi setați-l ca în imaginea de mai jos: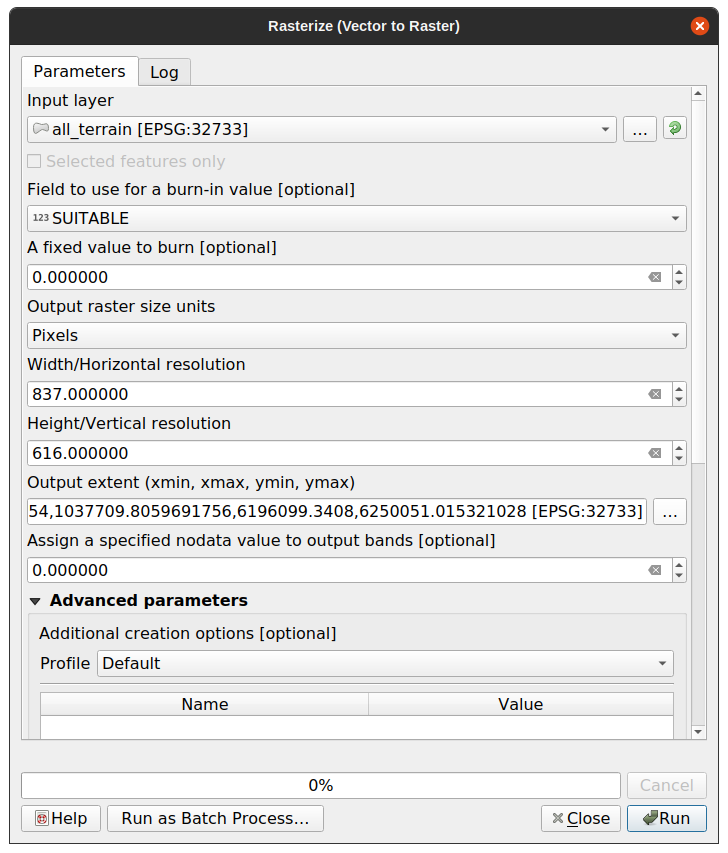 Input layer is all_terrain.

Field name is suitable.

Output raster size units is Pixels.

Width and Height are 837 and 661, respectively.

Get the Output extent from the all_terrain layer.

Set output file Rasterized to exercise_data/residential_development/raster_conversion.tif.
Notă
Dimensiunea imaginii de ieșire este specificată aici pentru a fi similară cu cea a rasterului original, care a fost vectorizat. Pentru a vizualiza dimensiunile unei imagini, deschideți-i metadatele (fila Metadata din Proprietățile Stratului).
Clic pe OK, în fereastra de dialog, pentru a începe procesul de conversie.

Atunci când ați încheiat, evaluați succesul prin compararea noului raster cu cel original. Cele două ar trebui să se potrivească exact, pixel cu pixel.
8.1.4.

In Conclusion

Conversia între formatele raster și cele vectoriale vă permite să extindeți aplicabilitatea datelor, și nu trebuie să ducă la degradarea datelor.
8.1.5.

What's Next?

Acum, că avem rezultatele analizei de teren disponibile în format vectorial, ele pot fi folosite pentru a rezolva problema clădirii pe care ar trebui să o propunem în scopul dezvoltării rezidențiale.